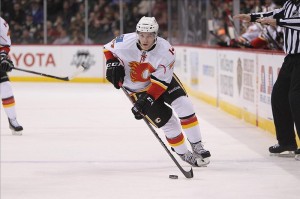 Last spring, something very bizarre happened. Something that hasn't happened in nearly a decade.
A forward prospect debuted for the Calgary Flames and made an immediate, positive impact.
When Sven Baertschi's play led to the Scotiabank Saddledome fans chanting his name, it was a bit bizarre. Welcome, but bizarre, because Flames fans and folks that follow the club have become accustomed to the organization's highly-touted forwards crashing and burning at the NHL level in the past – names like Jesper Mattsson, Daniel Tkaczuk and Rico Fata say hello. Thus, the Flames have seemingly instead taken "safe" picks  in recent years – Mikael Backlund has become a dependable two-way pivot, Greg Nemisz is slowly developing into a reliable grinder and Eric Nystrom became a solid bottom-six option and an everyday NHLer, albeit not entirely in Calgary.
But the decision to choose Baertschi – a Swiss junior with only a year of play in North America – in 2011 was arguably the Flames' first "swing for the fences" draft choice. The Flames followed up by choosing Mark Jankowski in the first round during the most recent Entry Draft, perhaps reflecting an organizational willingness to gamble.
As a result of these gambles in early rounds, the Flames are very suddenly and very quietly putting together a much deeper farm system than they have had in the past. Under former general manager Darryl Sutter, the Flames tended to select a good many checkers, muckers and grinders to fill out the NHL roster's third and fourth lines and bottom defensive pairing. Under Jay Feaster, the club has begun to fill itself out.
FORWARDS
2011 first rounder Sven Baertschi projects to be a top-line NHLer, and expectations haven't dampened thanks to his five-game NHL stint last spring. He scored three goals despite primarily playing on the Flames' third line with Tom Kostopoulos and Greg Nemisz. That said, he was extremely shielded in terms of quality of competition and ice-time.
A pair of college players are projected to be good – if they can translate their games to more advanced levels of hockey. Winger (and 2011 fourth rounder) Johnny Gaudreau made the jump from the USHL to the NCAA last year and ended up as the MVP of the conference playoff tournament and a key contributor to the Boston College Eagles winning a national championship. Despite this, Gaudreau himself says he's got holes in his game he needs to fill before he turns pro. And despite his blazing speed and great hands, Gaudreau is still small (5-foot-8) and will have to continue to survive in a big man's game.
2012 first rounder Mark Jankowski is skipping the USHL and going straight to the NCAA from high school hockey. He impressed at Calgary's prospect development camp in July, but Hockey East is very much the deep waters of college hockey. This season will be the big litmus test for Jankowski's abilities.
Outside of these three gentlemen, the Flames have cultivated some good depth options up front. First and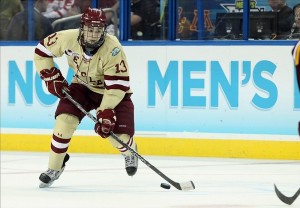 foremost is Max Reinhart, son of former NHLer Paul and older brother of hot-shot juniors Griffin and Sam. A 2012 third round pick, Reinhart was a Swiss army knife for the Kootenay Ice – playing in every situation and being the catalyst for his team. He immediately jumped into the Abbotsford Heat line-up in the playoffs and didn't look out of place against established pros. It's unclear as to where his ceiling is, though, as he doesn't have elite-level talent, but his hockey sense and on-ice vision is tremendous.
The safe bet is hoping for him to become somebody at a Mikael Backlund level of play (a second or third line pivot who can drive the play against tough opposition), but if he can put on a bit of size, that may be shooting a bit low.
Beyond Reinhart, there are many players that project to have bottom-six talent. A few have even gotten auditions at the NHL level already. Akim Aliu, Lance Bouma, Greg Nemisz, Paul Byron and Roman Horak all saw NHL action last season with Calgary and all were effective in bursts. Arguably the most consistent were Bouma, whose emergence contributed to the Flames cutting ties with Tom Kostopoulos, and Aliu, who saw a two-game call-up to end the season. Boston College forward Bill Arnold, NCAA alum David Eddy, current WHLer Coda Gordon and former WHLer Michael Ferland also project to be third or fourth line forwards, although it's still quite early in the cases of Gordon and Ferland, so they could easily progress or regress in the interim. Arnold is an interesting player, one who veteran Boston College coach Jerry York has praised for being a very complete, three-zone player.
DEFENSEMEN
If there's a glaring, glaring hole in the Flames prospect base, it's on the blueline. T.J. Brodie is arguably the best young defender in the organization. But he's already seemingly on the Flames NHL roster, so he probably shouldn't count.
Beyond Brodie, there are a lot of interesting projects. Organizational newcomers Brady Lamb and Patrick Sieloff both project to be crash-and-bang defenders in the mold of a Robyn Regehr or Cory Sarich. Lamb has years of experience in the NCAA playing against grown men and will be counted on to be a cornerstone of the AHL line-up. Sieloff opted to head to the OHL instead of the NCAA, and he's been a physical force on the Windsor Spitfires blueline thus far. He's expected to be on the American entry at the World Juniors this winter in Ufa, Russia.
2012 draftees Ryan Culkin and Brett Kulak are good two-way defenders who have shown an increasing ability (and willingness) to jump into the rush. However, they're both young and will need a lot of time to mature. An interesting player in the long-term is John Ramage. Son of former Flame Rob Ramage, he's returning to the University of Wisconsin, where he's the captain. He's a good meat-and-potatoes, stay-at-home blueliner, but he's been praised for his leadership abilities. He's also got big-game experience, with several medals from IIHF competition and a trip to the NCAA championship. It'll be very interesting to see how he adjusts to the professional ranks once he graduates.
GOALTENDERS
Two successors have emerged for the throne of Miikka Kiprusoff. Both have NHL experience, but neither has truly established themselves at the NHL level quite yet. 2006 first rounder Leland Irving came to the NHL last year when back-up Henrik Karlsson was injured and impressed. Irving has a great deal of experience at the AHL level and was arguably the best goalie in that league over the past two seasons, give or take a few weeks. He'll likely be challenged soon by KHL stand-out Karri Ramo, a former Tampa Bay Lightning pick whose rights were acquired from the Montreal Canadiens. While it's unclear whether either man truly projects to be an everyday starting goaltender in the NHL – Kiprusoff leaves very big shoes to fill – both guys have had enough success in their careers thus far to be at least considered strong back-ups.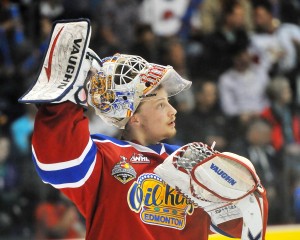 Beyond these two, there are a trio of young netminders playing in three different leagues. 2009 sixth rounder Joni Ortio spent part of last year in the AHL and struggled. He's since returned back to the SM-Liiga, where he's going to get the lion's share of the starts for HIFK Helsinki. He'll get lots of ice-time, but at some point he'll need to get ice-time in North America and get used to the smaller ice.
2011 sixth rounder Laurent Brossoit emerged as a bonafide WHL starter last year for Edmonton, then back-stopped his club to a WHL championship and a Memorial Cup appearance. He's still quite young, but Brossoit is putting together a very good resume, capped off by being named the WHL's playoff MVP last season.
The newest young goalie in the system is 2012 third rounder Jon Gillies, a standout with the USHL's Indiana Ice who'll debut this month with the NCAA's Providence College Friars. A big-bodied netminder, the 6-foot-4 Gillies will need to test himself against men and improve his fundamentals a bit. He's a longer-term project
In the case of Flames goalie prospects, it should be fairly clear where Irving and Ramo shake out within a year or so, which will allow Brossoit, Ortio and Gillies some time to develop and one or two of them to test themselves in the pros.
Ryan Pike has covered the Calgary Flames and the NHL Draft extensively since 2010 as a Senior Writer for The Hockey Writers and Senior Contributing Editor of FlamesNation.ca. A member of the Professional Hockey Writers Association, he lives in Calgary.