It's official!  Thomas Welsh has signed with the Mississauga Steelheads of the Ontario Hockey League.  It's been a long time coming for the 16-year old.
Welsh was originally drafted by the Sarnia Sting in the 5th round, but after agreements on a contract could not be made, Welsh decided to come to the States to play prep school hockey with Salisbury for two years.  After his chances were shut down with the USHL, he decided to move closer to his family and play for the Georgetown Raiders of the OJHL.  Earlier in the year, he de-committed from Penn State University.  Offers were still coming in from Division 1 schools, but a few tweaks needed to be made, before Welsh would be OHL bound.
After signing the contract yesterday, Welsh ended up playing Friday night against the Niagara Ice Dogs.  He didn't put up a single point, had a zero plus/minus rating, and wasn't given all that much playing time, but he was ecstatic to be playing for Mississauga after everything he's been through in the past couple months.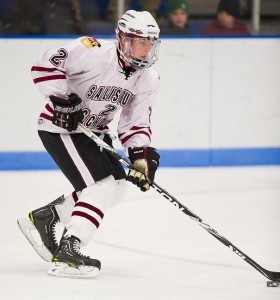 "I'm so pumped to be a Steelhead!" Thomas said.  "I'd like to wish goodluck to my Georgetown brothers and for them to go far in the playoffs.  Thanks a million to Coach Walters and Richards."
It is going to be very tough to crack the top 4 for Mississauga.  They already have a very capable defensive corp, but given Welsh's determination and skill set, it shouldn't be a shock when you begin seeing him log quality playing minutes.
He's a prototypical two-way defenseman.  He's quick on his feet, has tremendous balance, and rarely gets caught out of position.  If he can, he isn't afraid to jump in on the rush or lay a big hit.  Physicality is his specialty and he plays with a serious edge.  His 49 penalty minutes for the Raiders can attest to that.
The best part about the signing will be that Welsh finally gets to put his talents on a much bigger stage – a stage where scouts will constantly be watching.  This, being his draft year, will greatly benefit his draft stock if he continues to progress at a great pace.
Through all the hardships he's endured over his young career, it's pleasing to see him finally get the break he's been deserving.