The one that got away.
Every franchise has had their share, but there's always a few players who stand out. For the Minnesota Wild, Marian Gaborik is probably the first name that comes to mind. Less obvious is Mike Modano, who should have enjoyed his best years in the North Star State.
And then there's Willie Mitchell, a British Columbia-born defenseman drafted by New Jersey in the eighth round, who never scored more than 14 points in a season for the Wild. But his value, of course, went far beyond the stat sheet.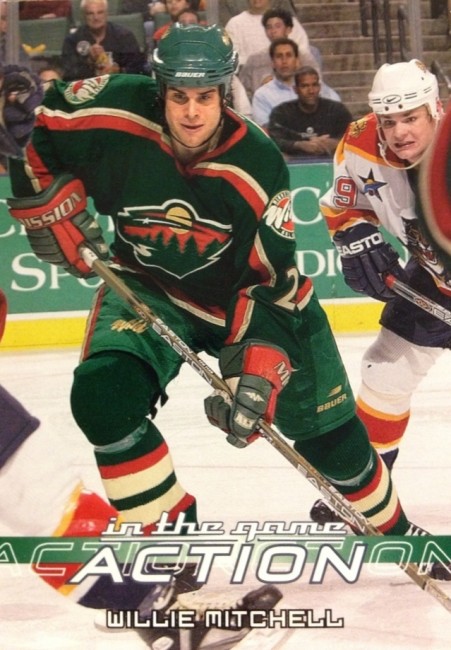 He arrived in Minnesota late in the 2000-01 season. Eyeing the upcoming playoff grind, the Devils "reluctantly" traded the still green 23-year-old for the veteran savvy of fellow defender Sean O'Donnell.
Given ample playing time by a mish-mash team embarking on its expansion campaign, Mitchell flourished under Coach Jacques Lemaire's defense-first system. By the next season, he was a regular in the line-up, finishing third in minutes played among all Wild defensemen.
The 2002-03 season proved to be most memorable for the Wild. They made the playoffs in only their third year of existence, and shocked even themselves by outlasting the star-heavy Colorado Avalanche in the first round and the much-favored Vancouver Canucks in the next round. And though swept out of the Western Conference Finals by the Mighty Ducks of Anaheim, it's hard to forget how Mitchell battled through a broken jaw to hold Todd Bertuzzi, Vancouver's 46-goal scoring behemoth and author of Mitchell's chewing problems, to just a goal in seven games.
The Wild flagged next season, but Mitchell continued his solid work. Then, the 2004-05 NHL season was wiped out by lockout.
When the league returned, Mitchell found himself named Captain as part of Minnesota's rotating captaincy system. The team still floundered, but he played well as he vied for a large raise from his below-market value $1 million a year deal. Mitchell wanted to return at $3.5 million a year, but Minnesota held firm at $2.9 million. In March 2006, they traded him to the playoff-bound Dallas Stars for a pair of defensemen, journeyman Martin Skoula and recent first-round pick Shawn Belle. That offseason, he inked a four-year, $14 million dollar deal with hometown Vancouver, a contract which averages out to, you guessed it, $3.5 million a year.
To go from hated Dallas to division foe? Indeed, it was a strange path leaving Minnesota.
Mitchell truly blossomed with the Canucks. Eventually named Assistant Captain, his icetime increased, as did his reputation.
In a nationally televised regular season game against the Stars in 2008, on a late third period penalty kill, Mitchell got in front of a Brad Richards's shot. The puck rode up his stick and smacked his face, knocking him down. But when he saw the Stars' premier playmaker retrieve the puck, a bleeding Mitchell got up on wobbly skates, staggering in front of a Niklas Hagman slapshot seconds later and blocking it with his right foot. He then intercepted an errant Hagman pass and cleared the zone. And came back to finish the game.
Pausing between xenophobic rages, Don Cherry exclaimed: "They're the warriors you win with. Get into the playoffs. Guys like him win."
Unfortunately, Mitchell's time in Vancouver was also defined by a devastating concussion suffered in 2010, the last year of his contract. Seen as a significant risk, he couldn't capitalize on his hometown success and signed a below market deal with the Los Angeles Kings for two years, $7 million.
Avoiding more concussions, Mitchell helped solidify the backend of a young, upcoming Kings' squad, and hoisted his first Stanley Cup last June. The 35-year-old veteran was the first non-lettered King to be handed the Cup, a sure sign of his teammates' respect.
The Minnesota Wild? They reaped four uninspiring seasons from Skoula, one assist in nine games from Belle, and zero playoff series wins since dumping Mitchell in 2006.
Some Minnesota fans will argue that he was asking for too much in 2006, but a better team paid the price and didn't regret it. It should also be noted that Mitchell was 28 when he entered unrestricted free agency, had played at below market one-year deals for the past few seasons, and had finally reached the position for his first big payday. And for what it's worth, an older, more content Mitchell re-signed with Los Angeles last February for the identical below market deal he had signed in 2010: Two years, $7 million.
Apparently, there's something about making exactly $3.5 million a year that appeals to him.
Wild fans may also remember Mitchell's game being full of holes. Certainly, he was not a superb skater and puck mover. He could be pinned in his zone at times, and essentially, was not a well-rounded, top pairing defenseman.
But this is what he was: Indispensable.
Indispensable in the 2003 playoffs, for example. Could the Wild have used him in their last two playoff runs, when they were intimidated by the eventual Stanley Cup winner Ducks in 2007 and tripped up by a fragile Avalanche squad in 2008?
Lest you forget what Willie Mitchell is:
Beyond Minnesota, he proved to be just as indispensable, the backbone of deep playoff runs.
Put him with the right partner, and watch him go. Or don't, because you'll hardly notice how he snuffs out offensive after offensive.
With intangibles stretching out every dollar spent on him, Willie Mitchell should have been the heart and soul of the Wild for the past decade. It was a relatively paltry sum that separated Minnesota from, if not a franchise face, a true foundation.
Whenever the Minnesota Wild raise a Stanley Cup, I guarantee there'll be a veteran defenseman like Willie Mitchell on the roster, who'll do everything that's not on the stat sheet…except clock the most important minutes night in, night out.