Former Philadelphia Flyers defenseman, Kevin Marshall was traded to the Washington Capitals at the midway part of the season last year. He has blossomed into a reliable defenseman for the Capitals, playing for their AHL affiliate, the Hershey Bears. Marshall brings a physical element to his game, along with high intensity.
Marshall, 23, was selected by the Flyers in the 2007 NHL entry draft in the second round, with the 41st overall pick. The gritty defenseman played for the Lewiston MAINEiacs, which the QMJHL recently folded in 2011. Marshall spent three seasons with Lewiston, posting his best season with club during the 2007-2008 campaign, recording 35 points with 11 goals and 24 assists.
Following his time with Lewiston, Marshall spent his last junior season with the Quebec Remparts. He posted 9 goals and 29 assists in his only stint with the team, his highest offensive production prior to turning pro. Since Marshall spent his first season with Quebec, following his selection in the NHL draft, his three year entry level contract began with the 2008-2009 season.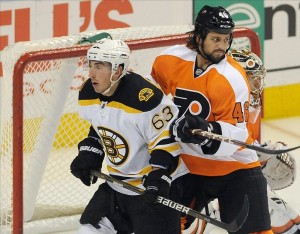 He then spent two and a half seasons with Philadelphia's AHL affiliate, the Adirondack Phantoms. Adirondack struggled for the majority of Marshall's tenure with the Phantoms, mostly due to the departure of talent to the NHL level. The biggest names that received promotions to the Flyers include Claude Giroux, Mike Richards and Jeff Carter.
Marshall brought a solid physical presence to the Phantoms, playing the role of a shutdown defenseman. He provided outstanding durability on the Phantoms' blue line for his two full years with the club, playing in 75 games during the 2009-2010 campaign followed by 78 games played in the 2010-2011 season.
He was able to chip in offensively at times while in Adirondack, posting a career high 14 points in the 2010-2011 campaign, his second season with the Phantoms. Marshall plays a physical game to compliment his defensive play, as he notched 120 penalty minutes in the 2010-2011 season.
He was eventually traded to the Capitals during the 2011-2012 season, following his first minutes at the NHL level. Marshall played 10 games for the Flyers last season, as part of the third defensive pairing along with sporadic time on the Philadelphia penalty kill. He posted 10 penalty minutes at the NHL level last season.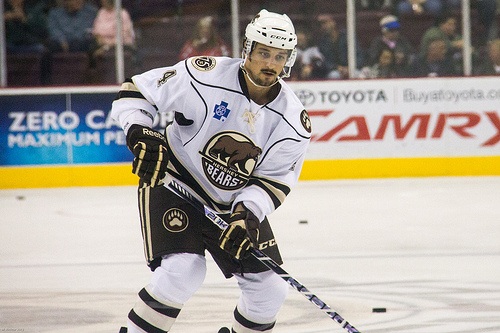 He was then traded to Hershey midseason, following the development of future Flyers defensemen, Marc-Andre Bourdon and the offensively skilled Erik Gustaffson. It took some time getting used to life in Hershey, but Marshall adjusted to his role in Chocolate town. He played in 31 games for Hershey, registered one assist along with 61 penalty minutes.
This season, Marshall has been paired with Steve Oleksy on the Hershey blue line; also earning key minutes on the Bears' penalty kill. Through 15 games, the young physical defenseman has registered one goal, 23 minutes and a plus three plus-minus rating.
"They've probably been together for probably seven or eight games now," said Bears coach, Mark French. "They've become a very reliable shutdown pair, they both like the physicality. They like to engage physically, they like to close which makes them two guys that are hard to play against. They seem to complement each other really well. I think we've seen both improvements with Kevin [Marshall] and Steve [Oleksy] that their puck play has improved; I thought they showed really good poise tonight, especially with the puck."
Following this season, Marshall will become a restricted free agent for the second time in his career. He recently signed a one year deal this offseason to remain a Washington Capital. He brings reliability on the defensive end and could eventually see time back at the NHL level in the near future. Marshall brings physicality that could be needed on Washington's blue line, due to their surplus of talented offensively skilled defenseman, most notably Mike Green and John Carlson.
You can follow Matthew on twitter @m_speck and email him at mspeck21@yahoo.com with any questions or comments.