Let the rumors and speculation surrounding the Boston Bruins begin.
The cost of missing the postseason for the first time since 2007 has already carried some dire consequences. It cost Peter Chiarelli his job as general manager. The fate of head coach Claude Julien is in the hands of whoever the next general manager of the franchise will be. Boston's roster could look very different by the time the 2015-16 season opens up in October.
In the spirit of pondering and speculation, here are some bold predictions that bear watching over the course of the summer.
Jeff Gorton Is The Next General Manager
Jeff Gorton spent a grand total of four months as Bruins interim general manager before Chiarelli took over in July 2006. The current assistant to New York Rangers GM Glen Sather was responsible for drafting Phil Kessel, Milan Lucic, and Brad Marchand along with trading former Calder Trophy winner Andrew Raycroft to Toronto for franchise goaltender Tuukka Rask. He was also responsible for signing club captain Zdeno Chara and Marc Savard in free agency before Chiarelli officially took over.
I say the man who set the bed for Chiarelli is the next Bruins GM…Jeff Gorton, once the Rangers are finished up on their quest for the Cup

— Jon Mark (@gonzo_jon) April 15, 2015
Gorton has been with the Rangers since his dismissal from Boston in June 2007. Outside of prohibitive favorites Don Sweeney and Ray Shero, he is a worthwhile candidate to be considered for the position.
Gorton has ties to the Jacobs family from his past tenure in Boston and is not afraid to make a big move if it is required. The only question is whether he can coexist with Bruins president Cam Neely and if he wants to leave the comforts of the Big Apple.
It requires Boston to trade their third-round pick for Gorton's services but given his track record in just four months with the Bruins as interim GM, he would be a great hire for the organization.
Furthermore, according to Bovada.net, Gorton is a 3/1 favorite to land the gig.
Bruce Cassidy Is The Next Head Coach
What do Torey Krug, Ryan Spooner, and David Pastrnak have in common? They are some of the higher-profile Bruins players that current Providence Bruins head coach Bruce Cassidy has groomed in his four seasons at the helm of Boston's farm club.
My odds on who the next #Bruins coach will be:
Bruce Cassidy 3-1
Babcock 5-1
Todd McLellan 6-1
Oates 15-1
Tortorella 50-1
Guy Boucher 100-1

— James Stewart (@IAmJamesStewart) April 11, 2015
The 49-year-old Ontario native has led the Baby B's to three consecutive playoff appearances and implements a similar system to the parent club, allowing for a smooth transition as players head north on I-95 to Boston.
Cassidy has done well developing players in Providence and, according to Claude Julien, is worthy of a second chance coaching an NHL franchise.
"Bruce has done an unbelievable job at developing players. He's coached in the NHL, and I think at the same time, I think he's one of those guys who should certainly be considered to be a coach in the NHL again, too."
Cassidy has 107 games of coaching experience in the NHL, all with the Washington Capitals. His stay in the nation's capital was short as he was fired just 25 games into the 2003-04 season.
The lack of experience will hurt his chances at landing the Boston gig if Julien is fired. However, the Bruins are looking to the future and the development of their young players will be crucial to consistent success.
Cassidy has done well in this area and, if hired, would have the keys to continue the development of his younger players while allowing a little more freedom on the offensive end than his predecessor.
Lucic and Eriksson Will Be Traded
Milan Lucic spent much of the season recovering from the mental wounds inflicted upon him by the Montreal Canadiens (specifically Dale Wiese) in last season's playoffs. The 26-year-old winger tallied 44 points this year, his lowest in an 82-game season since 2009-10.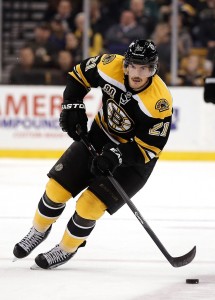 He is on the books for one more year at a $6 million cap hit, but Lucic will still be in high demand by teams looking to beef up on size and physicality. The six-foot-three-inch forward could fetch a decent return for the Bruins while clearing valuable cap space to sign restricted free agent Dougie Hamilton.
Loui Eriksson's 2013-14 season was something out of a R.L. Stine Goosebumps novel. Two concussions cost the Swede 21 games while he only scored 10 goals and 37 points.
This year, things were much different. Eriksson scored 22 goals and 47 points, trailing only Patrice Bergeron (55) for the team lead. The 29-year-old right winger led all Bruins forwards in ice time/game (18:28) and scored a team-high six power-play goals.
Eriksson has one year left on his contract as well at an affordable $4.25 million cap hit. A bounce back season for the former Dallas Stars draft pick could make him a valuable trade chip in the summer time. Boston would have to hold out for the best possible deal before pulling the trigger on a trade to ship off the biggest name in the now-infamous Tyler Seguin deal.
Joe is a writer covering the Boston Bruins. He is a lifelong native of Massachusetts and is currently a content writer/manager for a newsletter at a Human Services Agency. Joe can be found on Twitter: @JoeCherryTHW