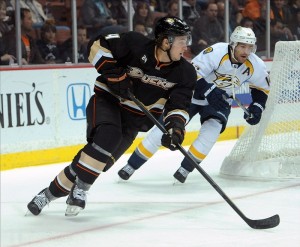 Every preseason, it's ritual for me to make ridiculous claims on what I think will happen in the upcoming NHL campaign. My predictions appear to have little merit, and rightfully so: they're usually as stupid as they are wrong. Among my most recent gems include Matt Duchene hitting 40 goals (he DID have a breakout year though), the Ducks would be a lottery team (whiff), and Jonas Brodin would be a Norris Trophy candidate (I just…I don't even…what…).
Having said all that – I have more predictions. I don't think I did any favours divulging my track record when it comes to forecasting approaching seasons. Nonetheless, here are three bold predictions for the Anaheim Ducks next year, along with the thought process to my methods of Milbury madness.
---
1. Cam Fowler eclipses 50 points, shows franchise defenceman potential.
For the first time since Scott Niedermayer, the Ducks may have a franchise defenceman to lean on in the near future. I've been a long-time complainer of Anaheim being a notch below the top dogs – Chicago, L.A., St. Louis – due to the lack of franchise defender every top team employs.
I didn't think the Ducks would ever be in position to snag another one unless it was through trade. I mused about Cam Fowler filling the role, but wasn't sure he had the complete game.
Last season changed my stance. He rounded out his game and used his elite speed at both ends of the ice to impact – and sometimes take over – games. The offence has always been there, evidenced by his 40-point rookie campaign, but it was the questions about the rest of his game. The only reason he slipped to 12th in the draft to the Ducks were actually those questions marks.
Those have been answered. He's entering his 5th NHL campaign and looks like he's a burgeoning star. He made Team USA's Olympic team (to the dismay of Keith Yandle and Dean Lombardi), and rightfully so. After finishing as a minus player every year of his career, he had a career-best plus-15 last season.
With a stronger Ducks lineup and more responsibility, Fowler should easily top 50 points and alleviate any long term concerns the Ducks might have on the backend.
---
2. John Gibson wins 30 games, and the Calder Trophy.
Let the insanity begin! In seriousness, I'm kind of semi-serious about this prediction. I'm drinking the John Gibson Kool-Aid after last season's call up, regardless of the small sample size. The starting job in Anaheim is up for grabs, as it seemingly always is. Jonas Hiller is out of the way, Frederik Andersen hasn't played a full year as starter, and Jason Labarbera is Jason Labarbera.
Gibson's regular season numbers were otherworldly: 3GP, 3W, .954 SV%, and a 1.33 GAA. His playoff stats…who cares? The fact the 21-year-old was even trusted with a minute of playoff action shows how highly this netminder is regarded in the organization.
He's the total goaltending package: size, athleticism, and technically proficient. He's had success at every level he's played at and I don't think the NHL will be any different. The only thing missing is experience. He'll have quite a bit more pressure than your average rookie goalie as the Ducks are in win-now mode, but he's got the pedigree and game to take the Ducks to the next level.
I'll forecast a stats line of 33 wins, .915 SV%, 2.60 GAA.
---
3. Dany Heatley returns from the dead, scores 30 goals.
Alright, I'm pushing it here. Dany Heatley hasn't scored 30 goals in so long, he probably doesn't even remember scoring over 30 goals before. But I think the 33-year-old can revive his game in Anaheim.
One reason I don't see this as farfetched: Ryan Getzlaf. IF Heatley gets a chance to line up with the Dynamic Duo, he's in prime real estate for some sweet production and numbers. If there's anything Heatley took away from his stint in San Jose, hopefully it was how to ride your center's coattails to stardom (re: Jonathan Cheechoo). With Getzlaf a premier point man on the power play, he can set up Heatley for bootleg Steven Stamkos one-timers all day.
Heatley's almost guaranteed to either line up with Getz or Ryan Kesler, so he'll have every chance to succeed. He looked disinterested in Minnesota and this change of scenery could be exactly what he needs. Though he's lost a step or five, he can still shoot the puck. And that's all you really need to do when you play with a guy like Getzlaf.
---
Now that my predictions are in the public eye, there's no turning back. I'm all in with these forecasts, and if history has taught me anything, it's that none of these will happen.
Freelance sports writer. Ex-intern at The Hockey News and 680 News.