The 2016 World Junior Championship is winding down and by tomorrow's end the tournament's winner will be crowned.
In the final two games of the tournament, Finland will try to win gold on home ice as they face the Russians and the United States will try to medal for the first time since they won gold in 2013 as they take on Sweden.
When the international tournament started, the Los Angeles Kings had a total of five prospects representing their countries in Finland. Spencer Watson of Canada and Erik Cernak of Slovakia found themselves on the outside looking in after both the Canadians and the Slovakians lost in the quarterfinals.
A total of three Kings prospects remain and will be playing for some hardware. A pair of Russians, Damir Sharipzyanov and Elexander Dergachyov, will be skating in the World Junior Championship game against Finland. Meanwhile, one Swede, Adrian Kempe, will face off against the United States in the bronze-medal game.
Kempe was selected by the Kings in the first round of the 2014 draft with the 29th overall pick. Dergachyov was selected by Los Angeles in the third round of the 2015 draft with the 74th overall pick.  Unlike the previous two prospects, Sharipzyanov was not drafted by the Kings but signed as a free agent with the club in August of 2015.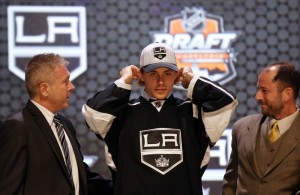 Kempe, one of the Kings' brightest prospects, has six points through six games for Sweden. The 19-year old has netted two game winning goals, one power-play goal and sports a 13.04 shooting percentage going into the bronze-medal game.
Kempe was a force during Sweden's quarterfinal matchup against Slovakia where he potted a power-play goal and assisted on another power-play goal. However, in the semifinal game against Finland, Kempe didn't find the back of the net on four shots and took a somewhat selfish penalty behind the play in the first period.
On the other hand, the two Russians who will try for World Junior Championship gold don't have as convincing numbers as the Swede mentioned above. Sharipzyanov has been held without any points through Russia's games and grabbed a minus-3 rating over that time. Dergachyov has been able to find his way onto the score sheet with two assists through Russia's first six games, and also grabbed a plus-4 rating at the same time.
The bronze-medal game will kick off the final action tomorrow with puck drop between the United States and Sweden taking place at 4 PM (ET) . Once the bronze medal is settled, Finland will try to win gold for the second time in three years and do it on home ice for the first time since 1998. Russia will try to upset Finland's homecoming and win gold for the first time since 2011. Puck drop for the gold-medal game is set for 8 PM (ET.)