For the Winnipeg Jets, the first leg of the season couldn't have gone much worse.
On the surface, the Jets don't appear to have had an abysmal season so far, but their 15-17-2 record puts them seventh in the cutthroat Central Division, eight points out of a playoff spot and, more disturbingly, only three points ahead of the last place Columbus Blue Jackets. The overall numbers don't paint a particularly horrifying picture, but when held next to everyone else's and given that the Jets are 4-6-0 in their last ten, they don't look pretty.
It hasn't been an easy few months to be a Winnipeg Jets fan. To say the team cooled after the end of October would be like saying Han Solo cooled upon being covered in carbonite. They went from competing for a spot atop the Central Division with all the optimism in the world to fighting it out for a lottery pick with fans wondering how things could possibly have gone so horrifyingly wrong. Fingers are being pointed in every imaginable direction by the fanbase and local beat writers alike, and even national media outlets are getting in on the act.
Slide means Jets are closer to basement than playoffs: The Winnipeg Jets are closer to 30th o… https://t.co/zEQkfbzhEC #calgary #flames

— Christopher Ralph (@FlamesTHW) December 23, 2015
Finger-pointing, however, is about as helpful as lamenting that the team should have re-signed Lee Stempniak (which I'd like to point out they should have!). Instead, I have three ways the Jets can improve in 2016. Are the playoffs a pipe-dream? Not necessarily! Ask the Ottawa Senators, who were further down the drain last year than the Winnipeg Jets are now before clawing their way back into a playoff spot. For that to happen, however, they needed a miraculous turnaround, and the Jets will need a similar miracle, starting with a few things that simply must change or improve in the new year.
1: Get a Power Play Coach Who Knows What He's doing
Let me tell you, I have heard all the excuses various fans have made for the power play woes the Winnipeg Jets suffer through every year. "They just don't have the personnel!" "You can't score if you don't have scorers!" "It's not the coaches' fault!" And on and on it goes, all of it as helpful as a splinter beneath a fingernail.
First of all, I don't buy the idea that the Jets are lacking the personnel to run a good power play. Although Jets fans are determined to view their team as a lunchpail, score-by-comittee group, the team has a superb passer in Mathieu Perreault, a cannon in human form in Dustin Byfuglien, any number of big, bruising forwards willing to park themselves in front and provide a screen, and Blake Wheeler, who is behind only Vladimir Tarasenko and some guy named Kane for points among right wingers. I don't buy the idea that the Jets don't have good enough players for a good power play, and I certainly don't buy the idea that their talent level is befitting a team with one of the NHL's worst power plays.
In moments where it could change the complexion of the game, the Winnipeg Jets power play has looked flaccid. #NHLJets

— Philip Iver (@PhilipAIver) December 12, 2015
Second of all, look who the NHL's top power plays belong to. It's Boston, rolling at 28.9 percent according to ESPN in spite of them not having a single player in the top ten in NHL scoring. It's true that Patrice Bergeron and David Krejci are having excellent seasons, but is the Bruins' forward unit truly that much more skilled than the Jets that there should be 28 places separating them on the percentage chart?
Look at some of the other names in the top ten on that list. Does New Jersey have a superstar-laden lineup? The New York Rangers don't have a single player in the top-20 league scorers, yet their power play also finds the top ten. And I assume nobody is going to present the argument that, on paper, Toronto has the star power to be a top-ten power play percentage team. The Jets have more skill than any of those three teams, so why can't their power play click?
Even if the Winnipeg Jets did lack the personnel for a strong power play, they shouldn't allow this failure to continue unpunished. The Winnipeg Jets haven't had a power play in even the top half of the NHL percentage-wise since their inaugural season in Winnipeg. It's time for changes to the power play, starting with the strategist behind it.
Find Nikolaj Ehlers Some Decent Linemates
Nikolaj Ehlers showed flashes of brilliance at the start of the season, and for a while there it looked like the Winnipeg Jets had a strong Calder Trophy contender and future superstar on their hands. So… where did that go?
It went to the third line with Alexander Burmistrov and Chris Thorburn, that's where, and apparently it went there to die because Ehlers hasn't scored in ten games. It's no surprise, really; after all, Chris Thorburn isn't known for his goal-scoring prowess, and he's the sniper of the two, apparently, because Burmistrov has two goals all season. He had an empty net goal in the first game, a tap in courtesy Blake Wheeler on a two-on-one against the Maple Leafs, and nothing since. Not, in short, somebody I want a potential future scoring sensation playing with if I'm the Winnipeg Jets.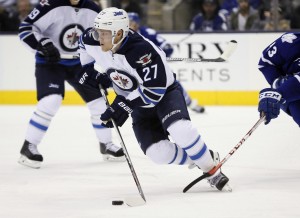 The young forward says he's not discouraged yet with his lack of offense, but it'll be hard not to be if this keeps up. If he stays with his current linemates, with whom he plainly has no chemistry at all, it will keep up. If the Jets are doomed to miss the playoff, they ought to at least give Ehlers a chance to grow as a player in the meantime.
3: Resolve the Ladd/Byfuglien Situation… One way, or Another
At this point, it's obvious the Andrew Ladd/Dustin Byfuglien contract situation is weighing on the team. It looms over everything either of those players does like a shadow cast by a tower of money, and every conversation they have with the media it is instantly the elephant in the room. The players will insist (as players do) that it's no kind of distraction, that is hasn't averted their focus from winning one bit. The results, however, show differently.
The uncertainty of the situation seems to be weighing on Ladd in particular. His 21 points through 34 games lags well behind his linemates, and puts him on pace for a disappointing 21 goals and 50 points, a huge come-down from last year's 62 points. Ladd was instrumental in getting the Winnipeg Jets into the postseason last year, and they really miss his level of productivity. If they want to make the playoffs this year, that level of offensive production needs to return.
Both Ladd and Byfuglien also don't seem to be their usual physically engaged selves. While this obviously hurts them come contract time, it also hurts the team at present, as both players are at their best when they're throwing their (considerable) weight around. Ladd is a demon on the forecheck when he's at his most physical, Byfuglien a pillar of intimidation on the back end when at his. That's been lacking this year.
Andrew Ladd with zero hits tonight. Byfuglien with just one. #NHLJets outhit 24-12 by CGY. No intensity backed by cold hard numbers.

— New Norway Rick (@ricktlu) December 23, 2015
Whatever the Jets decide to do with Ladd and Byfuglien will determine their course of action for the rest of the season. If they're re-signed, the team will show its fans and its players a commitment to pushing for the playoffs and perhaps tasting some success after all this time. If they're traded, it may indicate the team wants to try to stockpile draft picks, frustrating though that would be for many fans.
Whichever they decide, they must decide quickly, as the Jets cannot afford another season in that hockey purgatory between the playoff and the lottery selections. That's what got them into this mess in the first place.