When the sun rose on Tuesday, November 3rd, Connor McDavid had a commanding, seemingly insurmountable lead in the Calder Trophy race . When the sun rose on Wednesday, November 4th, the Calder Trophy race was suddenly wide open once again.
On the night of November 3rd, when McDavid got tangled up with a pair of Philadelphia Flyers and broke his collarbone in the ensuing fall (an injury that will likely keep him out for months) he ensured two things. Firstly, that the Edmonton Oilers were going to have a difficult road ahead of them without their young superstar. Secondly, that fans would now be treated to the most entertaining and tightly-contested Calder Trophy race in years.
The frontrunners in this new race are so many that it's virtually impossible to pick out a true favourite. One player who is indisputably right in the thick of this race is Nikolaj Ehlers.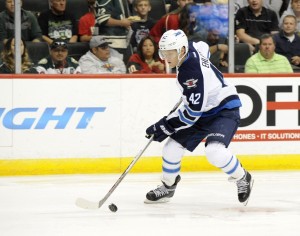 It's a testament to how strong a season McDavid was having that he still leads all rookies in scoring but he now shares this lead with Artemi Panarin, and is just one point ahead of Max Domi. You have to scroll a little further down the list to find Ehlers, but not much. Ehlers sits seventh in rookie scoring entering Saturday night's action, and just three points off the lead.
A Dead Heat
With such a talented crop of rookies, the Calder Trophy race is most likely to be won by the leading scorer. There are things that work in Ehlers favour. For example, it's rare for a defenseman, like Colton Parayko, to win the Calder Trophy race, with Aaron Ekblad being the exception last year. Ehlers' age (he's only 19 and won't turn 20 until February) may also work in his favour. In the end, however, points will likely be king.
Predicting who will lead the rookie scoring race is a fool's bet right now. Other highly-touted youngsters like Domi, Dylan Larkin, and Jack Eichel, are all having excellent freshman seasons, while other, more mature rookies, like Parayko and Panarin, as well as the Rangers Oscar Lindberg, are by no means falling behind. In fact, big 6'5 Parayko is tied with Ehlers in scoring entering Saturday night, and he's doing it as a defenseman.
Colton Parayko, 10th in scoring among D-men…1st in goals, 4th +/-, 1st gwg, 5th shots, playing over 20 minutes. #stlblues

— Andy Strickland (@andystrickland) November 5, 2015
The betting odds on the Calder Trophy race show, perhaps better than anything else, just how tight the race is. They also show, encouragingly for Jets fans, some recognition of the terrific year Ehlers is having so far. Ehlers numbers in the QMJHL were astounding (he finished last season with 101 points in just 51 games) but very few experts expected him to have such an immediate and impressive impact.
Tough Competition
There's no doubt that if Ehlers is to win the Calder Trophy race, he's got his work cut out for him. Max Domi may lack Ehlers' blazing speed, but his creativity is on par with that of the dashing Dane, and his shot may be even better, as unfathomable as that may be for Jets fans.
As for Dylan Larkin, a 19 year-old playing with the Detroit Red Wings (who are notoriously, perhaps excessively, patient with their prospects) in any capacity is impressive. That he's playing first line minutes and getting power play time, and contributing every night at both ends, is all the more outstanding. As of this writing, he sits second on the Wings in scoring with 10 points, ahead of such names as Gustav Nyquist and Tomas Tatar.
None of this is to take away from Ehlers, however. The Calder Trophy race is a tight one this year, but Ehlers is right in the thick of it. His 200-foot game has shown steady improvement all year long, he has seen time on the power play regularly and has contributed there, and his point totals are impressive in their own right. Unlike Domi and Larkin, he is not playing first line minutes.
Ehlers' speed and creativity are things to be marvelled at, and he has no fear with the puck. The common refrain toward players coming out of junior is "those fancy moves from junior just won't work in the big leagues". Yet, for Ehlers, the fancy moves are working. He has a pretty good shot in his own right too.
No Winnipeg Jet has won a major award in the team's four seasons in Manitoba's capital. Speaking objectively, no Winnipeg Jet has really even deserved a nomination. As such, Ehlers' progress and his potential to win the Calder Trophy are things Jets fans aren't really used to. For a grossly unfair comparison, we haven't had a rookie this electrifying since Teemu Selanne called Winnipeg home.
You'll have to excuse us in Winnipeg if we're feeling pretty good about that.