TheHockeyWriters.com chats with Tom Chorske, who discusses his time with the Devils on their 1995 Stanley Cup championship team and his time with the Islanders. Chorske, who was the Montreal Canadiens' first-round selection in the 1985 draft and made his NHL debut four years later after playing for the US National Team and the University of Minnesota, also lends advice to this year's first rounders.
During his 11 years in the NHL, the speedy Chorske scored 115 goals and proved to big a pivotal two-way part of the New Jersey Devils' neutral zone trap that revolutionized the NHL.
Chorske's Humble Beginnings
Patrick Hickey Jr.: As a former first round pick, what advice would you give to this year's first round class?
Tom Chorske: I think it's a little tricky to give advice when I don't know the individuals and things are a little different these days. That said, in general, I'd suggest:
– Pay attention to (observe), and learn (ask questions) from the leaders on the team.
– Be gracious with the fans.
– Work harder than anyone expects from you. You'll earn respect from your teammates, coaches, and fans.
Hickey Jr.: What was your experience with the Canadiens like?
Chorske: Putting on the Habs sweater and playing at the old Forum in Montreal (scored my first goal vs. Boston there) was an honor (and intimidating for an American college player). Pat Burns was tough on me but I had a lot to learn so I understand it now. Serge Savard treated me well. I'm proud to say I played for the Habs.
A Stanley Cup Champion
Hickey Jr.: What do you think was the biggest difference on the Devils in 1995 when compared to 1994? What got you guys over the hump?
Chorske: Two big additions were Neal Broten and Shawn Chambers; they were kind of the final pieces to the puzzle. Otherwise, we were essentially the same team but more experienced having made it to the '94 Eastern Conference Final. Marty Brodeur, Scott Niedermayer, Bill Guerin and Brian Rolston were getting so good so fast that in 1995 they were ready to be difference makers. Plus, Scott Stevens, Ken Danyeko, John McLean, Bruce Driver, Claude Lemieux, Stephane Richer were hungry to win. The crash line (Peluso, McKay, Holik) was a force and me and Bobby Carpenter did a good job shutting opponents down. Three-time Cup winner Sergei Brylin was good too.
Hickey Jr.: What was your favorite part of playing for the Devils?
Chorske: Being a part of the evolution of the organization. During my four seasons there, we went from the middle of the pack to Stanley Cup champions. I also really enjoyed playing for Jacques Lemaire and Larry Robinson … really good coaches. They gave me a role and communicated with me in a way that allowed me to play much closer to my ability than I had previously. I also met my wife of 18-years there.
On the Island
Hickey Jr.: How would you describe your time with the Islanders?
Chorske: My time with the Islanders was brief, but I really liked the guys on the team. We didn't win a lot but we liked each other and had some good times. Rick Bowness was a good coach and had a great attitude towards us. The fans on Long Island were great too. I will never understand how the powers-that-be couldn't or wouldn't build a new arena out there. Anyway, I took pride knowing that the Islanders had been a dynasty in the '80s. Guys like Nystrom and Gilles were still around the team and were great.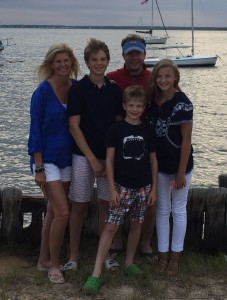 Hickey Jr.: What advice would you give players on the Islanders now that they've had some success in the playoffs and want to get to that next level?
Chorske: Play for each other … help the guy next to you play his best. Stick together during the tough stretches.
Hickey Jr.: How do you want people to remember you as an NHL player?
Chorske: I hope people remember me as a fast, fairly skilled, two-way player who had a pretty good career.
Hickey Jr.: What are you up to now?
Chorske: I'm living in Edina, Minn. and working in sales and business development for a small computer forensic firm. We support investigations of all kinds by finding clues and evidence on smartphones and computers, etc. My wife and I have been married 18-years and have three kids (15, 13, 10). They all play hockey, soccer and some tennis so we're busy with them for the most part.