Being an NHL general manager is a full-time job, but Tampa Bay Lightning GM Steve Yzerman is working overtime this summer.
Earlier this off-season, Yzerman was able to ink Steven Stamkos, Victor Hedman and Andrei Vasilevskiy to contract extensions. For many GMs, locking in those three players in less than 72 hours would mark the beginning of a quiet off-season. For Yzerman, however, while he has checked a few of the biggest names off of his list, there is still a lot of work ahead.
Killorn and Namestnikov Set for Arbitration in July
On July 5, Alex Killorn and Vladislav Namestnikov filed for salary arbitration. While each player is a restricted free agent that has received a qualifying offer from the club, each now has the opportunity to go to an arbitration hearing in the event that a contract extension cannot be reached before their scheduled hearing. On Monday, Killorn's arbitration was scheduled for July 20th, with Namestnikov's to follow on July 29th.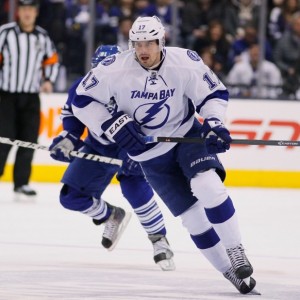 Although Killorn and Namestnikov have each filed for arbitration, this does not necessarily mean either player will complete the process. It is oftentimes used as a bargaining tool by a player and his agent to assist (or expedite) the process of determining the player's future with a club. It does not necessarily mean that either player does not wish to remain with the Lightning.
The Arbitration Process
Arbitration is somewhat akin to a trial without a jury. Each side, the player (with his agent) and the Lightning, would have the opportunity to present their respective cases to an independent third-party, the arbitrator. An inherent issue in the process is that there are competing interests at stake—on one hand, a player's agent makes the case for why a player is worth more than he is currently being offered. On the other, a team's management makes its own argument for why the player is not worth that amount. Seemingly, it is a process that players and management would like to avoid, as picking apart a player's shortcomings is not a pleasant process. Despite the fact that Killorn and Namestnikov's hearings have been set for later this month, it is unlikely that one or both of them will complete the process.
Kucherov and Nesterov Remain Unsigned
Nikita Kucherov and Nikita Nesterov are each restricted free agents that remain unsigned at this time. However, neither player is arbitration-eligible and will not participate in the process.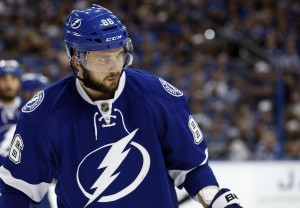 Kucherov, 23, scored 33 goals and 66 points in last year's regular season and followed with an 11 goal, 19 point performance in 17 playoff games. Outside of Stamkos, Kucherov is the team's most important goal scorer and Yzerman intends to sign the former 2011 second-round pick.
Earlier this off-season, Filip Forsberg signed a six-year, $36 million deal with the Nashville Predators and some have considered this to be the measuring stick for Kucherov. In the 2015-16 regular season, Forsberg scored 36 goals and 64 points, and the two players have a similar career history. However, Kucherov has been a much more meaningful contributor in the playoffs when compared with Forsberg. While Kucherov is arguably better than Forsberg, it is possible that given the "team first" mentality displayed by Stamkos and Hedman in their respective deals, and given Florida's favorable state income tax law, Yzerman may be able to land Kucherov for somewhere closer to $5 to $5.5 million.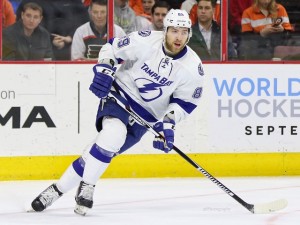 Nesterov, 23, proved during last year's regular season and playoff run that he can be a meaningful depth defenseman for the Lightning. In 57 regular season games, he tallied 3 goals and 9 points. Nesterov followed this with a limited appearance in 9 playoff games, aiding a Lightning defense that lost Anton Stralman during the playoffs. With the Lightning's buyout of Matt Carle and the emergence of Slater Koekkoek during the playoffs, it is possible that Yzerman sees Koekkoek and Nesterov rounding out the team's defensive core entering the 2016-17 regular season.
Looking Ahead: Next Off-Season Creates New Challenges
While Yzerman has his current share of challenges, he will be making these decisions with an awareness of what lies ahead moving forward. If not re-signed before July 1, 2017, Jonathan Drouin, Tyler Johnson, Ondrej Palat, and Andrej Sustr become restricted free agents. On that same date, Ben Bishop and Brian Boyle will become unrestricted free agents.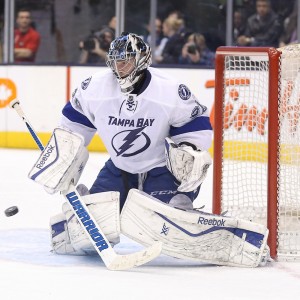 With the NHL's salary cap currently tied to league revenues and adjusted each year, it is increasingly harder for GMs to operate on such a tight budget. Despite those concerns, Yzerman will likely try to sign players he wishes to keep sooner rather than later. Further complicating things is the league's expansion to Las Vegas, as the NHL's 31st team will be choosing one unprotected player from each of the NHL's current clubs, subject to different rules.The most important aspect of which for Yzerman is the ability to protect just one goaltender.
While Yzerman has made significant steps in solidifying some of the club's main pieces in re-signing players like Stamkos and Hedman, there are many other parts of the puzzle that will keep him busy in the not too distant future.