Now that the Buffalo Sabres officially have their new general manager in Jason Botterill, the focus turns to the coaching search and other items on the to-do list for the team this summer. A lot of decisions lie ahead for the Sabres who are coming off a disappointing season.
A few members of the Sabres team at The Hockey Writers decided to get together and share their thoughts on a few important topics this offseason for your reading pleasure. Those four writers are Chad DeDominicis, Ryan Wolfe, Brian Matthews and Tristan Fitzpatrick. The group tackles three vital topics and shares with you what they would do in these situations.
Coaching Search
Chad DeDominicis
The Sabres and Florida Panthers are the only two teams searching for a head coach. They'll have their pick of the litter here and don't need to rush on a decision. David Quinn from Boston University sounded like a potential candidate out of the gate, but we haven't heard much on that front in a while. I've been a fan of ideas like Bob Hartley, Sheldon Keefe and Quinn. Rick Tocchet's name made its way into the mix over the last week as well with the hiring of Botterill. Ralph Krueger was another name that surfaced today from Pierre LeBrun of TSN.
At this point, Krueger may be the most interesting candidate. He got Team Europe to overperform and play well together in the World Cup of Hockey last year. He was also discussed as a candidate for the Vancouver Canucks job before they moved forward with Travis Green.
Solution: My choice would be to go with Ralph Krueger if he's available from his current position with Southhampton of the English Premier League.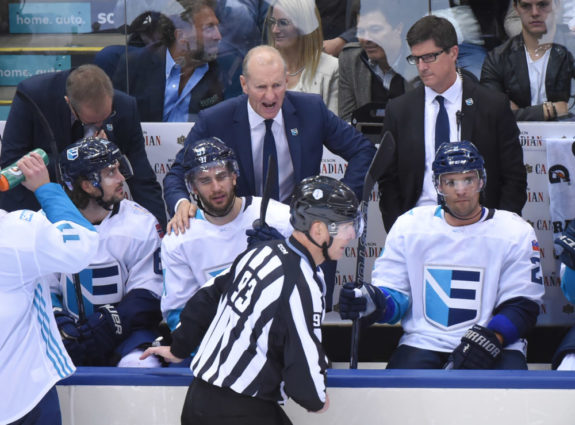 Ryan Wolfe
After swinging for the fences with Dan Bylsma, it seems like Buffalo needs to make a smarter pick this time around. Someone who can handle the locker room of older and younger players with ease.
Solution: The rumors are hot on Penguins assistant coach Rick Tocchet but David Quinn continues to be a very intriguing name.
Brian Matthews
A former assistant in Pittsburgh and head coach in Wilkes-Barre/Scranton, Reirden oversaw a Caps defense this season that ranked top five in the league in both shot suppression and goals against. He was also in charge of Washington's potent power play. A mentor to some high-level NHL defensemen (Kris Letang, Matt Niskanen, John Carlson), Reirden fits the "developer" mold that Botterill desires.
Solution: Washington Capitals' Associate Coach Todd Reirden.
Tristan Fitzpatrick
I would like to see Phil Housley as coach. The fans will like the appointment as he is a Sabres legend and a member of the HHOF. Fan appreciation for a coach will go a long way to creating a positive atmosphere and culture, not to mention buy him some time to settle in.
Aside from that, he has turned into a fine young coach worthy of the opportunity anyway. Currently the assistant coach of possibly the best defence in the NHL with the Nashville Predators, he may come to the Sabres as a Stanley Cup champion. Housley also coached the USA World Junior team to gold at the 2013 World Junior Championships.
I'd also like to see Kris Knoblauch of the Erie Otters come in as an assistant and coach the forwards. As the head coach, he has had four straight 50-win seasons in the OHL and this year is taking Erie to their first Memorial Cup. Knoblauch has coached extremely talented youngsters such as Connor McDavid and Dylan Strome to great success, I'd like to see that same magic used on Jack Eichel and company.
Solution: Phil Housley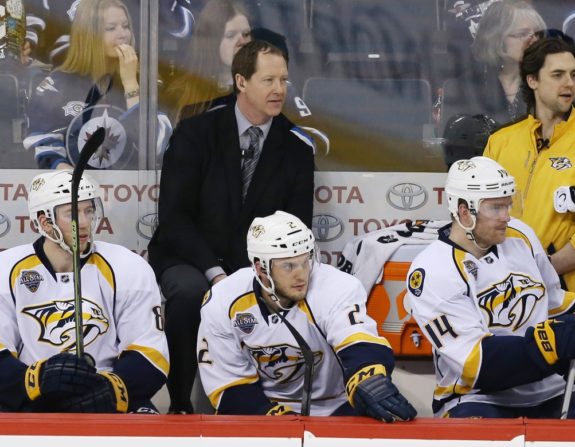 The Defense
DeDominicis
The Sabres have a lot of work to do to fix one of the worst defense groups in the league. It appears that Russian defender Viktor Antipin will join the club at the end of the World Championships, which is a good start. Sabres prospect Brendan Guhle will also likely challenge for a spot on the NHL blue line in training camp. With those two improvements, the Sabres can look to make a big trade to pull a defender from a team like the Predators, Minnesota Wild or Anaheim Ducks. Also, a free agent like Brendan Smith could be a good fit as well if the trade route doesn't work.
Solution: Trade for a young top four defenseman like Ryan Ellis, Jonas Brodin, Matt Dumba, Brandon Montour or Josh Manson.
Wolfe
All options have been exhausted in this department – what Buffalo needs at this point is a home run from any one of the three. Whether it be a trade, UFA/RFA signing or a draft pick, Botterill needs to crush one out.
Solution: Trading appears to be the safest and most logical solution in this case. Anaheim and Minnesota are among the teams who have a defenseman that will likely be dealt – see what the cost is and make a move.
Matthews
Will Butcher, the captain of Denver University's 2017 NCAA national championship team, was drafted by the Colorado Avalanche in 2013 but appears headed towards unrestricted free agency. If Butcher, the reigning Hobey Baker award winner (like Vesey), is unable to reach a contract agreement by August 1, he is eligible to sign with any NHL team. Before that deadline, however, Colorado could trade the negotiating rights to Butcher similar to what Buffalo did with Nashville last summer with Vesey. Although Vesey spurned the Sabres to go to New York, there's no downside to moving one of Buffalo's two third-round picks (68th and 99th overall) in an effort to immediately add a fast, puck-moving, left-handed defenseman to the lineup.
Solution: Explore the "Jimmy Vesey option" again.
Fitzpatrick
The expansion draft is an absolute blessing for the Sabres otherwise they would have to pay an arm-and-a-leg for a top defender. Luckily the expansion draft rules mean that the Ducks are going to lose one of them for free anyway, removing all of their leverage. Simply put: Anaheim has to protect their top three and Kevin Bieksa exposing either Josh Manson or Cam Fowler to Las Vegas.
Their options are: Vegas takes him for free, they trade a pick to Vegas so they don't take him, or trade him to the Sabres for a cut-price. Similar situations are happening with the Wild and Jonas Brodin as well as the Capitals and Nate Schmidt. Adding one of those to potential free-agents like Karl Alzner or Michael Del Zotto could go a long way to strengthening the back-end.
Solution: Trade or free agency.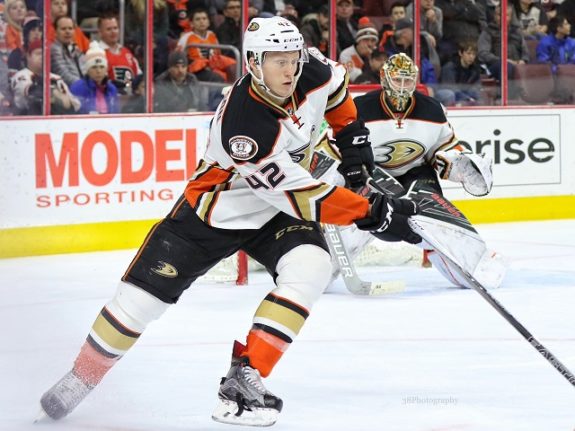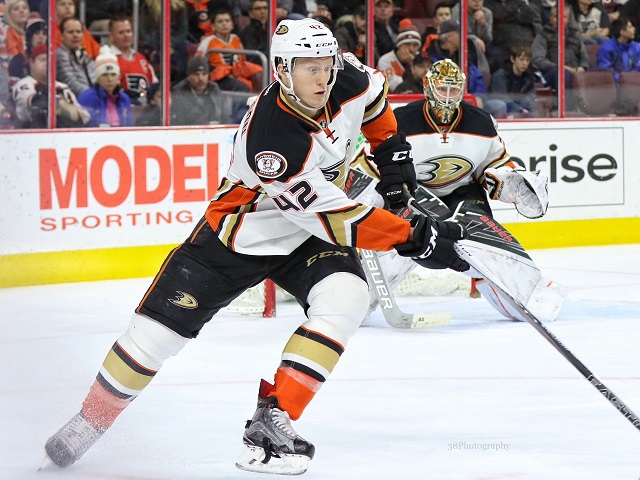 2017 First Round Pick
DeDominicis
I've been a big believer in trading the pick ever since the results of the lottery. It's likely that the top two defenders in the draft Cale Makar and Miro Heiskanen will be off the board before the Sabres pick at eight. On the flip side, it's hard to imagine that Botterill would trade the first round pick in his first draft as GM. If the desire is to hold onto the pick and make the selection, I'd do everything in my power to trade up a few spots to try to get one of the top two defenders.
Solution: Trade the pick or trade up to make sure you get a defenseman.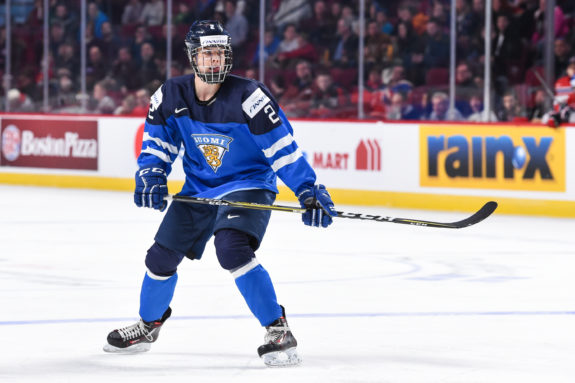 Wolfe
For the second straight NHL Entry Draft, Buffalo has the eighth overall pick and it is quite meh. Immediate help might not be available in this slot, which begs the question of what should be done here?
Solution: There has been a strong uproar of trading the pick and you'll get no argument here. Turn the eighth pick into a top four defenseman, if possible. No pie in the sky here, just basing off last year's Fowler for eighth pick rumors.
Matthews
If the Sabres hang on to the pick, there will be plenty of options on the table. Defense is easy: Cale Makar and Miro Heiskanen are can't-miss prospects. Offense? Look no further than Jack Eichel's linemate at this summer's IIHF World Championships for inspiration. Eichel and New York Islanders' hulking left winger Anders Lee have formed quite the tandem — similar to how Lee and John Tavares clicked this season for the Isles. Jack needs what Tavares has and forward prospects Owen Tippett and Michael Rasmussen have the size and the skill to fit the bill.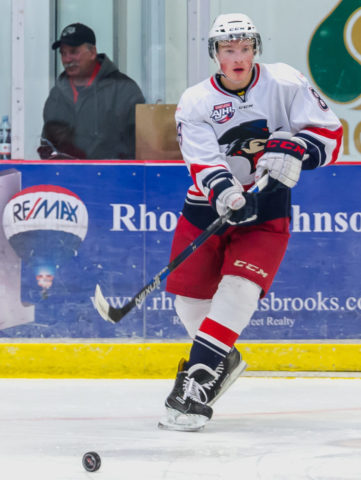 Solution: Botterill's insistence on improving the organization's culture and overhauling the AHL affiliate in Rochester makes it sound as if trading the eighth overall pick in this summer's draft is unlikely.
Fitzpatrick
Trade the pick. It's really simple, the Sabres don't need another forward to wait on when they're still waiting on Alex Nylander, Rasmus Asplund, Nick Baptise and Justin Bailey. The Sabres need quality now and I don't think they'll find any player NHL-ready at the eighth pick.
A defender would be nice but they take even longer to become ready. It could be two years at least until a defender makes the step up. Unfortunately, the Sabres just can't be that patient with their talent and risk wasting years of Eichel's career.
For some context, here are the players who went eighth from 2008-12: Mikkel Boedker, Scott Glennie, Alexander Burmistrov, Sean Couturier and Derrick Pouliot. It is clear that at that stage in the draft there is no sure thing. Would you part with any one of those players for a top-four defenceman? I would. That being said, don't give it up cheaply and if the value isn't there I'd target Cale Makar or Miro Heiskanen.
Solution: Trade the pick.