For a number of franchises, their prospect pools are the strongest part of the organization. It also means that the current on-ice NHL product is probably pretty poor. But, the future is bright because of the stable of young players that are on their way to the NHL.
Ranking prospects is inherently difficult for a number of reasons. Age, size, the league they play in, and the quality of their team all influence how a player is perceived, and that's before you even get to their actual statistics. People will disagree with this list. It's impossible to make a top 50 that will satisfy everyone.
I used a combination of what I believe is their potential, and probability of reaching said potential. A player like Anthony Mantha belongs near the top in terms of evaluating pure skill, but there are question marks about whether he can maximize his abilities.
Criteria for being eligible is Calder Trophy rules (can't have played more than 25 games in one season or six games in each of the past two seasons). As a result, the following notable players are ineligible: Teuvo Teravainen, Derrick Pouliot, Alexander Wennberg, Leon Draisaitl, Curtis Lazar, Andre Burakovsky, Marko Dano, David Pastrnak, Mirco Mueller, Brandon Gormley, Teemu Pulkkinen, and Matt Dumba.
1-10
1. C Connor McDavid (Edmonton Oilers): This one is a no-brainer. McDavid is a generational talent that could step in and lead the league in scoring next year. Sees the game like nobody else, and possesses incredible hands and skating ability.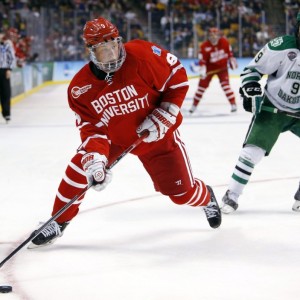 2. C Jack Eichel (Buffalo Sabres): Many believe Eichel would have gone first overall in any other draft since 2005 (Crosby's year), but he had to settle for second behind McDavid. Is an extremely powerful skater with long strides. Has sublime vision and playmaking abilities. Sees the play two steps before it happens.
3. C Sam Reinhart (Buffalo Sabres): Had a somewhat disappointing year in terms of point production in the WHL (down to 65 from 105 the previous year in 13 fewer games), but starred at the WJC where he led the tournament in points. May switch to wing at the NHL level. High hockey IQ, pass-first future top line forward.
4. C Dylan Strome (Arizona Coyotes): Led all of Canadian juniors in points with 129 last year, and brings everything a team looks for in a #1 center. Big at 6'3″, capable of beating you with his shot or pinpoint passing to teammates. His skating is not great, but more than adequate enough at the NHL level.
5. C Sam Bennett (Calgary Flames): Shoulder surgery derailed most of his 2014-15 season, but Bennett's talent is undeniable. A slippery player who is tough to check, possesses great hands and a motor that doesn't stop. Willing to go into the corners and plays a responsible defensive game.
6. F Mitch Marner (Toronto Maple Leafs): Capable of playing center or wing, Marner is capable of dazzling you with his skill and stickhandling. Very dangerous one-on-one, and is a complete player in all three zones. He's a little undersized at 5'11" and needs to add a little weight. When he does, watch out.
7. LW Nikolaj Ehlers (Winnipeg Jets): Danish forward that possesses blazing speed and a rocket of a shot. Has the rare ability of being able to pull slick moves at top speed, and could end up being the best Danish hockey player to date. Can beat you with a pass or shot. Has a combined 263 points over the last two seasons (playoffs included).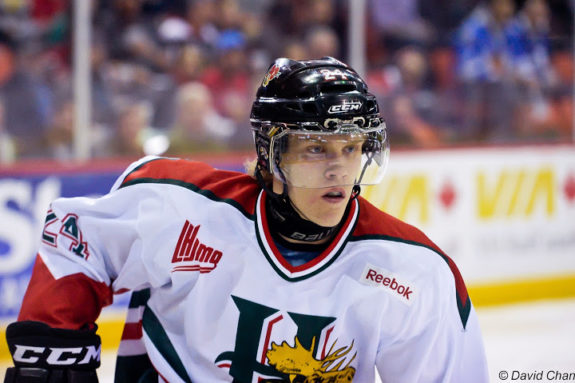 8. F Max Domi (Arizona Coyotes): 
Similar to London Knights teammate Mitch Marner, Domi is a little undersized but oozes talent. Has been accused of being a little too selfish and needs to use his teammates better, but hard to blame him when he has the skill to get it done by himself. Needs to improve play without the puck, but versatile offensive skillset is undeniable and allows him to play center or wing.
9. D Noah Hanifin (Carolina Hurricanes): Has minute-munching, top pairing defenseman written all over him. Very calm and poised with the puck, and is a complete two-way defenseman. He won't "wow" you with skill but is very reliable and effective in all situations. Strong skater.
10. C Dylan Larkin (Detroit Red Wings): Enjoyed a tremendous freshman season at the University of Michigan that would have been much more publicized if it wasn't for Eichel's absurd freshman season at Boston University. Was the US's best player at the WJC. Has great speed and uses it to create offense. Never stops moving. A willing physical player and is already strong in his own end.
11-20
11. D Darnell Nurse (Edmonton Oilers): Workhorse defenseman that can be relied on to play big minutes. Has a zest for the physical side of the game, and has great mobility for his size (6'4″, 205). Can jump into the play on the offensive end, and was Canada's best defenseman at the WJC.
12. C William Nylander (Toronto Maple Leafs): The son of former NHLer Michael Nylander, William is also a strong playmaking center. Possesses tremendous technical skill and can beat you in a number of ways. Split last season between the SHL and AHL, and was a near point-per-game player in both leagues, an extremely impressive feat for an 18 year old. Needs to improve play away from the puck.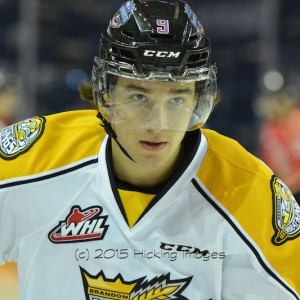 13. D Ivan Provorov (Philadelphia Flyers): A mobile two-way defenseman that is tremendously calm with the puck on his stick. Slows the game down to his level and dictates play from the back end. Scored over a point-per-game as a defenseman in his rookie season in the WHL for the Brandon Wheat Kings. Plays in all situations.
14. G Andrei Vasilevskiy (Tampa Bay Lightning): A rare goalie that was selected in the 1st round of the NHL raft, Vasilevskiy carried the Russian WJC team on his back for three tournaments. Brings a big frame and freakish athletic ability for his size. Already an established quality NHL backup at the age of just 21.
15. G John Gibson (Anaheim Ducks): Dominating performance at the 2013 WJC carried the USA to the gold medal. Plays his best in the big games. Has good size at 6'3″, calm and poised in the net with strong positioning.
16. LW Michael Dal Colle (New York Islanders): Has future sniper written all over him. Has a powerful wrist shot that he can get off at high speeds. Brings good size and uses it effectively to shield the puck and drive to scoring areas. Already plays well without the puck, and put up 118 total points last year.
17. D Josh Morrissey (Winnipeg Jets): Tremendous skater with a very high hockey IQ. Able to jump into the play and uses his strong skating to get back in position. Not overly physical, but uses his intelligence to defend effectively. Second in the WHL in points among defensemen in 2013-14 with 73 in 59 games.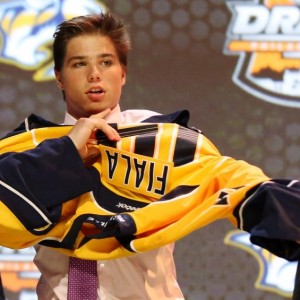 18. RW Kevin Fiala (Nashville Predators): Natural offensive abilities are undeniable, but needs to round out the rest of his game. Game-breaking one-on-one moves, and is very exciting to watch. Split last season between the SHL and AHL and was impressive in both leagues. Not very physical and needs to bring defensive game up to NHL level.
19. D Travis Sanheim (Philadelphia Flyers): Sanheim skyrocketed up the draft boards at the end of the 2013-14 season, and continued his rocket-like development in 2014-15. Led the WHL in points by a defenseman with 65. An effortless skater with a good frame but needs to add a little more bulk. Uses his intelligence, reach, and skating abilities to defend instead of relying on a physical game.
20. F Pavel Zacha (New Jersey Devils): Tremendous overall offensive abilities, and already NHL-ready size at 6'3″, 212. His 2014-15 stat line (34 points in 37 games) doesn't do him justice. Can beat you a number of ways. Needs to bring a more consistent effort every game and improve defensive abilities. If he does, look out.
21-30
21. LW Anthony Mantha (Detroit Red Wings): Top 10 prospect in terms of raw offensive talent, but needs to bring the rest of his game to a pro level. Had a relatively disappointing season in the AHL in 2014-15 after racking up 158 points in the QMJHL in 2013-14 between the regular season and playoffs. Seems to float at times and may not appear to be giving 100%, but at the end of the game he somehow had three points.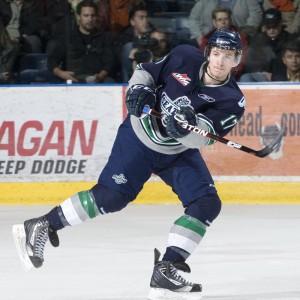 22. D Shea Theodore (Anaheim Ducks): Strong skater with great offensive instincts and ability to jump into the play. Led the WHL in points among defensemen in 2013-14 with 79 in 70 games. Isn't very physical, but defends very effectively using strong positioning and intelligence. In a short stint in the AHL at the end of 2014-15, Theodore put up 11 points in 9 games.
23. D Zach Werenski (Columbus Blue Jackets): The youngest player in the NCAA in 2014-15 did not look out of place at all playing for the Michigan Wolverines. Good all-around defenseman who can contribute in all facets of the game. Put up 25 points in 35 games as a freshman. Playing for the US at the WJC, some thought he was more impressive than Noah Hanifin.
24. RW Mikko Rantanen (Colorado Avalanche): Possesses very good size for a forward at 6'3″, 212. Uses his size to shield the puck, but isn't an outright physical player. Elite vision and passing abilities made him an SM Liiga regular last year where he put up 28 points in 56 games. Finland's best player at the 2015 WJC, and will be relied upon heavily to carry the offensive load for them in 2016.
25. D Anthony DeAngelo (Tampa Bay Lightning): Scary-talented offensive defenseman capable of putting up video game-like numbers. Scored 160 points in 106 games in the OHL over the last two seasons. Needs to work on defensive game in his own end, overall decision making, and is undersized for a defenseman at 5'11", 177. A very talented PPQB at the very least with sky high ceiling.
26. D Madison Bowey (Washington Capitals): Brings everything a team wants in a defenseman. Powerful skater, good size, a willingness to play the body, and very good at both ends. Captain of the powerhouse Kelowna Rockets put up 60 points in each of the last two WHL seasons.
27. LW Nick Ritchie (Anaheim Ducks): Premier power forward prospect that has a rocket of a shot and loves to play the physical game. Battles in the corners, lays the body, and uses his size to battle for scoring chances around the net. Already pro-sized at 6'2″, 225 and is a good skater for his size. If he can put it all together, he's an incredibly unique player.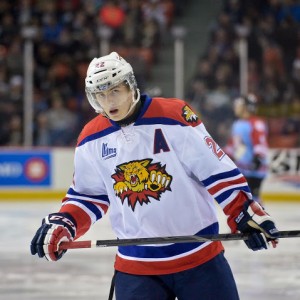 28. F Ivan Barbashev (St. Louis Blues): 
Classic skilled Russian forward who is capable of beating you in a number of ways. Great one-on-one moves that helped him register 95 points in 57 games for the Moncton Wildcats of the QMJHL last season. Impressive at the World Juniors in 2015, and should be a key player for Team Russia in 2016.
29. C Robby Fabbri (St. Louis Blues): Plenty of skill, competitiveness, and determination packed into a small frame. Is undersized at 5'10", 170 but does not play to his size. Doesn't back down from anyone, and will go the dirty areas to get the job done. Shifty skater who uses his speed and size to weave through traffic. Was on pace for a tremendous year before an injury at the World Juniors.
30. RW Timo Meier (San Jose Sharks): Big Swiss forward is a smart player who knows how to get to the scoring areas on the ice. Possesses a strong shot. Played on a line with Nikolaj Ehlers for the Halifax Mooseheads, and produced 111 combined points last season. Will need to prove he can produce without Ehlers on his wing, but that shouldn't be a problem.
31-40
31. W Jakub Vrana (Washington Capitals): Brings all the skill needed to be an impact top six winger at the NHL level. More of a goalscorer than a playmaker who uses his strong shot whenever possible. Originally from the Czech Republic, but played last season in Sweden where he had 24 points in 44 games. Will make the transition to the AHL next season.
32. LW Lawson Crouse (Florida Panthers): Many question his offensive upside, but Lawson Crouse brings everything else to the table. Plays very physical, is a responsible defensive player and penalty killer, and is huge for his age at 6'4″, 209. He was not put in a good position to produce points on a poor Kingston team last year, and his numbers could skyrocket when placed next to skilled linemates.
33. LW Kyle Connor (Winnipeg Jets): Smart, versatile player who led the USHL in points last year with 80 in 56 games. Already an accomplished two-way player and strong skater. He won't overwhelm you with his moves, but uses his intelligence and vision to pick apart defenses with passes. Slated to attend the University of Michigan in the fall.
34. D Haydn Fleury (Carolina Hurricanes): Some considered 2014-15 a relative disappointment for Fleury, as his point total decreased by 18 despite playing in just seven fewer games. Fleury still has all the tools needed to be an impact, top 4 defenseman at the NHL level. He's big, a good skater, and plays a physical game to defend effectively in his own zone.
35. D Julius Honka (Dallas Stars): The small Finnish blueliner was a rare 18/19 year old in the AHL last year, and played very well considering the circumstances. His 31 points in 68 games were the third most among rookie defensemen, and the two defensemen ahead of him were more than a year older than him. Honka is small at 5'10", 180 but plays bigger than his size. He's a very good skater and uses his high hockey IQ to defend effectively despite his size.
36. G Malcolm Subban (Boston Bruins): The younger brother of PK Subban has established himself as one of the best goaltending prospects in the world. He's very consistent, posting a save percentage of at least .920 over the past four seasons (two in the OHL, two in the AHL). He's exceptionally athletic and can go post-to-post in the blink of an eye. Unfortunately for Subban, Tuukka Rask is firmly entrenched as the long-term starter for the Bruins so Subban will likely play the role of backup for a year or two and then be used as a trade chip.
37. D Griffin Reinhart (Edmonton Oilers): The former 4th overall pick projects as a very steady, reliable top 4 defenseman. He doesn't make eye-popping plays or jump into the rush very often, but keeps things very simple and plays an effective game. He should make his Oilers' debut in 2015-16.
38. RW Jake Virtanen (Vancouver Canucks): A power forward with a rocket of a shot, Virtanen is the type of player you notice out on the ice. He'll shoot the puck from any and all angles, and lays bit hits with frequency. A 45 goal campaign in 2013-14 led to him being selected 6th overall in the Draft, but his goal total dropped to just 21 this season for the Calgary Hitmen.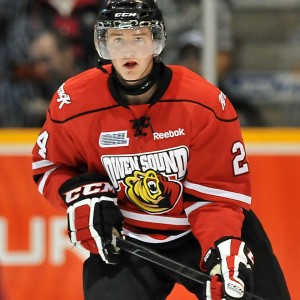 39. D Chris Bigras (Colorado Avalanche): Bigras was a rare player who made the Canadian WJC team as an 18 year old, but not as a 19 year old. The snub most have given Bigras a chip on his shoulder, as he enjoyed a tremendous 2014-15 campaign where he had 71 points in 62 games. He's an exceptional skater that plays effectively in both ends.
40. D Samuel Morin (Philadelphia Flyers): Morin has all the tools to be a stud #1 defenseman in the NHL, but it remains to be seen whether he can put it all together. He's a huge defenseman at 6'7″, 225, skates very well for his size, and loves to play the body. The question is whether he can improve his angles and general decision making with the puck to take his game to the next level. His raw tools mean he'll be an NHL player, but how good he is will depend upon what's between the ears.
41-50
41. G Connor Hellebuyck (Winnipeg Jets): Hellebucyk has put up exceptional numbers in every league he's played in, but has not gotten the recognition he deserves. He was incredible in two seasons at UMass Lowell where he had a sub 1.80 GAA and .940+ save percentage both seasons. He was great this season in the AHL, and starred for the US at the 2015 World Championships where he had a 1.37 GAA and .948 save percentage. He's a big goalie with very good positioning and sound technique.
42. RW Oliver Bjorkstrand (Columbus Blue Jackets): The second Dane to appear on the list is coming off back-to-back 100+ point seasons in the WHL for the Portland Winterhawks. He's a solid, but unspectacular skater with great offensive instincts and a very good shot.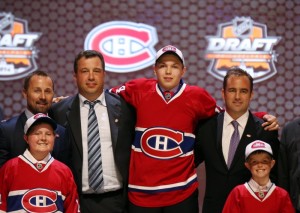 43. W Nikita Scherbak (Montreal Canadiens): Scherbak is a highly skilled winger who is willing to play a physical game and battle in the corners. He was inexplicably left off of Team Russia's WJC roster in 2015, but should make the squad in 2016. More of a playmaker than a scorer, Scherbak registered 82 points last season for the Everett Silvertips.
44. D Shayne Gostisbehere (Philadelphia Flyers): Gostisbehere was thrust into the limelight with his incredible performance in the 2014 NCAA National Championship game in which he led the Union Dutchmen over the Minnesota Golden Gophers. He had 3 points and was +7 in the 7-4 victory. Gostisbehere is a great skater who loves to jump into the play offensively. He has a booming slapshot, but is rather undersized at 5'11", 170.
45. RW Pavel Buchnevich (New York Rangers): Buchnevich enjoyed a strong season in the KHL where his 30 points were by far the most among all players under the age of 20. He's a classic Russian sniper with a deadly shot and strong skating with questionable play without the puck on his stick.
46. W Kasperi Kapanen (Toronto Maple Leafs): The son of former NHLer Sami Kapanen is a quick skater that is equally adept at shooting and passing. He has average size and doesn't play much of a physical game, relying on his speed to beat defenders. He had a solid season in Finland in 2014-15 with 21 points in 41 games. He was expected to lead the Finnish offense at the 2015 WJC, but was rather disappointing and finished with just one point in the tournament.
47. C Christian Dvorak (Arizona Coyotes): Few players in the hockey world enjoyed the type of jump in production that Dvorak had in 2014-15. Limited to 33 games in 2013-14, Dvorak registered just 14 points. This seasons, he racked up a combined 122 points for the high-scoring London Knights. In addition to his point production, Dvorak is committed to taking care of matters in his own end. He's also a very strong skater.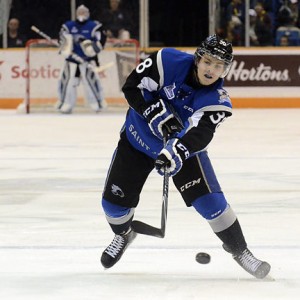 48. D Jakub Zboril (Boston Bruins): Zboril is the epitome of the modern day NHL defenseman. He has decent size, but he isn't huge. He's very smart when the puck is on his stick, and knows exactly when to jump into the rush and when the hang back. He makes a good first pass, and defends effectively in his own zone. He'll play the body when needed, but is just as effective using his smarts and positioning. He had 33 points last year for Saint John's of the QMJHL.
49. LW Sonny Milano (Columbus Blue Jackets): After a tremendous draft year in which Milano registered 125 points for the USNTDP, Milano opted to move to the OHL instead of college hockey. Milano is known for his slick stickhandling abilities and speed. Chiefly a playmaker from the wing, Milano relies on his skill with the puck on his stick to make an impact on the game, as he doesn't play much of a physical game.
50. C Matthew Barzal (New York Islanders): Many regarded Barzal as one of the most talented players in the 2015 draft, but an injury limited his season to 44 games. As a result, he fell to #16 where the Islanders potentially got a real steal. Barzal is a very heady, intelligent player who uses his vision chiefly to set up his teammates. If he's healthy next season, expect a big uptick in production.
Honorable Mention: Ryan Pulock, Anthony Duclair, Nic Petan, Alex Tuch
Bill Schoeninger is a Philadelphia Flyers writer and current Boston University student studying business. Coming to THW from Hometown Hockey, Bill follows and writes about the Flyers, Boston University Terriers, and NHL Draft prospects. Follow him on twitter @BSchoeninger17