Following a flurry of offseason transactions throughout the NHL, a number of previously inferior teams now retain a new-found sense of optimism heading into the 2015-16 season.
One of these, if not the most prominent of such clubs, is the Edmonton Oilers, who appear poised to once again become a legitimate contender following a large scale roster overhaul this offseason. Greater forward depth, upgraded defense and a potential starting goaltender, not to mention the arrival of Connor McDavid, will allow the Oilers to be a truly competitive club, which they have not been since reaching the Stanley Cup Final in 2005-06.
With significantly increased expectations placed upon the Oilers this coming season, let's take a moment to make, as well as assess, three realistic predictions for the Oilers in 2015-16.
Nail Yakupov Will Score 25 Goals
Although many are already considering former first overall draft selection Nail Yakupov a bust, he appears ready to enjoy the most successful NHL season of his career in 2015-16. Having inked a two-year, $5 million contract extension this past April, expectations of Yakupov will be at their highest this year following three seasons of inconsistent play.
For those who doubt Yakupov has the potential to be an elite NHL scorer, it is important to remember that Yakupov did lead the Oilers in goal scoring as a rookie in 2012-13, notching 17 goals in 48 games. At his goal scoring pace in 2012-13, Yakupov would have exceeded the 30-goal plateau, indicating his elite potential.
One of, if not the only factor which will influence the resurgence of Yakupov's career, is the arrival of McDavid. An elite scorer and playmaker, McDavid's presence as the Oilers' second-line center will instantly provide Yakupov with numerous high-quality, high-percentage scoring opportunities on a nightly basis, a privilege which Yakupov has thus far been deprived of playing alongside the likes of Derek Roy or Anton Lander, respectively.
Yakupov has the talent, of this there is no doubt, and when paired with McDavid, Yakupov appears ready to reap the benefits of playing with, according to Wayne Gretzky, "the best player to come into the League in the past 30 years."
Connor McDavid Will Win the Calder Trophy, Scoring 80+ Points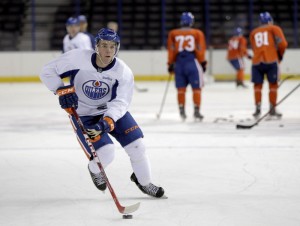 Given his tremendous, generational talent, McDavid winning the Calder Trophy as the NHL's rookie of the year appears to be a virtual guarantee, while producing at a point-per-game pace, something which has not been done by a rookie since Evgeni Malkin in 2006-07, could also be within reach considering McDavid averaged 2.5 points per game with the Erie Otters in 2014-15.
As the first overall selection in the 2015 NHL Entry Draft, McDavid is an incredible talent who will provide the Oilers with elite offensive skill as well as leadership, both now and for the considerable future.
Enhancing McDavid's talent and offensive production with the Oilers will be his similarly skilled linemates, which will likely consist of Taylor Hall or Benoit Pouliot and Nail Yakupov, with the latter of which bound to benefit the greatest from McDavid's arrival.
McDavid will have stiff Calder Trophy competition this season, as the 2015-16 rookie class is amongst the strongest in recent history. Young stars such as Max Domi, Jack Eichel, Sam Bennett, Kevin Fiala, Michael Dal Colle, William Nylander and Jake Virtanen are ready to make their mark at the NHL level, as all of which should record highly successful rookie seasons.
Cam Talbot Will Win 25 Games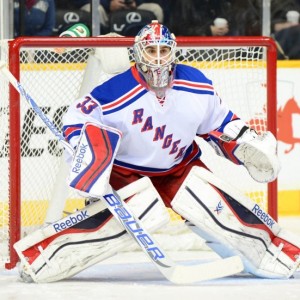 In 2014-15, only 21 NHL goaltenders were able to win 25 or more games. In 2015-16, Cam Talbot should, and undoubtedly will be among the goaltenders to reach this plateau. One factor which will benefit Talbot is the Oilers' new-look defense, which is drastically improved from last season and now includes not only greater skill, but depth, as well.
Andrej Sekera will log first-pairing minutes and provide the Oilers with a legitimate defensive pairing, likely alongside Mark Fayne. Oscar Klefbom's game is progressing well at both ends of the ice, while the addition of Eric Gryba will add greater physicality to an otherwise soft defensive core. Further, the acquisition of Griffin Reinhart and the development of Darnell Nurse will provide the Oilers with great depth as the season progresses.
Despite this being said, the Oilers defense is nowhere near as deep or as defensively skilled as those Talbot played behind while with the New York Rangers. However, if Talbot is to become a legitimate NHL No. 1 goaltender, he will have to find a way to succeed despite the play of his teammates in front of him – a feat which has proven tough to accomplish for any Oilers goaltender in recent history.
However, Talbot has displayed the sheer skill and ability, albeit in a short amount of time, to become a starting NHL goaltender with the Oilers. Although he will likely split playing time with either Ben Scrivens or Anders Nilsson, the starting job is Talbot's to lose in Edmonton. However, given his ability, Talbot should have no issue reaching 25 or more wins in his first season in Alberta.
Brett Slawson is a four-year veteran of The Hockey Writers who covers the Toronto Maple Leafs, NHL prospects, and the OHL's Mississauga Steelheads.
Contact Brett on Twitter @brettslawson92, or by email at brett_slawson@hotmail.com.