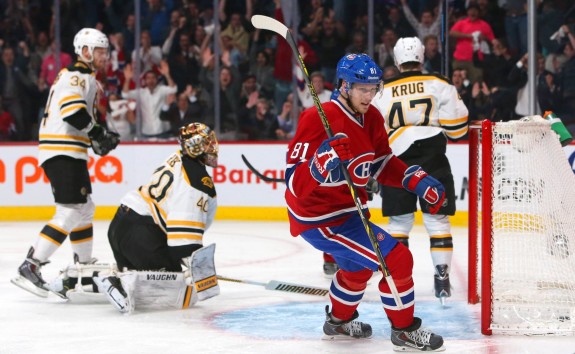 The Montreal Canadiens are inside of Tuukka Rask's head.
The 27-year-old goaltender for the Boston Bruins has enjoyed great success since his trade to Boston in 2006. Rask is 125-72-54 in his career with a 2.15 goals against average with a .927 save percentage in 239 appearances; all with the Bruins. The numbers would be better by taking out his career statistics against Montreal. The six-foot-two-inch netminder has struggled against the Habs going 3-12-3 with a 2.76 GAA and a pedestrian .906 save percentage in 19 regular-season appearances. Furthermore, Rask is winless in his career against Montreal on home ice (0-6-3), allowing 28 goals in those nine games.
The two Original Six rivals will battle it out for the fourth and final time in the regular season on Sunday night at TD Garden in Boston. The Bruins are is coming off a 2-1 victory over the New York Islanders while Montreal heads to Beantown after a 6-2 thumping of the New Jersey Devils at the Bell Centre.
Rask, along with the rest of his teammates, have struggled to beat the Bleu, Blanc, et Rouge of late. The Black and Gold are 2-6-2 in the past 10 games against their Francophone rivals and winless in their past five home games against the Habs (0-3-2). The speed and skill Montreal possesses have been too much for Boston to overcome in recent times, especially when it comes to containing Max Pacioretty. The Connecticut native has lit up the Bruins for six goals and 11 points in his past 10 games against Boston.
Coach Claude Julien has been hesitant to reveal who he plans to start in goal for Sunday night's matchup. Top goaltending prospect Malcolm Subban was called up earlier this week, leading to speculation that the 21-year-old could start his first National Hockey League game against his older brother P.K. Subban. Rask's struggles against the Habs are well-known to those in Montreal, but Boston's $56 million man is being paid to beat anyone and everyone including the Canadiens. The Finnish netminder got his first taste of Boston-Montreal postseason hockey last year in an epic seven-game series. Rask allowed at least three goals in five of those seven games, including a 3-1 loss in game seven which saw him make only 15 saves on the night.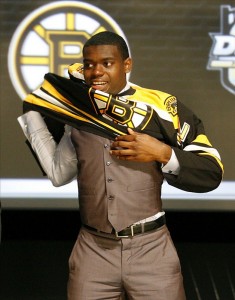 The Subban vs. Subban storyline may sound good on paper, but is best suited for pregame warmups. Boston's number-one pick in 2012 has a 9-10-2 record this season for the Providence Bruins (AHL) with a 2.47 GAA and .921 save percentage. He was called up at the expense of Niklas Svedberg, who was sent to Providence on a conditioning stint on January 30. Calling upon Subban to make his first NHL start against his brother may make for great television, but it does not make much sense for a Bruins squad that is looking to improve on their current playoff position. Boston is seven points ahead of the Florida Panthers for the final wild card spot in the Eastern Conference and trail the Habs by six points for third place in the Atlantic Division.
The Bruins would be wise to let their number-one goalie face the demon that has haunted him for so long. The NHL's revamped playoff format focuses heavily on divisional matchups, meaning Boston's road to the Stanley Cup will inevitably run through "La Métropole". Rask is being paid an elite-level salary to beat the best teams in the league and lead the Bruins to the Promised Land. If Subban starts on Sunday night and plays well, Montreal may lose the game but will have the notion that Boston is reluctant to play their franchise goaltender against them once again. Svedberg started in place of Rask on November 13 in Montreal but was on the wrong end of a 5-1 blowout. Rask should shoulder the responsibility of erasing any doubts about his inability to reign victorious over Boston's hated rivals. It would go a long way to boost his morale and confidence if he can play well against the Habs and lead the Bruins to victory on Sunday night.
As CBC commentator Jim Hughson once said regarding the Vancouver Canucks inability to beat the Chicago Blackhawks in the postseason, "…it's a wonderful day for an exorcism". Tuukka Rask should have the opportunity to step up and prove to Bruins fans he can exorcise the demon dressed in Bleu, Blanc, et Rouge.