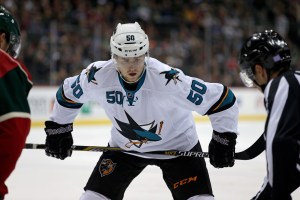 They teamed up twice for goals in San Jose's 5-4 loss to the Hurricanes on Saturday night and more is needed from the two young forwards. They of course being Sharks rookie Chris Tierney and second year player Tomas Hertl. If the Sharks are going to make any noise in the playoffs, the Sharks will need an increase in secondary scoring. Currently amongst the bottom third in the league in five aside scoring, the Sharks have never been known for having strong third and fourth lines during the Joe Thornton era. Hertl, possibly still recovering from last season's knee injury has not had the same impact he had as a rookie, and Tierney has only played intermittently at the NHL level this year despite making the roster out of training camp.
The Kids Are Alright
With the Sharks struggling to find a consistency to their game, one possible solution to improving the depth scoring would be to keep Tierney in the lineup on a regular basis. It may be just two games since his latest recall, but he has multiple points in both games and gives the Sharks some skill they otherwise rarely feature on the fourth line. Granted Tierney moved up to a third line with Hertl and James Sheppard in the middle of the Carolina loss, but either way his presence makes the fourth line better. When injured forward Tommy Wingels returns from injury in the coming weeks, the Sharks ought to consider reverting back to a preseason line combination. During the exhibition season, Tierney was often centering the veteran Wingels and fellow rookie Barclay Goodrow. Reuniting those three together and having Sheppard and Hertl play with either rookie Daniil Tarasov or Tyler Kennedy on the other bottom six line would be much more dangerous combinations than anything with Andrew Desjardins, Mike Brown nor John Scott on them. While Desjardins is underrated, these three are pure fourth line only players with little offensive upside. The Sharks need goals, and getting young talented players into the lineup makes them better now and into the future.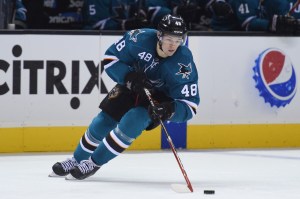 Too often have the Sharks had to overly rely on their top-six, and that has continued into this season. However, Hertl has the capability to get on a roll. We have seen flashes from him over the course of his sophomore season. A two goal, one assist effort as part of a third line against Carolina could be something to build off. It was just his ninth and 10th goals of the season in 54 games after scoring 15 in 37 games a rookie. Since San Jose has shown zero indication of putting Joe Pavelski at third line center, the Sharks need two solid bottom six lines. When Pavelski centered the third line in years past, it was a strong enough scoring line that they could get away without much of a fourth. With Pavelski on Joe Thornton's wing though, no San Jose third line is going to be anywhere close to the third lines with Pavelski on them. Therefore, the bottom six must improve by committee. Both Hertl and Tierney have the raw talent to help elevate the third and fourth lines but they will need to build on these recent performances. If we are to believe Sharks GM Doug Wilson, there aren't any veteran stop gaps that will be riding in on a white horse to save this team by the trade deadline. It has to come from within, and these young forwards getting a shot is the only way that is going to happen. Continuing to roll out Desjardins, Scott, and Brown isn't going to cut it.