The New Jersey Devils signed Martin Havlat to a low-risk, one-year contract this summer in hopes of him fitting in seamlessly with several other Czechs on the team. The oft-injured Havlat has been just that — missing 18 of the Devils first 53 games (he's also been sick too), but three of the five goals he has scored have been power play markers. He only has 13 points but he has started to become noticeable game-in and game-out as he finally plays a stretch of consecutive games on the opposite wing of his good friend Patrik Elias and center Travis Zajac. He has appeared in 11 straight games now, the longest amount in a row in a season of stops and starts for the 33-year-old former 1st round pick (1999).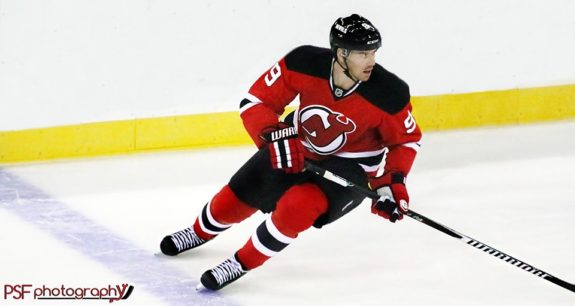 "We're chipping in, we're creating chances," said Elias. "We're playing every game against (the other team's) top line so it's not always easy; but I think we're doing a good job." A healthy Havlat is starting to get more chances as his conditioning improves also, which is the player Elias is familiar with from international competitions. "He's been good the last few games, he's getting on the score sheet too; he's creating and I think he's feeling better about his game. That's what it's all about — you have to feel confident out there. I know what kind of player he is, and he's starting to show it here."
The Hockey Writers caught up with Martin Havlat following a recent game in New Jersey to talk about his sometimes-comical relationship with Elias, beards and the circle of life among other things.
Patrik Elias scores his 400th NHL goal on February 6 vs Toronto:
The Hockey Writers: You are very good friends with Patrik Elias — tonight he scored his 400th NHL goal and earlier in the season he recorded his 1000th NHL point; what makes him such a great player?
Martin Havlat: It's a big night for him; 400 goals is quite the achievement. He's been a great player (throughout) his whole career. He deserves it (smiles) he's been waiting for it for a few games (10) now and I'm glad he finally got it.
THW: We noticed that you were the one who retrieved the puck for him…
MH: I did (grins wide), but I would do that for anybody else. I just know that he wanted to get this one off of his back and it happened tonight — a very important goal in the game too.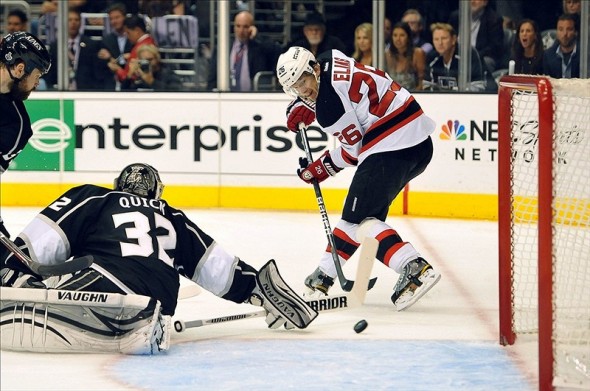 THW: The two of you have been friends for quite a long time now correct?
MH: We know each other since 2001 after my first NHL season; we became really close up in Toronto, at the NHL Awards show. Since that day we have always talked and communicated a lot.
THW: There's this video on the Internet, of you and Patrik…
MH: (starts laughing) I don't want to talk about that one!
Martin Havlat and Patrik Elias show off their … bird call talents:
THW: But it's really funny…
MH: That's the old days. (smiles from ear-to-ear) Now, we are mature.
THW: What has this been like for you this season, with the stops and starts? You've been sick, minor injuries, the cuts on your face early in the season.
MH: Yeah it was a…tough start — I had a good start, then tough luck (his own visor cutting his face in a collision). But now (lately) we are winning as a team, so it's much more fun. I've been getting a lot of opportunities to be on the ice in all-different situations and I feel like it has been going well.
Martin Havlat sustained a massive cut across his upper lip in just his fourth game with the Devils:
THW: Here in New Jersey there's a no-facial hair rule, how are you handling this as a guy who has been bearded for the majority of his career?
MH: Yeah well, I look much younger now (stroking his hand along the side of his face and chin) than I did the last eight years. It had definitely been a while since I had this kind of shaved face.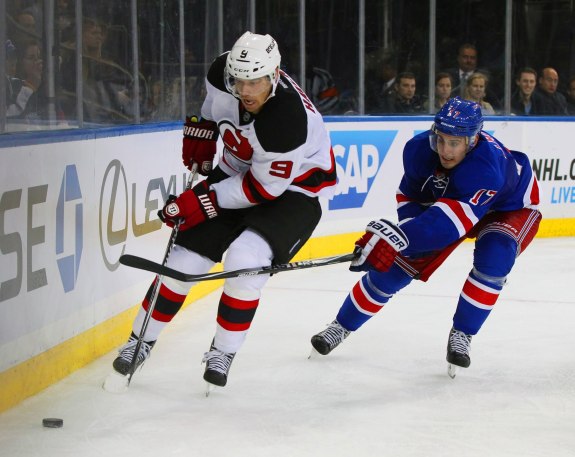 THW: Do you miss it?
MH: I do, I do (shakes head and smiles), but it is what it is and I have no problem following the rules like everybody else.
THW: During the All-Star break your team was off for ten days, did you let it grow out a little bit?
MH: (laughs and looks around the locker room) I did and I shaved the day before I came back to work.
Martin Havlat did score a lot of goal with that beard:
THW: Does your wife miss it?
MH: Yes, because now I look younger than her (winks). So she wants me to grow it again.
THW: Your wife recently (January 29) gave birth to your second child, congratulations and how is everyone?
MH: Thank you, we've been home now for the last three days, everything is great (smiles for remainder of answer) so far so good. Now we have two, so it's a different story now, but it's so great. Both of them Ivanka (wife) and Nikola (new baby girl) they are home and everything is good right now.
THW: How has the adjustment been living here in New Jersey for you and your family?
MH: Well the last three years I was in California, so one thing is the weather is obviously different but really everywhere else that I've played it has been cold winters. We've been waiting for the baby to come so we haven't gone out to do or see much. There's a lot of things we'd still like to see around this area, I'm sure we will do a lot in the offseason.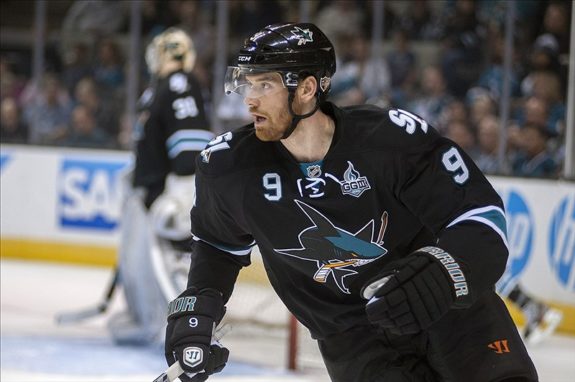 THW: You signed a one-year deal this past summer, would you like to be back here again with the Devils next season?
MH: Well, like I said I'm happy here now and I'm just trying to help the team to win in some way every night. We'll see where we are when the season is over.
THW: We read the article about how one of your best friends Roberto Fratelli recently lost his brother Ricardo to cancer. We'd like to offer our condolences and ask how are you?
MH: Thank you. He was a great man, my best friend's brother. I'm so sorry for his family; he's a great man and I know they were very close. (tilts head down) It's a very big loss, unfortunately that's what it is. Cancer, right? It's tough to take and stomach.
Dan Rice can be reached via Twitter: @DRdiabloTHW or via Email: drdiablo321@yahoo.com