The Winnipeg Jets are sliding fast. They have lost six straight games, the first four by at least two goals while the latest two defeats have come after regulation.
It's time to forget about Evander Kane and that situation for now, as the young power forward will be sidelined for 4-6 months after he undergoes shoulder surgery.
Paul Maurice needs to find a way to turn things around and besides the obvious which is to have better performances in goal, here are a few areas where the Jets can improve.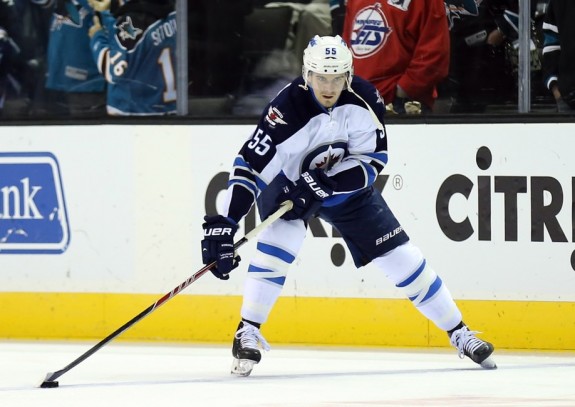 Power Play
The Jets power play is tied for 21st in the NHL with a 17 percent success rate. Sure it's improved from what it was in the early part of the season, but they should be closer to 20 percent.
Dustin Byfuglien is a unique weapon to have on the man advantage because of his versatility. He can shift from being the player down low and in front of the net to the point where he can create chances with his shot. So far this season he has two goals and 11 points on the power play.
Andrew Ladd and Bryan Little have come up with six goals each to lead the team, while just one of Blake Wheeler's 15 goals has come on the power play. Somehow Wheeler has more shorthanded tallies (two) than power play goals.
Winnipeg needs to do a better job of moving the puck and creating open space down low. They are getting plenty of power play opportunities — eighth most in the league with 176 — it's time to cash in.
Little on last night's loss, and how the team can rebound tomorrow against Colorado. >> http://t.co/kNK4uFLyWT pic.twitter.com/1DpWQenaUN

— Winnipeg Jets (@NHLJets) February 7, 2015
Faceoffs
Bryan Little takes a lot of faceoffs. A lot as in the fourth most in the NHL and nearly double the number that the next Winnipeg player has taken. The problem is Little is winning just 48.8 percent of his draws. While he may be going up against some of the league's elite, he still should be expected to hover at 50 percent. He is the only player who ranks in the top 10 in faceoffs taken who has a percentage below 50 percent. It adds up to a ton of draws lost in all three zones in a variety of situations.
As a team the Jets aren't any better. Mark Scheifele is a dismal 43 percent in the faceoff circle and just so happens to be the player taking the second most draws on the team.
So overall the Jets rank 21st in the league with a 48.4 percent success rate in the faceoff circle. It would be a lot lower, but Jim Slater is dominating, winning 56.6 percent of his draws.
More faceoff wins means more possession and that should help Winnipeg's chances of winning.
Team Defence
Once the team's great strengths, it's become a weakness of late. While many of the blunders could fall on the shoulders of Ondrej Pavelec and Michael Hutchinson, let's not forget the team in front of them that's giving up plenty of chances.
Prior to limiting Chicago to just 22 shots, the Jets had given up more than 30 in four of their past five games. Over that stretch they allowed a total of 23 goals, including four straight games where they allowed five goals in each. Note the Jets average 29.2 shots against per game this season, which is middle of the pack.
They were able to keep winning without their top four defenceman for a significant stretch, but now a healthier team is struggling.
Everyone needs to be held accountable. Forwards need to backcheck on every play and defencemen must clear the front of the net and win battles in the corners. And, the team must work on executing quicker, more efficient breakouts. Moving the puck up ice with a quick pass or knocking it off the boards. There is too much time being spent in their own end.
This may just be a cold stretch and that's one thing. But, if the Los Angeles Kings pull it together late as most expect they will, another long cold streak could cost the Jets a playoff spot.