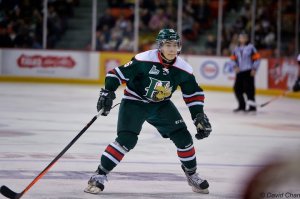 Switzerland is not a country that's known to produce many high end draft talents.
Nino Niederreiter, selected by the New York Islanders fifth overall, was an exception and is the highest drafted Swiss player in history. There have been only seven Swiss first round picks, though the country shows a positive trend.
Since 2008, Switzerland has had a player selected in the first round, with 2012 as an exception. This year's draft class is looking to be the best ever for European nation. They are led by Halifax Mooseheads forward Timo Meier. He had a break out year in the QMJHL which catapulted him into the top 10 in Central Scouting's final NA rankings. Denis Malgin and Jonas Siegenthaler are both playing under Coach Marc Crawford in Zurich and will be drafted as well. Those three players will be selected for sure and then there are several other Swiss players who have chances to get drafted in one of the lower rounds.
SUI has one A-rated prospect in the lineup today in RW Timo Meier. Two B-rated in C Denis Malgin / D Jonas Siegenthaler

— Mike Morreale (@mikemorrealeNHL) January 2, 2015
The strong Swiss drafting class showed their potential in the U18 Worlds when Malgin and Siegenthaler carried the hosts into the bronze medal game before falling to Canada. Both players have been voted into the tournament's All-Star Team and several other notable 2015 eligibles played for the Swiss team. Let's take a closer look at the Swiss players with the best drafting chances.
Meier projected within top 15
Meier was drafted by the Mooseheads in the first round of the CHL Import Draft where he had a break out year with 90 points in 61 games this season, making him the 11th best scorer in the QMHJL. His strong season caught the attention of NHL teams and nearly all of the mock drafts have him listed as one of the first 15 picked players.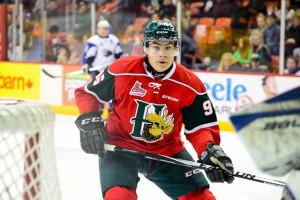 If you talk to scouts, they will tell you he has potential to be a top-six offensive winger. They like that he started to show a new physical edge, and picked up his game this season. Meier has a very accurate, hard shot and a lightning quick release. He still needs to work on his defensive game, but most scouts still have him in the top 15.
A European scout recently stated that North American scouts are especially high on Meier, and there are teams still having him in their top 10, which might be a bit too high in my opinion. Given the recent history of Swiss players in Calgary, it is a possibility that the Flames are looking to select him with their 15th overall pick, but it's highly doubtful that he would be available if other teams have him as a top 10 player on their lists.
Is Siegenthaler a second rounder?
The 18-year-old defenceman is a big body at 6'2″ and 214 lbs. He played with Zurich all season long, was constantly seeing ice time and played in all 18 postseason games with the team. Siegenthaler impresses with his calmness and lack of mistakes he commits. A very solid stay-at-home defenceman who possesses a good positioning game and great patience.
Scouts would like to see him using his big body a bit more effective getting involved more physically and although he was selected into the U18 All-Star Team he showed he is definitely not a puckmoving defenceman. He struggled leading the powerplay unit from the blueline. Central Scouting has him ranked number 12 in the European ranking and he will most certainly be drafted in the second round because there are too many competitive defencemen available in the draft who will be picked in front of Siegenthaler.
Siegenthaler mentioned as one of the draft surprises
Malgin is seen as a risky pick
The hardest Swiss player to predict is Denis Malgin. From a potential and skill point of view you have to consider him a first rounder as he has a lot of upsides, especially his above average vision and puckhandling skills. The reason why NHL teams will shy away from picking him too early is his smallish size. He is listed at only 5'9″ and 176 lbs. Nevertheless, Malgin will be drafted this year because he is simply too skilled to leave undrafted.
He makes up the lack of size with his great skating abilities and shows the determination that a small forward needs to succeed. He showed in Swiss National League A games that he is able to compete against bigger oponents and he could impress scouts during his very strong U18 Championship tournament, where he was selected into the All-Star Team. Therefore it is realistic that he gets drafted in the third round, maybe drops to the fourth, but not further.
Guelph's Suter and other notables in the role of the maverick
Pius Suter had a break out year for the Guelph Storm scoring an impressive 43 goals and 72 points in the regular season. The improvement compared to his first season in Guelph is tremendous and caught scouts attention. Central Scouting has him at 74th in their North American rankings and there is a good chance he gets drafted this June. Some scouts are high on Suter and see him as a mid round pick. Suter shows a good package of skills while his matured understanding of the game might be his biggest asset.
I like the idea of Pius Suter from Guelph at the 4th/5th round for the #Sabres. Stood out to me when I watched Storm this year #NHLDraft

— Maxwell Marko (@maxwellmarko) June 9, 2015
He will return to Switzerland for the coming season to play for Zurich Lions, where he previously played in the youth team before moving to North America. He will be coached by Marc Crawford and could be one of the surprises of the Swiss league next season.  In those two years in Guelph he gained lots of experience and this might help him to get a good drafting position.
Other notables:
Roger Karrer: 
The captain of the Swiss U18 team had some tough luck when he got injured early in the Worlds and couldn't play for the rest of the tournament. Karrer played a good season and had 6 games in the highest Swiss league including one in the playoffs. Listed at 75th in Central Scouting's ranking, the puckmoving defenceman possesses a powerful shot and good understanding of the game.
Damien Riat:
The 18-year-old has gotten around a lot as he played in Switzerland, Nortre Dame and Malmo, Sweden. Although not overly big, Riat is a gritty forward who likes to aggitate and get under the skin of opponents. He likes the physical part of the game and possesses a good shot, therefore Riat is fitting a third line role and signed a contract with Servette-Geneva in Switzerland for the coming season.
Calvin Thurkauf:
Thurkauf is a two-way center with a good frame and solid work ethic. He was part of the Swiss U18 team and impressed scouts with his calmed and matured play. Thurkauf doesn't possess enough high end skills to get drafted in one of the earlier rounds but he could be selected with one teams last pick.
I don't have Joren Van Pottelberghe, Michael Fora, Auguste Impose or Kay Schweri on my list because I don't see a valid chance they get drafted. Schweri and Fora had a decent season in the CHL and Van Pottelberghe is ranked 5th among European Goaltenders. Latter didn't convince at the U18 Worlds and therefore I believe he dropped in many rankings. Still with Meier, Siegenthaler, Malgin and Suter there are four Swiss prospects who could be selected in the first four rounds. This underlines that this draft class is one of the best Switzerland has ever had.
Independent Scout covering European Hockey and Prospects for TheHockeyWriters. Located in Switzerland and blogging on www.scouting-factory.blogspot.com. Opinions on blog are my own