The anguish in inside of Arizona Coyotes' coach Dave Tippett continues to spread.
A proud man with a stellar professional approach, Tippett is currently going through the worst period in his hockey career, player and coach. His Coyotes have lost nine straight at home and seem to be sinking further out any playoff conversation.
Coming into Tuesday's home game with Edmonton, the Coyotes have 24 standing points, and that's 28th among all NHL teams. Only Carolina and the Oilers have earner fewer points. Plus, the Coyotes are 12 points behind the Kings and Jets for the final playoff spot in the highly competitive Western Conference.
While the team, collectively, seems closer to walking the plank together, there appears little relief on the horizon. General manager Don Maloney tries to bring up the hottest player at the moment from Arizona's AHL affiliate, the Portland Pirates, but each player appears more as a stop-gap measure and is gone after one or two games than bringing actual relief.
These days, Tippett doesn't hide his emotions and walks into the press interview room with hands buried deep in pockets, a somber look across his face and words measured.
"I hate to lose," he said after Monday's crisp practice in the Gila River Arena. "Look, it's frustrating for me and frustrating for everyone. I haven't felt this way in 30 years around the NHL."
Occasionally, Tippett, who amassed the most coaching wins in Winnipeg/Phoenix history, forces a slight smile but for the most part, this is a serious man with several serious problems.
Theories abound why this team is buried near the bottom of the league.
Some contend there are not enough good players and others say players are mistake-prone and undisciplined.
"In a streak like this, there are two kinds of players," Tippett offered. "First, there's a guy who tries to takeover and shows he has maximum talent. Then, there's the guy who tries and hide, be safe, and stays out of the fire. Right now, our players are a combination of both but not playing with a great deal of confidence."
If there is one player who can read Tippett as well as anyone, it's Coyotes' captain Shane Doan. With the franchise since its' final year in Winnipeg and throughout all 17 seasons since relocating from Manitoba, Doan says the dilemma facing Tippett is not indigenous to the coach. This is a collective issue and only through a collective effort resulting in wins can the anguish and despair leave the locker room.
"(Tippett) remains very professional and is going through what we're going through," Doan said after practice Monday. "He's tried so many things and pushed and pulled. Somehow, we need to find ways to get over this and move forward."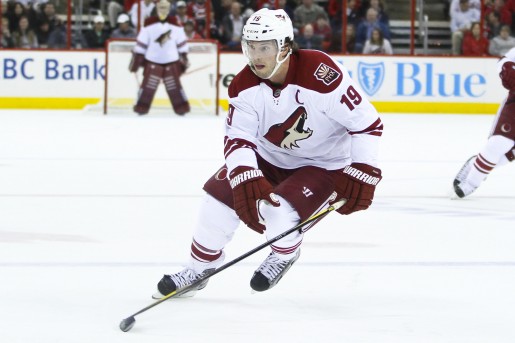 While many believe the talent level on this team is marginal at best, the consensus among players that the talent is here to produce positive results. After all, pundits like to argue, sports, like life, is cyclical and while the Coyotes are currently experiencing difficult moments, the upside will come.
benching players
For one, Tippett believe players are not pressing and not trying to accomplish on the ice what they are not capable. Plus, Tippett sent a message last Saturday when he benched Sam Gagner in a home game against the Minnesota Wild. Appearing in 29 of the Coyotes' 30 games to date, Gagner has three goals and seven assists for just 10 scoring points.
"In his last six, eight games, (Ganger) was not coming on strong," Tippett said. "He needs to maximize his effort and have results. It's results which are missing from his game. He'll play (Tuesday night against Edmonton) and I expect he'll be a very determined player."
Not only was Tippett talking about Gagner in general, but seem to point a finger at this club, noting, "for us, it's all about getting results."
Mark Brown is a former sports editor for daily newspapers in the Philadelphia and Cincinnati markets. He was named Best Sports Columnist, honorable mention 2004 by the Associated Press Society of Ohio. He is a contributor to major daily newspapers, including the Chicago Sun Times, Philadelphia Inquirer, Honolulu Star-Bulletin, Milwaukee Journal, Arizona Republic, Nashville Tennessean and the Associated Press. He was a Featured Columnist for bleacherreport.com and covered the Arizona Coyotes.