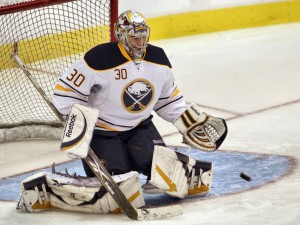 What do smoking and hits on goaltenders have in common? Both are being phased out, both are frowned upon and can lead to serious injury but yet both refuse to be banned despite the outcry of the general public. The NHL needs to make a decision, either a goaltender outside the crease is fair play or hits on goaltenders are illegal, a grey area of "if you do it you will be get destroyed" just doesn't cut it anymore in today's game.
If you look at the perpetrators of the hits below, Milan Lucic, Darren Archibald and Darcy Hordichuk, we can assess that for some players, a "gentleman's agreement" is no longer enough and one can turn to the old Aesop fable;
"THE HARES harangued the assembly, and argued that all should be equal.
The lions made this reply: Your words, hares, are good; but they lack both claws and teeth such as we have."
When men with the dimensions of 6'4/225, 6'3/210 and 6'1/211 respectively, well know in the hockey world as fighters and enforcers, see a way to hit another player, they will do so more on instinct than for the purpose of injury especially when they know that the consequences will at most result in a minor penalty and a fight.
Goaltender hits may be few and far between but below are three examples in consecutive seasons of this exact issue:
12 Nov 2011 – NHL – Bruins At Sabres – Milan Lucic vs Ryan Miller
2 May 2010 – OHL –  Barrie Colts At Windsor Spitfires – Darren Archibald vs Phillipp Grubauer
http://www.youtube.com/watch?v=WzIrMOFeGDw
24 March 2009 – NHL – Canucks At Stars – Darcy Hordichuk vs Marty Turco
In every instance the goaltender was well outside the crease and unprotected. In all three incidents, the player had the right to make a fair hit on the goaltender and in all three the player making the hit was set upon by the opposing players, retaliation being the obvious outcome with the goaltender being the most protected player on the ice.
The comments made by Buffalo's Ryan Miller after the Boston game sums up the feeling of the goaltenders;
"I just stuck around because I just want to say what a piece of s—I think Lucic is. Fifty pounds on me and he runs me like that. It's unbelievable. Everyone in (Boston) sees him as a big, tough, solid player. I respected him for how hard he played. That was gutless. Gutless piece of s—."
Miller has a fair point but if there are no actual rules in place to combat the issue then Lucic has the right to do as he wishes (fairly) within the current rules. Should Miller have come so far out of net to play the puck and because he did, does that morph him into a regular player with regular rules applying? Next time Ryan Miller is put into the same situation, will the Lucic incident make him think twice about leaving his net to avoid another concussion? These are questions the NHL need to address.
The response of Brian Burke; "This is not a rampant issue, this is not an epidemic….The goaltender getting run like that is not a common experience." may be true but what is in place to prevent the "dirtier" players of today's game hitting the goaltenders more frequently if they choose to leave the crease? If a goaltender can be scared into never leaving the crease, this would surely provide an advantage in important games such as play-offs.
If you don't want people smoking, ban smoking. If you don't want players hitting goaltenders, ban hitting goaltenders. A simple equation really. It seems to make a name for yourself these days in hockey, just plow into the closest netminder and receive instant front-page media headlines, all for the sake of a minor penalty.