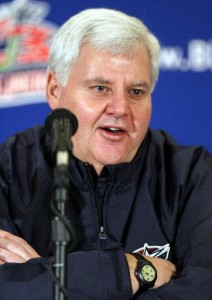 Since being hired on November 6th, Ken Hitchcock and the St. Louis Blues are off to a 4-0-1 record, beating some of the best the league has to offer in Chicago and Detroit.  Along the way they have amassed 14 goals, and only given up 4.  And perhaps more impressively they haven't given up a single goal in the second or third period.
Thus far Hitchcock's short tenure as Head Coach has been anything but uneventful.  His first game came against the Blackhawks at home when the Blues honored Pavol Demitra and Igor Korolev.  This is an emotional first game to be a part of, especially considering the former players that were out on the ice to assist in the ceremony.  A win in this game for the Blues was not surprising considering the emotion involved, but it nonetheless speaks volumes for the demeanor and coaching abilities of Hitchcock as he was able to keep his relatively young team in check.  After that the Blues lost in a shootout to the Leafs, shutout Tampa Bay and their vaunted 1-3-1, beat Detroit on a silly snipe from Alexander Steen, and then brushed off the new and improved Panthers Thursday night.  In the midst of this five game span, Chris Stewart got Shanabanned 3 games for nudging Nicklas Kronwall into the boards.  Through all of it the Blues look like a completely different team under Hitchcock and have controlled the play in every game since his hiring.  They look faster and just simply better than they did in the beginning of the season when Davis Payne held the reins.  I don't know if it's Hitchcock's system or his coaching style but the team looks like they have truly benefitted from this move, and are finally living up to the potential that they seemed to have before the season started.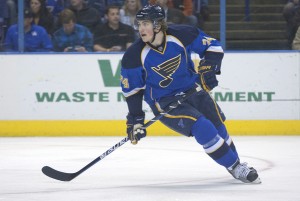 At the beginning of the year many thought that the Blues had a legitimate shot to make the playoffs in the West.  With guys like Backes, Steen, and T.J Oshie why wouldn't you.  But under Payne the Blues seemed stagnant and as a result lost a lot.  Now, they sit in 8th place in the West, and while it's still early the Blues look like they've turned it around.  Everyone is playing better and you couldn't ask for a better start from Hitch and the boys.  Maybe Hitch has the formula for a surprising playoff run, something the city of St. Louis is accustomed to.