If anyone knows fantasy sports, it's TSN columnist Scott Cullen. Even the most knowledgeable armchair GM can learn a thing or two from Cullen's extensive knowledge of North America's premier sports leagues. Using analytics to explain his methodology, he has also become a leader in using statistical analysis to understand trends and make predictions in sports.
A native of Kitchener, Ontario, a small city just outside the shadow of the Greater Toronto Area, Cullen grew up playing hockey for the local Junior B squad, the Dutchmen. Taking his talents to South Bea- I mean the Wilfred Laurier University in neighbouring city Waterloo, he studied economics and management before taking an interest in media-related courses and writing for the school paper.
After providing fantasy sports support to the Toronto Star and radio station The Fan 590, Cullen began working with The Sports Network in 2001. After a layoff in 2003 (he spent a year working on the Canadian Idol website), he returned to become their in-house fantasy sports expert.
I got a chance to ask the affable Cullen some questions about his work, his thoughts on hockey's usage of analytics, and whether the Ottawa Senators have a chance of making the playoffs.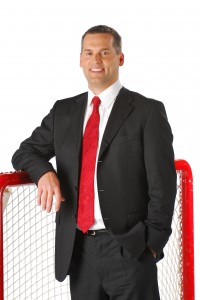 The Hockey Writers: You are extremely receptive to questions and comments from concerned fantasy team owners. How do NHL fans compare to their counterparts from the NBA, MLB, and NFL in terms of passion for their leagues?
Scott Cullen: NHL fans are passionate, but in my experience, fans of all sports – at least the ones that interact with me — are passionate. Part of the deal with providing sports analysis is that the people who seek out my opinion tend to be the most die-hard fans.
A casual fan will check scores and a more involved fan will look at box scores, the fans that go beyond that level of interest, wanting more information and analysis are the ones that tend to come to me with questions.
THW: How do you manage to stay so informed? I'm often impressed at your ability to stay on top of so many different sports.
SC: I appreciate that, but as you say it, I feel like I'm always striving to get more information, the vast majority of which now comes online.
Twitter is a fantastic resource and I'm looking at my computer a lot (too much), but I have a TV at my desk and listen to sports radio in my car. I kind of immerse myself in the job, but such is the nature of writing about sports. It's challenging to stay on top of the information to a point that I feel comfortable, yet I keep trying. I'm such a trooper.
THW: I don't know if you've ever looked, but some of the comments I've seen on TSN's "It's Your! Call" towards your Power Rankings and fantasy tips can be downright nasty. Do idiotic comments ever get to you?
SC: Not any more they don't. When I was first starting on TSN.ca – ten years ago now — it took some getting used to, but I have pretty much become numb to it at this point. I'm fortunate to have a sizeable enough readership which means, inevitably, there will be a percentage of people who think I'm an idiot.
I get plenty of e-mails/Tweets too and when I respond it can either go nowhere beyond name-calling or turn into a healthy debate.
What I've never understood, and probably never will, is why anyone would be so upset that they have a different opinion on a player or team than I do. The uncertainty of sports is such that reasonable adults should be able to disagree on the merits of a player or team without either one of them being called an idiot (or worse).
THW: Injuries are fantasy team killers. I lost a lot of points because of hurt fantasy "studs" Ilya Kovalchuk, Drew Doughty and James Reimer. What could a person like me do to recoup some of my losses?
SC: It's tough to handle injuries to stars because there's little you can do to make it up. Maybe you can try a high-risk trade, but in most leagues the waiver wire isn't going to offer a lot of help unless, say, someone dropped Jaroslav Halak, who is already starting to play better after a slow start. But, if someone is willing to sell low on Eric Staal, Alexander Semin or the big guns in Anaheim (Corey Perry, Bobby Ryan and Ryan Getzlaf) maybe that would be the best way to make a dramatic recovery.
THW: You're obviously a numbers guy, but does the irrational mind of the proverbial sports fanatic ever seize you? You must have a favourite sports team that you go nuts over.
SC: Numbers guys aren't forbidden from being fans, but once your job involves writing about all teams in the league, it tends to be counter-productive to still think about the game as a fan of any one team.
I grew up cheering for teams that are easy for others to hate, though that was never part of my reasoning. When I started cheering for them in the late 1970s, they were successful, and they had storied histories, so I sided with them. That means I cheer for the Montreal Canadiens, New York Yankees and Dallas Cowboys.
There's been good and bad with them, but the truth is, the longer I've been writing about sports, the highs aren't quite so high and the lows aren't anywhere close to as low, when it comes to following those teams.
The only team that I started cheering for in my youth that I no longer cheer for was the Philadelphia 76ers, who had Dr. J, Moses Malone and Charles Barkley in the early 1980s, but frustration over their direction and the arrival of the Toronto Raptors allowed me to finally cheer for a local team, not that it has gone particularly well for the Raptors.
THW: If your team ever does do poorly, how do you cope?
SC: I found it much harder when I played competitive hockey to deal with losses. When it comes to teams that I grew up cheering for, I get a slight grin if they win and a mild frown if they lose – it's not a big deal to me anymore either way.
I've become much more analytical in how I watch sports, which I still enjoy, but that doesn't result in the same kind of passion when it comes to results.
THW: Do my Ottawa Senators have a chance to make the playoffs? The rational part of me believes the answer to be a resounding "no", but miracles have happened before…right?
SC: In a word, no. It's not happening for the Senators this year. Miracles can happen, but over the length of a hockey season, it's really hard for teams to get results better than their talent suggests, especially if they aren't getting spectacular goaltending and it doesn't seem that the Sens necessarily have that in their corner this year. But this year is all about growth; finding out which players are capable of playing a significant role when the Senators are expecting to be a playoff team again.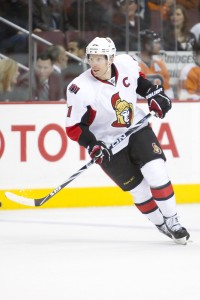 THW: I guess I can live with that. Sports analytics is a term thrown around in the sports world, but some fans may not understand the concept. What is it?
SC: Analytics is about taking statistics and using objective analysis to find value and make better decisions. It's really a natural evolution. As technology improves, there is access to more data and there is value to be found if teams know how to use the data to make more informed decisions.
THW: How much of an impact has it had so far on the world of sports?
SC: Analytics is making progress, but still has a ways to go, it seems, in some sports.
Baseball has always been stats-oriented. The idea of Sabremetrics and the principles of Moneyball of course originated in baseball, so they're further along the curve. Now, if you look at a site like www.fangraphs.com, you can see information that is so detailed, that the statistical profile of a player tells a much more specific story.
Basketball has embraced analytics more in recent years and the Dallas Mavericks somewhat famously (among statheads, anyway) had a full-time Director of Basketball Analytics, Roland Beech (the founder of the site www.82games.com) , who contributed to their NBA title run. My understanding is that there are now at least 20 NBA teams with someone in charge of analytics.
I don't know how much analytics are involved in football, but given the stakes and the kind of money teams spend, it would seem incongruous not to spend a little more to increase the likelihood of making better decisions. Sites like www.footballoutsiders.com and www.profootballfocus.com show that there is certainly room for better analysis.
When it comes to hockey – and I don't know this for sure — I tend to think that hockey has been slow to embrace analytics.
I've heard from agents who say that some teams use them and some teams don't, but in a salary cap sport, spending a little money (that won't count against the cap) to improve decision-making when it comes to contracts, draft picks, trades and free agents only makes sense.
THW: Being a sport of rich tradition, it's not a surprise that hockey appears to have been slow to embrace analytics – the last MIT Sloan Sports Analytics Conference in Boston was the first time that hockey had its own panel. What do you think is hindering its acceptance of analytics? Is there even an important role for it?
SC: There's an old-school approach that still runs through at least some front offices in the NHL and that makes it more challenging to convince those teams that the numbers geek could provide value, but anything that can improve an organization's decisions, particularly when it comes to multi-million-dollar decisions, is worthwhile.
I think some of the challenge for anyone providing analytics is in the selling of the information because, for all the statistical advances, they never tell 100% of the story, so there needs to be a combination of stats and analytics with more traditional scouting information to provide a more complete picture.
There tends to be resistance from both sides. People that have been watching hockey for their entire lives don't necessarily accept that they can learn more about a player by applying analytics.
At the same time, statheads have to work so hard to have their voices heard, that they're not necessarily accepting of views that don't fit in the statistical model.
Ultimately, the organizations that do it right, in any sport, can mesh old-school and new-school (ie. analytics) approaches so that the team makes better decisions – that should be the only goal.
THW: You attended the 2011 conference and wrote an extremely interesting pair of articles about your experiences there. What was it like being around like-minded individuals?
SC: Naturally, I loved it. I've been a sports stats nerd for a long time, so a chance to learn from some of the brightest minds in the industry was a tremendous opportunity.
I'm pretty confident with my understanding of sports statistics, but when people with, for example, Ph.D's in statistics, are presenting new ideas and theories, there's always something to be learned.
My biggest challenge was deciding which panels to check out because there were multiple topics covered at all times, and I found almost all of them interesting.
THW: You work with some of the most respected columnists in hockey. How does working with the likes of Bob McKenzie and James Duthie impact your work?
SC: I grew up with a subscription to The Hockey News, going back to when Bob McKenzie was the editor-in-chief, so I've been reading his work for most of my life. He's widely respected for his contacts, experience in the industry and journalistic standards and he's reached the pinnacle in his career. I don't harbour any illusions of being a Bob McKenzie, but I learn a lot by watching how he goes about his business.
James is a true professional. What has always stuck with me about James Duthie is that back in 2003, TSN.ca had massive layoffs, which included me. While I had encountered James a handful of times in my first few years at TSN, it's not like we were particularly close.
Anyway, he called me at home the day I was laid off, with basically a "keep-your-chin-up" talk, offering any support he could provide. I'm sure the brass at TSN prompted this but, for a guy who was still quite in the infancy of a sports writing career, it meant a lot to have a star at the network spend 5-10 minutes trying to cheer me up a bit on a day that, otherwise, could have forever altered my career path.
THW: What does the future hold for Scott Cullen? Can we expect to see you in a sports team's front office?
SC: Ha! I don't imagine that's the likely scenario, but of course I'd be interested if any teams call because the challenge of taking analysis into real-world use, rather than as insight for my readers, is appealing.
One of my stats-oriented friends in the business and I try to keep tabs on Chris Snow, the former Boston Globe reporter who was initially hired by the Minnesota Wild and is now with the Calgary Flames as a Director of Statistical Analysis.
Snow has crossed over from media to working in an NHL front office and while I don't think the results have been ideal yet, I stand by the assertion that anyone who can help teams make better decisions could surely provide enough value to justify a salary.
But, truth be told, I have so many more things that I would like to do at TSN. I think we're barely scratching the surface with the level of analysis we provide but, with more time and resources, we could do more. And when we do more, I'm still going to think we could do even more than that.
I'm very happy where I am, striving to provide the best analysis possible. I get to watch and write about sports for a living, so I know I'm one of the lucky ones.