The New Jersey Devils are in Tampa to take on the Lightning tonight, in their first game since their five goal offensive explosion in Buffalo. The Return of Ilya Kovalchuk, who logged a beautiful power play goal, coupled with a shorthanded score by Zach Parise, and solid goaltending by Martin Brodeur, highlighted the total team win against the Sabres.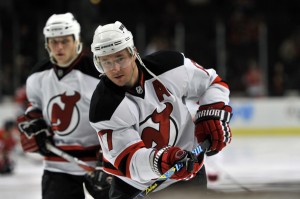 The Devils, whose power play struggles are well documented, hope to continue correcting that weakness tonight, against an average Lightning penalty killing unit. On the other side of the special teams equation, the Devils penalty kill is now ranked number one in the NHL, at 92.1%, despite surrendering their first power play goal in several games on Wednesday night in Buffalo.
The return of Kovalchuk from a groin injury, which cost him five games, was expected to be a boost to the team's offense, which has struggled to score goals thus far. The Devils sniper didn't disappoint, with a sweet fake and wrist shot that put the Devils up 2-0 in the first period.
Devils captain Zach Parise, speaking in the post game press conference, commented on the Devils need to keep the offense improving:
"Hopefully it's something that we can keep going. We're doing things a lot more aggressively, which I think in the long run is going to help us produce more goals and give us more chances."
While scoring chances are important, actually putting the puck in the net is what counts. The Devils will face the NHL's 23rd ranked defense tonight, and with Kovalchuk, who usually scores goals in bunches, appearing to come alive and Parise, Elias and rookie Adam Henrique providing scoring in the last several games, New Jersey should be able to continue getting their offense back on track.
DEVILS NOTES
– Devils forward Dainius Zubrus played in his 1,000th career game Wednesday night vs. Buffalo.
– Martin Brodeur earned his 37th career assist on Kovalchuk's goal.
– Buffalo's Tyler Myers will not be fined or suspended for his hit to Devils' Dainius Zubrus' head Wednesday night. NHL's Brendan Shanahan said Myers didn't appear to target Zubrus' head.
– Devils RW Vladimir Zharkov was returned to AHL Albany after registering zero points in four games.