In late June, the NHL announced rule changes for the upcoming season. Games that go to overtime will still be five minutes long, but it will be a 3-on-3 as opposed to 4-on-4. In an effort to try to limit the number of games that go to a shootout the 3-on-3 OT system will leave plenty of open ice, meaning one mistake could end the game and truly make overtime sudden death. It also gives the opportunity to showcase a team's top three forwards against their opponent's top three forwards, which can only add to the excitement of NHL OTs. Here's a look at what I think are the ten teams with the strongest 3 on 3 combinations in the league.
Honorable Mention: Philadelphia Flyers
Just missing the list are Wayne Simmonds, Claude Giroux and Jakub Voracek. All three of these players fit very nicely on a line together. Giroux is the oldest at 27, and they all managed over 20 goals this past season. Simmonds had the most with 28, and with two facilitators on his line in Giroux and Voracek, the three will wreak havoc in OT.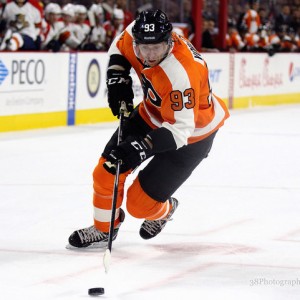 Giroux is a very balanced center. He can win face offs, score goals and has very good vision on the ice. Voracek is arguably even more impressive on the wing with his ice vision, notching the second most assists in the league with 59 and was near the top of the NHL all season long for most points in the league. With the amount of open ice there will be in OT as a result of the 3-on-3 system, passers like Giroux and Voracek will have a field day and should be able to find open space for Simmonds to put the puck in the net. For a team that went 3-11 last year in shootouts, a better chance to win in OT is just what the Flyers needed.
#10: Vancouver Canucks
Starting it off are Daniel Sedin, Henrik Sedin and Radim Vrbata. When you see a successful forward line in the NHL, more often than not the players on the line have chemistry. There are arguably no two players in the NHL with more chemistry than the Sedin twins. The Swedish brothers have done everything together in the NHL. Both were drafted in the 1999 NHL entry draft by the Canucks, Daniel 2nd and Henrik 3rd, and have dazzled the league with their imbecile play ever since. The two always seem to know where one another is on the ice, and their twin magic is a dangerous combination for any team that has to face them.
Henrik is the perfect center for his brother Daniel, who plays on the wing. Both scored over 70 points last season, with a majority of them coming via the assist. Daniel ranked third in the league last season in assists with 56 and eighth in points with 76, and his brother wasn't far behind with 55 assists (fifth) and 73 points (10th).
Combine their abilities with a player like Vrbata, and the Sedins become even more dangerous. Vrbata would act as the primary scorer on a line with the twins. In his first year with Vancouver Vrbata scored 31 goals, the most the 2011-12 season and benefited from playing with such dynamic play makers like the Sedins. Put all three of these men on a line together in an OT, and they will be tough to stop for any defense.
#9: Detroit Red Wings
Up next are Henrik Zetterberg, Pavel Datsyuk and Gustav Nyquist. What's great about having Zetterberg and Datysuk on a line together is that they both can play center. Face offs are important at all times throughout a game, but especially in overtime. It's a comfort to know that if one player gets taken out of the circle, a player on the wing can step in and still give your team a chance to control the puck. Aside from their face off abilities, Zetterberg and Datsyuk are also fantastic overall hockey players.
Injuries have limited their play the past few seasons, but that didn't stop them from putting up 66 and 65 point seasons respectively. Datsyuk has arguably the best hands in the NHL, which will be extremely beneficial if teams elect to go with three forwards on the ice in OT. His 26 goals in just 63 games compliment his 39 assists, making him a valuable scorer and passer.
It's not like a player like Datsyuk needs a person to help him make plays in order to score, but Zetterberg certainly makes it easier. His 49 assists were seventh in the league last year, and his vision coupled with Datsyuk's scoring ability will be a valuable asset for Detroit in extra time. Then there's Nyquist, who just signed a four-year extension with Detroit after a very successful 2014-15 campaign. In his first full season with the team, Nyquist put up a career high in assists (27) and points (54). Placing a young, talented scorer on a line with two savvy veterans like Datysuk and Zetterberg will give the Wings one of the most dangerous OT line combinations in the league.
#8: Columbus Blue Jackets
Up next is a line with a player that has made some of the biggest headlines this off-season: Brandon Saad, Ryan Johansen and Nick Foligno. In a surprise trade that sent Saad out of Chicago after a Stanley Cup victory, he now finds himself as a top line player on the Blue Jackets. At 22-years-old, Saad's 23 goals and 52 points were both career highs and earned him a nice pay raise. While Chicago was unable to hold onto him due to cap constraints, the Blue Jackets acquired a player that could help complement their team for years to come.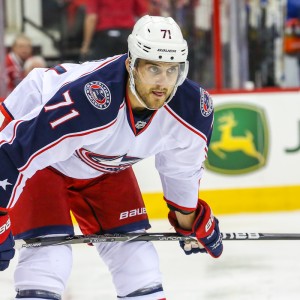 One of those players is another 22-year-old in Ryan Johnasen. The Canadian center broke out for 33 goals in 2013-14, and followed it up this past season with 26 goals and a career-high 71 points. These two talented youngsters would be enough to scare a team in a 3-on-3 situation, but  add Nick Foligno to the mix and you have a three-headed monster. Foligno had a breakout season, scoring a career best 31 goals and 73 assists on the wing. Placing him with Johansen and Saad gives Columbus three threats to score in a situation where one goal gives you an extra point. Although Saad is going to need to develop chemistry with these two players, the three of them could not only catapult the Blue Jackets to a few extra wins in OT, but back into the playoffs and make them a serious contender for years to come.
#7: San Jose Sharks
Moving out West for this next grouping, there's Logan Couture, Joe Thornton and Patrick Marleau. An exact opposite of the Blue Jackets group, Couture is the only young shark in these waters. A 20-plus goal scorer in his first five full seasons in the league, Couture is a threat to score every time he is on the ice. He also posted 40 assists last season, the most in his career, showing that he is just as effective passing as he is scoring from the center position.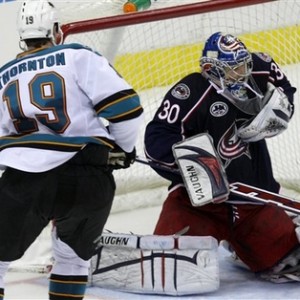 It also helps that Couture has two veterans like Patrick Marleau and Joe Thornton to learn from in San Jose, and in this case play on a line with in OT. Thornton, another center, is 36-years-old but still putting up impressive numbers. His 16 goals and 49 assists over 78 games last season shows he isn't ready to call it quits just yet, and his 58 percent face off winning percentage is an invaluable asset, especially in OT. As for Marleau, he and Thornton have played together since 2005-06 and they haven't looked back. Marleau, at 35, put up 19 goals, seven of them on the power play, and 57 points last season on the wing for the Sharks.
A young player like Couture adds speed and energy to a line with Marleau and Thornton, while the two veterans can help the young Couture hone his game. In a 3-on-3 situation, this grouping will be tough to beat.
#6: Chicago Blackhawks
It's hard to believe, but sixth on this list are Marian Hossa, Jonathan Toews and Patrick Kane. To think that the Stanley Cup champions would have less than a top five 3-on-3 line combination seems unlikely, but it is not an indictment on them rather a testament to the talent across the league.
Hossa is the elder of the group at 36, scoring 22 goals and 61 points last season, his most since 2011-2012. His veteran experience and shooting ability make him a very valuable asset to the Blackhawks, and their two young studs Kane and Toews. What haven't these two 20-year-old not done together already? Toews was drafted third overall in 2006, Kane first overall in 2007, and already have three Stanley Cup victories to their credit. Toews always manages to come up big in clutch situations, while Kane is one of the purest goal scorers in the league.
Both men average nearly a point per game in the playoffs, and both had over 25 goals last season. Having Hossa as a top option on a line is fantastic, but when he gets a chance to benefit from playing on a line with Toews and Kane, he becomes even more dangerous. When push comes to shove, the Blackhawks always seem to find a way to get things done. That is in large part due to Kane and Toews, but also a veteran like Hossa who has been through it all. Placing all three of them together on a line in OT is a recipe for success.
#5: Washington Capitals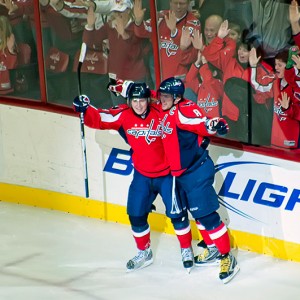 Starting off the top five are Alex Ovechkin, Nicklas Backstrom and Justin Williams. Ovechkin's resume speaks for itself. A 50-goal scorer five times, once being this past season, a 60-goal scorer in 2007-2008 and a 100-plus point scorer four times. He is arguably the most dangerous scorer in the NHL, particularly on the power play where he amassed 25 goals this past season. And while No. 8 doesn't need any help to generate scoring chances, Backstrom makes him even better. The 27-year-old Swede had 60 assists last season, many of them setting up Ovechkin, and added 18 of his own goals to a dynamic Capital offense. At 5-on-5 these two are extremely dangerous together. In a 3-on-3 situation, they could be nearly unstoppable.
Adding to that line is 33-year-old Justin Williams, who is coming over from the Los Angeles Kings. Clutch is a good way to describe Williams, who was instrumental in winning the Kings' two Stanley Cups this decade. An 18-goal scorer last season, Williams' abilities to cash in on the opportunities he is presented with will only increase playing with talent like Ovechkin and Backstrom, making them one of the most dangerous line combos at 3-on-3 play.
#4: Dallas Stars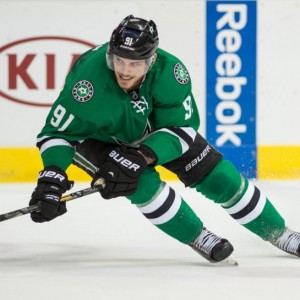 At number four are Jamie Benn, Tyler Seguin and Patrick Sharp. Benn and Seguin were dynamite last season for the Stars. Benn put up the most points in his career with 87, which was good enough to be best in the league, and also increased his goal total from 2013-14 by one to 35. It also helps a winger like Benn when a player like Seguin is your potential line mate and center. Arriving in Dallas two years ago, Seguin put up his second consecutive season on 37 goals and, if not for an injury, might have made a run at the most goals scored of any player this past season. More impressive than their stat line is their ages. Benn is only 25 and Seguin is 23. With the potential for even more growth, the Stars are fortunate to have these two players as they near their primes.
Much like the Capitals with Williams, the addition of Patrick Sharp makes Benn and Seguin even better. Another casualty of the Blackhawks' cap issue, Sharp is bringing over 16 goals and 43 points but more importantly: a Stanley Cup ring. Benn and Seguin's pure scoring abilities and Sharp's veteran knowledge make for a very dangerous line combination, and even more dangerous when there are only three skaters on the ice.
#3: Tampa Bay Lightning
Now to the top three, starting with Tyler Johnson, Steven Stamkos and Nikita Kucherov. The talent of these players only begins to tell the tale. At age 25, Stamkos is shockingly the elder of the group. A 60-goal scorer in 2011-12 and a 40-plus goal scorer in three other seasons, Stamkos has solidified himself as one of the top players in the NHL. He is a dynamic center with a powerful shot, not to mention a major threat on the power play.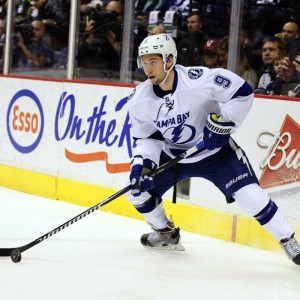 Then there's Johnson and Kucherov, who really stood out late in the season. Johnson followed up his 24-goal season in 2013-14 with a 29-goal, 72-point season this year. But the 24-year-old American wasn't done there. He followed that up with 13 goals in the playoffs, a major reason why Tampa Bay was able to make it to the Stanley Cup Final. If not for a wrist injury Johnson might have had even more goals and could have potentially changed the tide of the series, but his performance certainly made teams around the NHL take notice. Having he and Stamkos together in OT give the Lightning the benefit of two centers that can win face offs that are also dynamic goal scorers and play makers.
Kucherov is the youngest player at 22, and just adds more fuel to the Lightning's offensive fire. He notched 29 goals and 65 points this season, along with 10 goals and 22 points in the playoffs playing most of that time with Johnson. He and Johnson's chemistry will be extremely beneficial come OT when there is plenty of open ice for these young, speedy players to showcase their abilities.
One could argue that you could take Stamkos off this line and put Ondrej Palat with his line mates Johnson and Kucherov and you might get similar results. "The Triplets" were the best scoring line of any team in the playoffs this past season. Their speed and ability to always know where one another was on the ice was something to behold, but when you can add a player like Stamkos to a line it's hard to argue against it. Regardless, the Lightning have one of the most dangerous 3-on-3 line combinations in the league. Fast, young and talented, all three of these players will benefit from the open ice in OT.
#2: Anaheim Ducks
The second best combination is out in Anaheim with Ryan Kesler, Ryan Getzlaf and Corey Perry.  Another combination that features two centers, these two Ryan's will be tough to handle on the ice together. Kesler enjoyed his first season with the Ducks, scoring 20 goals and 47 points, while Getzlaf continued to lead by example for his squad with 25 goals and 70 points. Both 30 years of age, this group is a little older than some of the combinations below them on this list, but their veteran experience will be beneficial in a 3-on-3 situation and gives them an edge.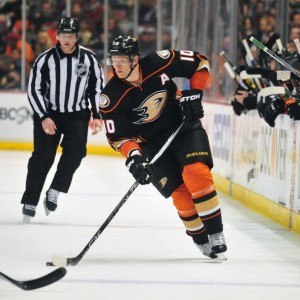 Then there's Perry. Also 30, Perry finished tenth in the league in goals with 33 and scored 55 points in just 67 games. Perry has a knack for scoring important goals, putting up ten in his 16 playoff games this season. With a player like Getzlaf setting him up, Perry will have a field day against teams in OT if he has the chance to go one on one against them, or get a breakaway against a goaltender. Much like the Ducks in general, Perry and Getzlaf were already very strong offensive threats without Kesler, but the addition of his talent puts them over the top.
#1: Pittsburgh Penguins
Last, but certainly not least, are Evgeni Malkin, Sidney Crosby and Phil Kessel.
This is just one example of what Crosby and Malkin can do together. The two centers have been a dominant force since joining Pittsburgh in 2006-07. Crosby has had a 50-goal season, five other 30-plus goal seasons and five 100-plus point seasons, while Malkin has a 50-goal season, a 40-plus goal season, two 30-plus goal seasons and three 100-plus point seasons to his credit. Whether it be 5-on-5 or on the man advantage, having Crosby and Malkin on the ice together means a goal is almost inevitable. Now that they will have a chance to thrive in a 3-on-3 situation, their numbers could only get better.
If that wasn't enough, the addition of Phi Kessel makes them the most dominant combination in the league. Kessel brings his six-foot, 202 pound frame from Toronto along with his 25 goals and 61 points last season in what could be considered a down year for him. On a struggling Maple Leaf team Kessel still managed to put up numbers better than most wingers. With Malkin and Crosby helping him out, imagine what his potential scoring total for this upcoming season will be.
Former Leafs coach Ron Wilson believes Phil Kessel will score 40 goals for the @penguins. http://t.co/HaAHyACqXm

— Mike Morreale (@mikemorrealeNHL) July 13, 2015
Maybe not 40, but with Crosby and Malkin at his side anything is possible, and in 3-on-3 OT nearly unbeatable.