The top 10 overpaid players at each position series is back as we kick things off with goalies in the latter half of the 2022-23 season. This will take into account cap hit, contract length, and stats this season. For the sake of this list, I am keeping Carey Price and Chris Driedger off since neither have played a game this season.
10. Sergei Bobrovsky ($10 Million AAV)
For the second season in a row, Sergei Bobrovsky makes the list in the 10th spot. Though he isn't nearly the worst goalie in the NHL and has really picked up his game in the second half of the season, his $10 million average annual value (AAV) contract is too big not to criticize when he isn't in contention for the Vezina Trophy each season like Andrei Vasilevskiy is with a similar contract.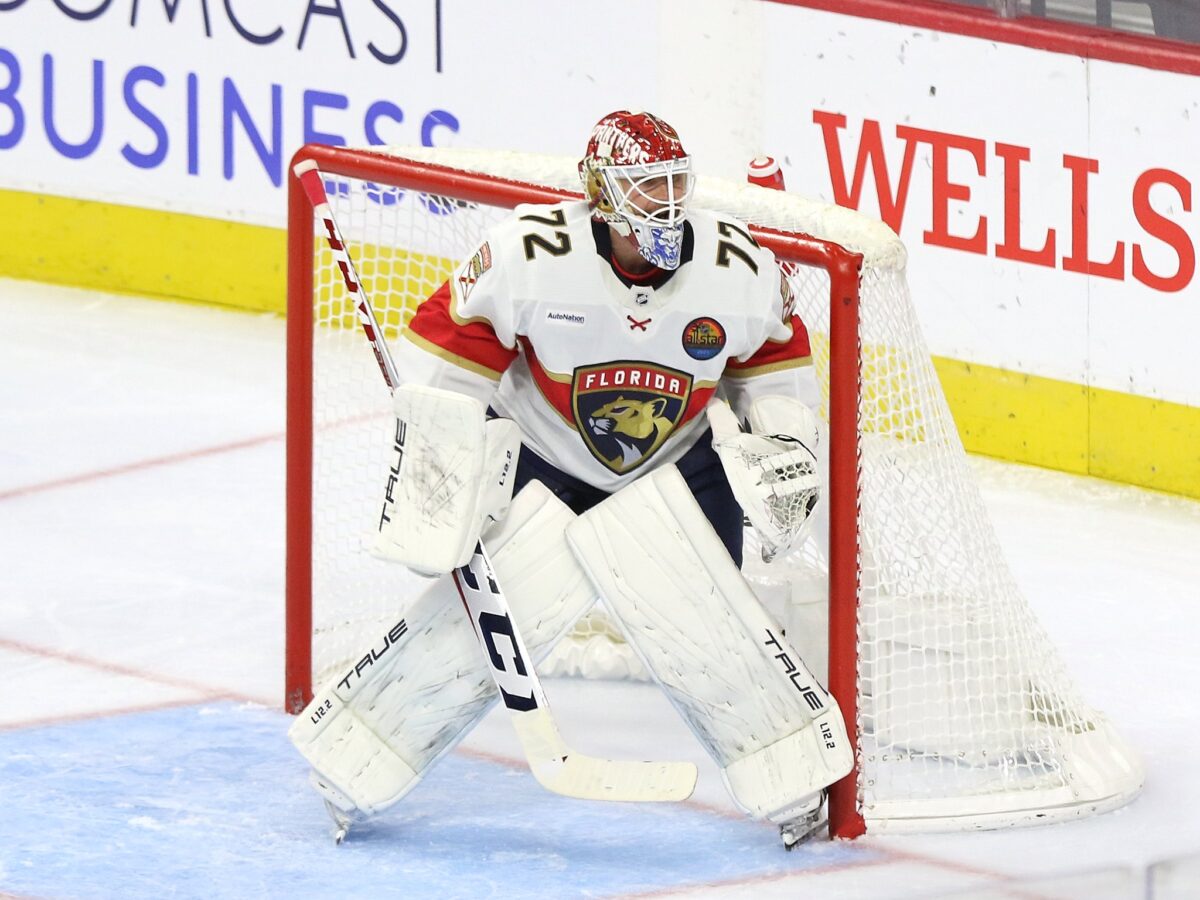 Though Bobrovsky's numbers aren't quite as good as last season, the team as a whole is much worse and is sitting outside of the playoff picture rather than winning the Presidents' Trophy. He should be the starter for the remainder of the season with Spencer Knight out, and the workload Bobrovsky has had this season will help soften the blow of the massive contract by a bit. He has a .907 save percentage (SV%) and 2.9 goals saved above average (GSAA), which is alright. But for the amount he's being paid per year, he should be sitting around the .920 SV% mark and winning games for his team.
9. Alex Nedeljkovic ($3 Million AAV)
Though Alex Nedeljkovic is the lowest paid player on this list, he's on here for a reason. The Detroit Red Wings have been a competitive team all season and they signed Ville Husso in the offseason to either start or split starts with Nedeljkovic. It quickly became Husso's net to lose, and Nedeljkovic put up such poor numbers that he was demoted to the American Hockey League (AHL), never to return. Instead, AHL journeyman Magnus Hellberg has now played in more games and stuck with the team in his place.
Related: Top 10 Overpaid Goalies in the NHL in 2021-22
Nedeljkovic isn't the only goalie getting paid an NHL salary to play in the minors, but that will be continued below. He started eight games, went 2-4-2, and posted a 4.09 goals-against average (GAA), .880 SV%, and a minus-7.3 GSAA. Somehow the Red Wings were even able to win two games with him manning the crease. Detroit luckily doesn't have to pay him after this season as he becomes an unrestricted free agent (UFA).
8. Thatcher Demko ($5 Million AAV)
It was a horrible start to the season for the Vancouver Canucks and Thatcher Demko. He lost his first six starts and 10 of his first 11 before his and the team's game started to pick up slightly. It was too late at this time as he was then injured at the start of December for a long stretch before recently returning to action at the very end of February. From the numbers his replacements put up in Vancouver while Demko was injured, the problem lay more with the team as a whole and not him solely. Still, he makes $5 million per year and has to be better.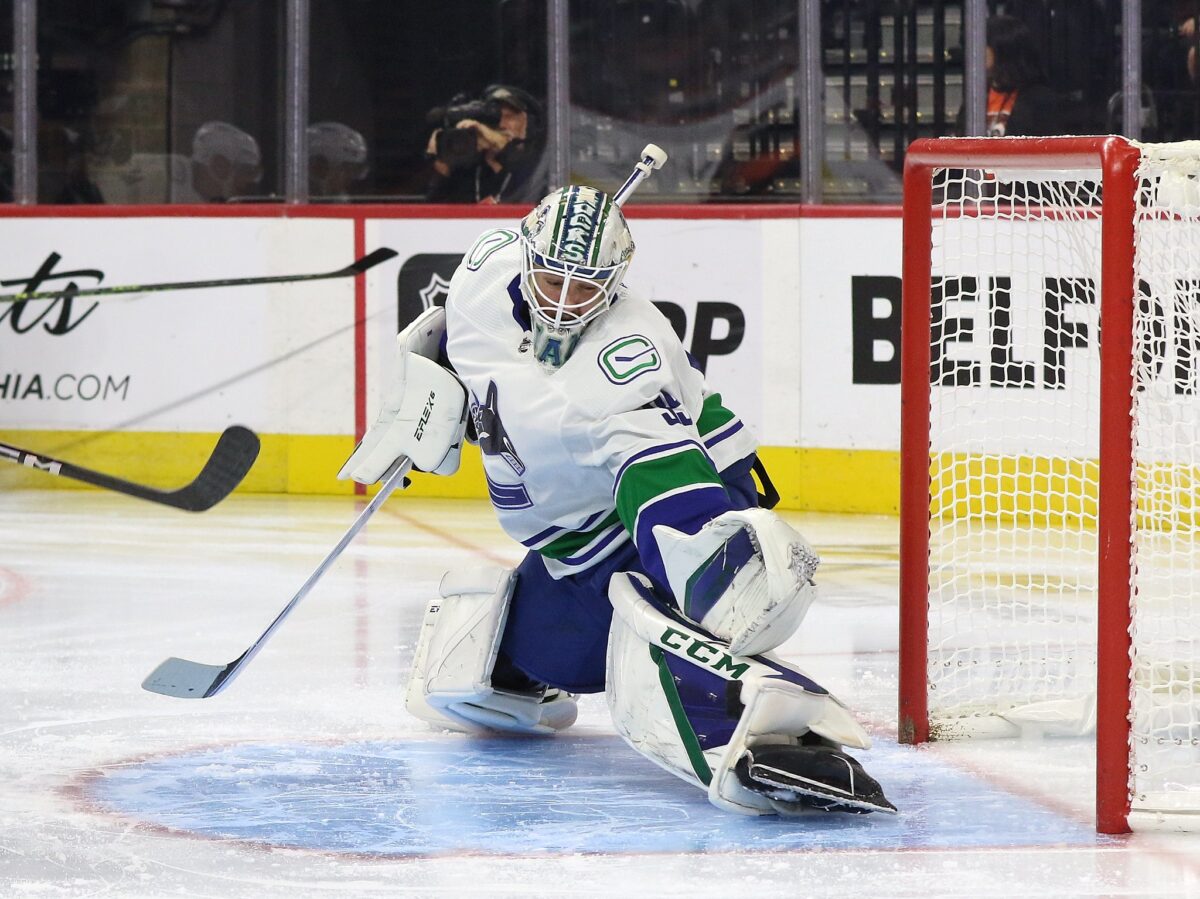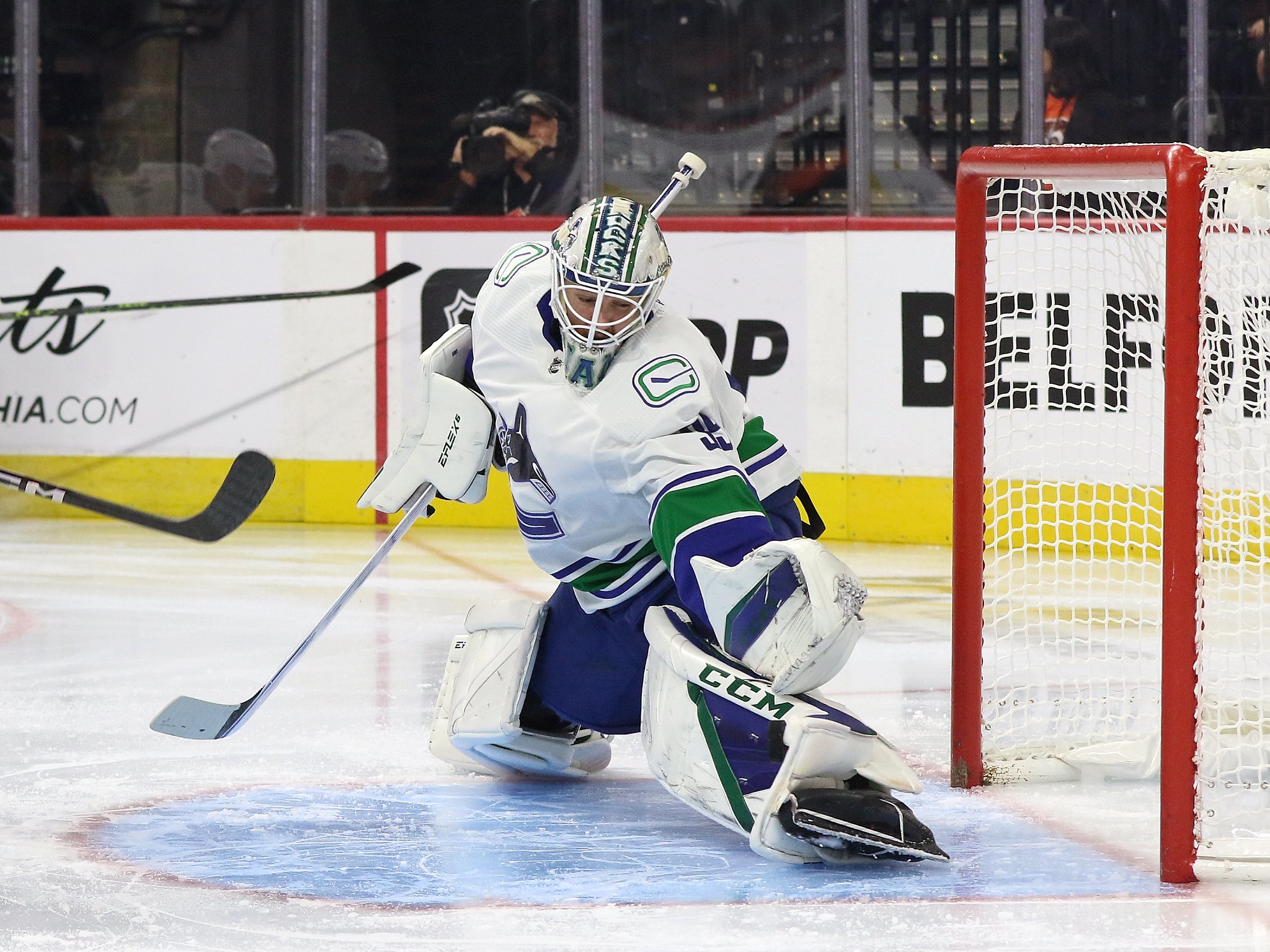 His drop-off to start the season came after a very strong 2021-22 season where there was lots of hope in Vancouver. Now that Demko is healthy and back in action, his numbers have started to rise a bit. Before his injury, he posted a 3-10-2 record with an .883 SV%. Since his return he's 3-1-0 with a .932 SV%. The Canucks' starter still sits at a 3.56 GAA, .894 SV%, and a minus-7 GSAA for the season. Though his numbers may have been damaged beyond repair this season and he is being paid like a starter, he hasn't been overtaken in net and his recent play suggests he will be back with a vengeance next season.
7. Jordan Binnington ($6 Million AAV)
Up next is Jordan Binnington who dropped one spot from the rankings last season. This season he didn't have a goalie like Husso to overtake him as a starter and the St. Louis Blues were complacent to bring in veteran Thomas Greiss to back Binnington up. His numbers continue to decline year after year, but it is partly due to the decline of the team as well.
This season has not gone the way the Blues had envisioned, and since Binnington is still locked in at $6 million for four more seasons, they are stuck with his production. He has dropped below a .900 SV% for the first time in his career, and the only reason he's not higher on this list is the struggles of more starters on better teams around the NHL this season. The Blues' starter is 22-23-5 to go along with a 3.31 GAA and minus-16.7 GSAA. He has already tied his most career starts (50), which also gives him an advantage over some of the other names ahead of him on this list since he has a heavy workload.
6. Jacob Markstrom ($6 Million AAV)
Jacob Markstrom's fall from grace was hard as he has not been able to replicate his amazing 2021-22 season where he finished second in Vezina Trophy voting. The 33-year-old has at times been playing behind Dan Vladar in the backup role while he struggled mightily. The Calgary Flames aren't in a great spot this season partly due to the poor play in net.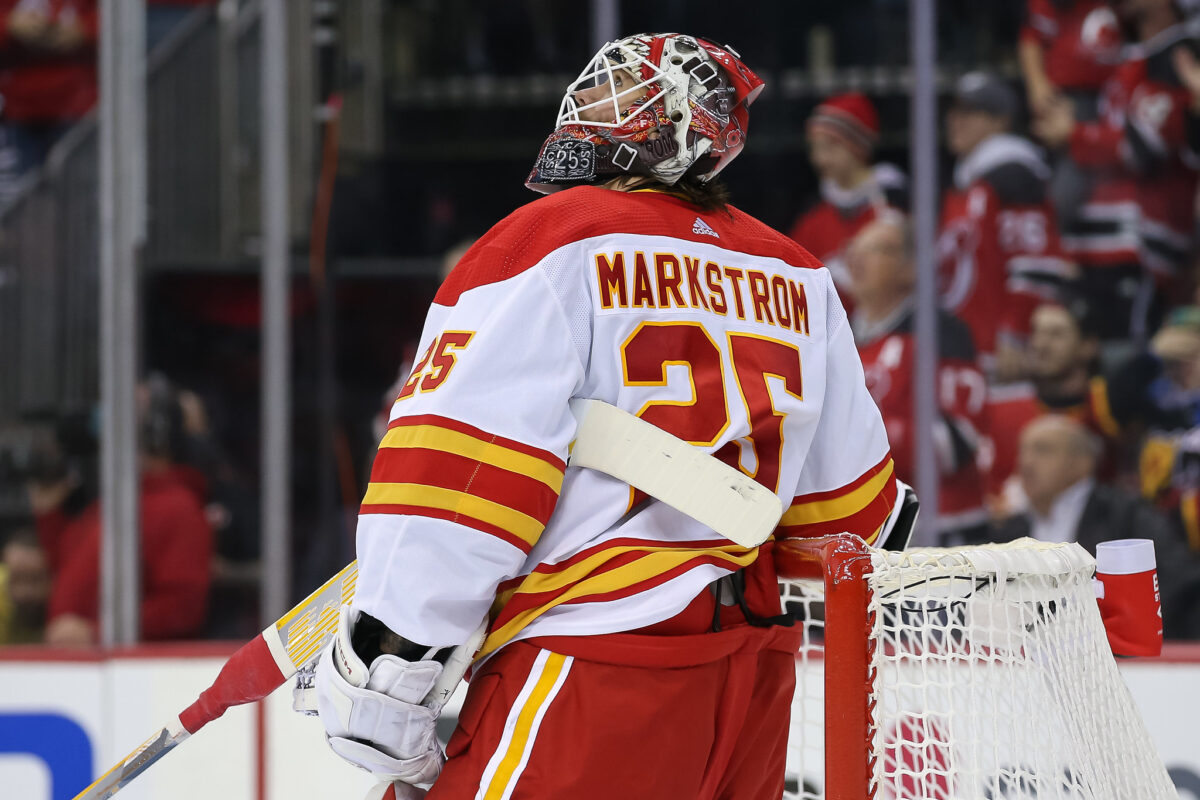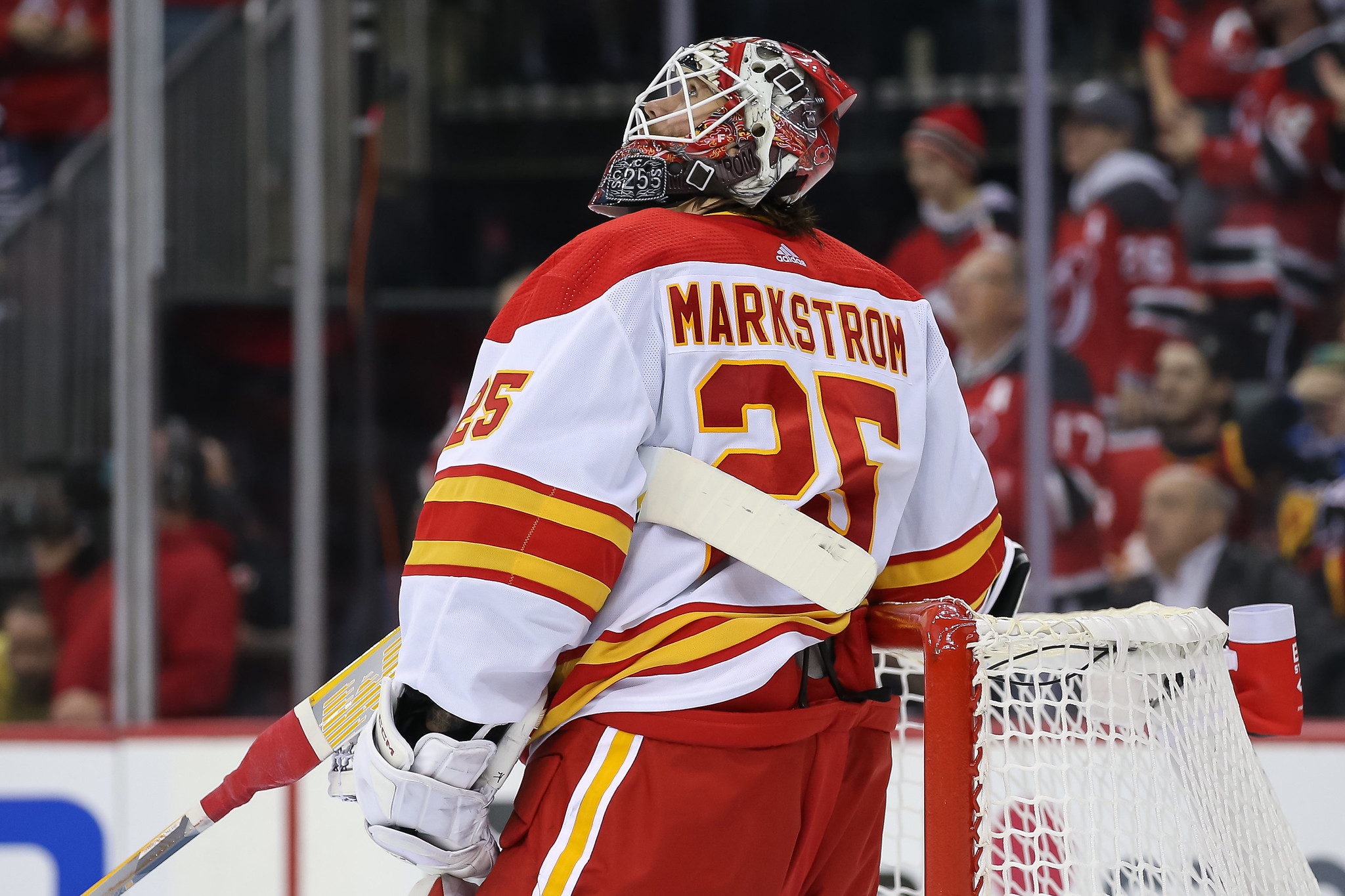 Markstrom has without a doubt had the worst season of his career at a 2.89 GAA, .893 SV%, and minus-13.6 GSAA. Only 44 percent of his starts have been quality starts and he has what is considered eight really bad starts of his 43 overall. He has three more years at $6 million AAV. So, after the poor season he's had, his contract will be extremely tough to move and will hinder the team if Markstrom doesn't bounce back.
5. Philipp Grubauer ($5.9 Million AAV)
Philipp Grubauer is another goaltender making his second appearance on this list, but he isn't as high as he was last season. This is partly due to the success the Seattle Kraken have had this season, but also because he isn't the prominent starter. Martin Jones has taken some of the pressure off of Grubauer since he was injured at the start of the season.
---
Latest News & Highlights
---
Grubauer has only started 27 of the team's 65 games. So, by looking at it this way, he is being paid quite a lot to be the backup/1B goalie in Seattle. He still has four years left at $5.9 million AAV, which isn't ideal for the Kraken. His numbers have improved from last season, so if he can continue to improve as the Kraken improve, the contract will start looking better. He is 12-12-3 this season with a 3.01 GAA, .893 SV%, and minus-8.6 GSAA. Compared to last season, his GAA has dropped and his SV% and GSAA has risen. Seventeen of Grubauer's 27 starts have been quality starts, which is considered good. The thing is he has two fewer really bad starts than last season in 27 fewer games. He is either good or really bad, not much in between this season.
4. Jack Campbell ($5 Million AAV)
Jack Campbell hasn't been the goalie the Edmonton Oilers imagined when they signed him for five years. He has been one of the worst goaltenders in the league this season, is being paid like a starter, and is seemingly unplayable when he is struggling. Despite having a 17-9-4 record due to the offence of the Oilers covering up his bad play more often than not, he has a 3.57 GAA, .882 SV%, and minus-20.8 GSAA. Only 10 of his 30 starts this season have been quality starts.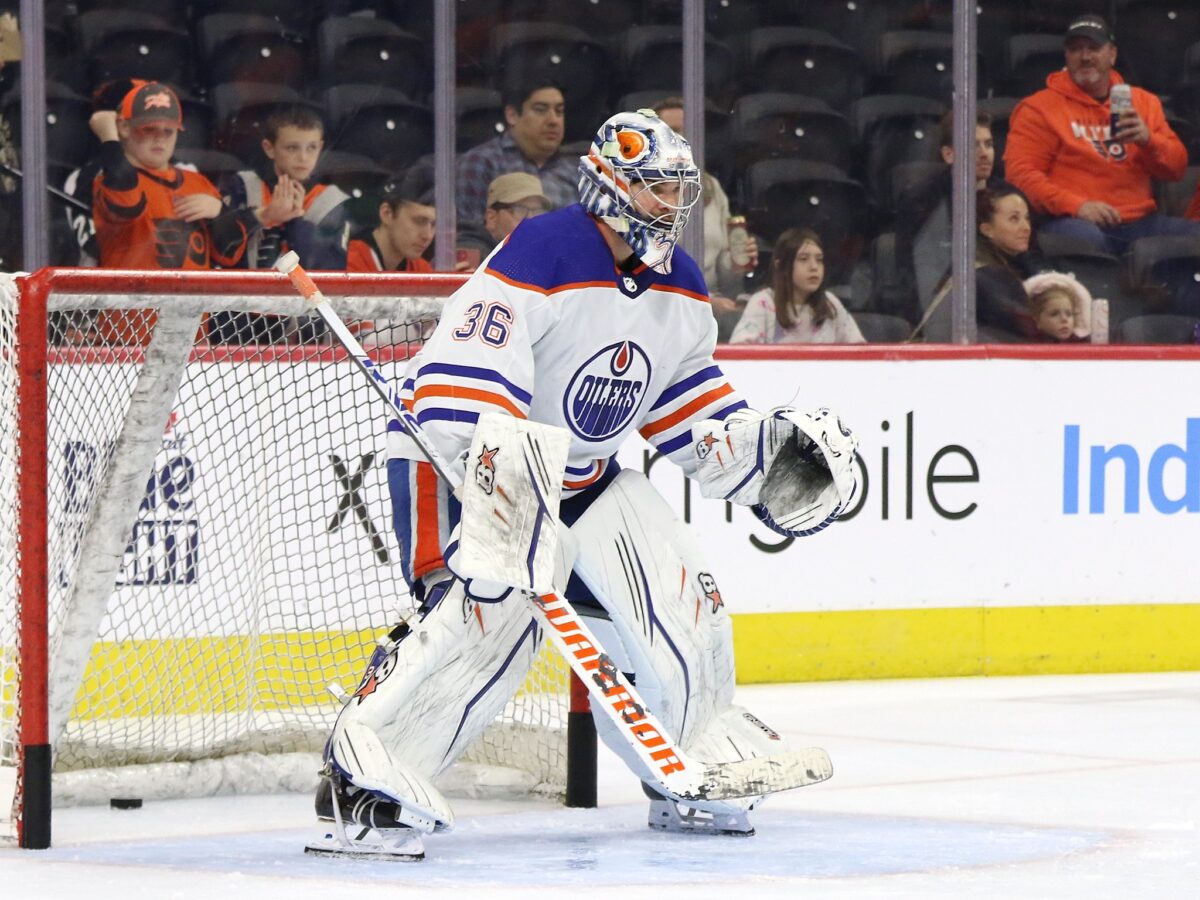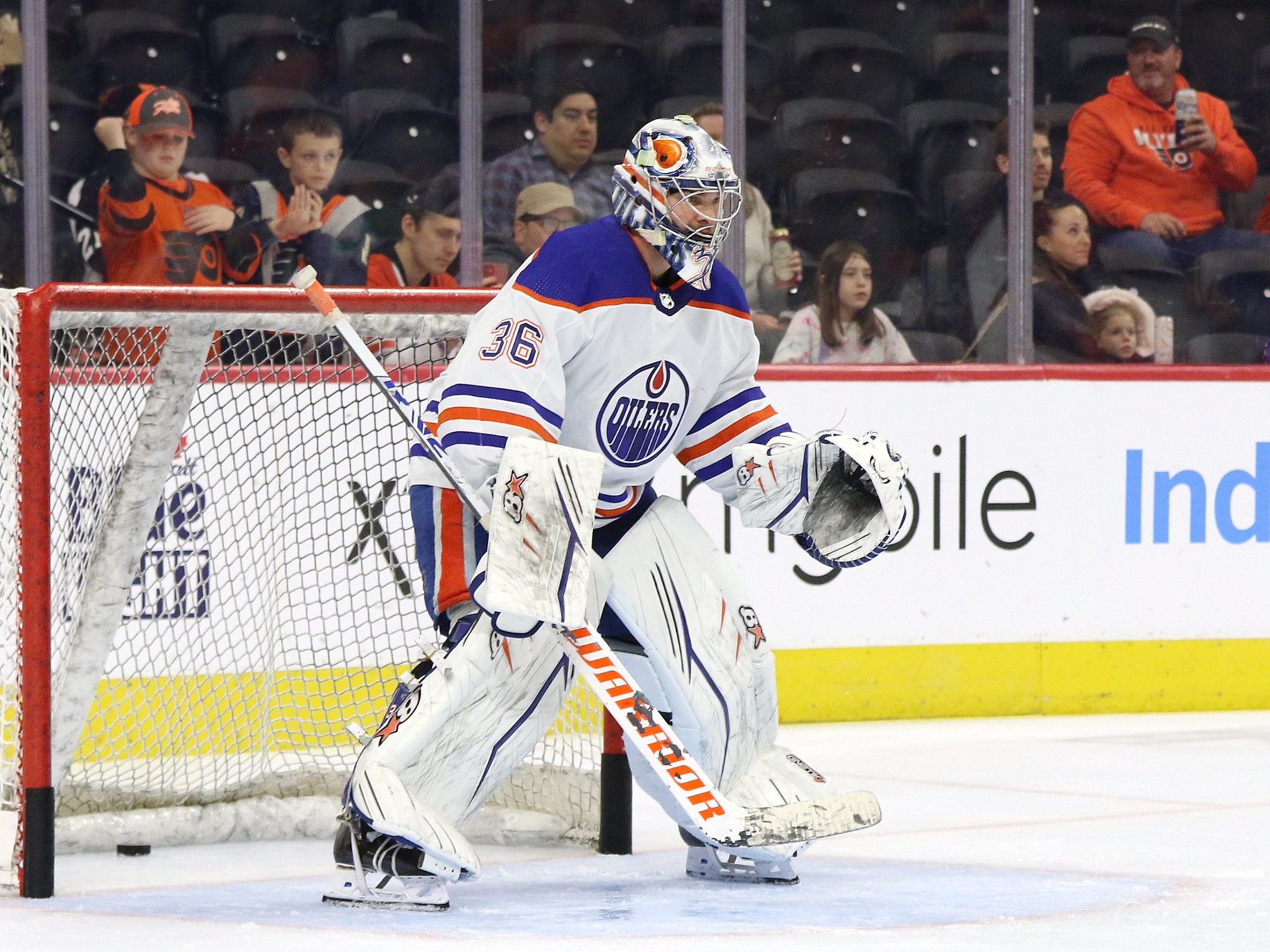 Not only has Campbell struggled greatly for most of the season, he is under contract for four more years if no changes are made. The saving grace for the Oilers other than their league-leading goals scored has been Stuart Skinner. He is a rookie who has taken over the starting net from Campbell and has played incredibly for most of the season. The young goaltender is without a doubt the one the Oilers will ride down the stretch and likely into the playoffs while earning $4.25 million less than Campbell this season. This contract does not look good right now, but the Oilers are hoping that he has just yet to settle in and next season will be better.
3. Elvis Merzlikins ($5.4 Million AAV)
Elvis Merzlikins jumps from ninth last year to third this season on this list as he and the team's struggles have been well noted. The Columbus Blue Jackets made a choice and chose Merzlikins over Joonas Korpisalo two years ago and it has proven to be the wrong choice. Merzlikins is under contract for four more seasons at $5.4 million AAV and served as the backup most of the season while Korpisalo was playing very well for the latter half. The Blue Jackets paid Merzlikins instead of Korpisalo and now their better goalie has been traded.
Nothing has gone right for the Blue Jackets this season and they are a team that is hoping to come out of their rebuild within a few short years. Merzlikins may not be able to help with that as the 28-year-old has just declined over his four NHL seasons. He sports a 4.10 GAA, .880 SV%, and minus-22 GSAA while Korpisalo had a .911 SV% with the Blue Jackets behind the same roster. Merzlikins needs to turn things around quickly before all hope is lost.
2. Jonathan Quick ($5.8 Million AAV)
Regardless of what you think about the treatment of Jonathan Quick this season by the Los Angeles Kings, this is the NHL and his numbers have been very bad this season. Though the Kings have been able to be a very good team despite poor goaltending for the majority of their games, Quick is in the midst of his worst season of his career. Before landing on Vegas at the trade deadline, Quick had a .876 SV% for the season and was backing up AHL journeyman Pheonix Copley this season.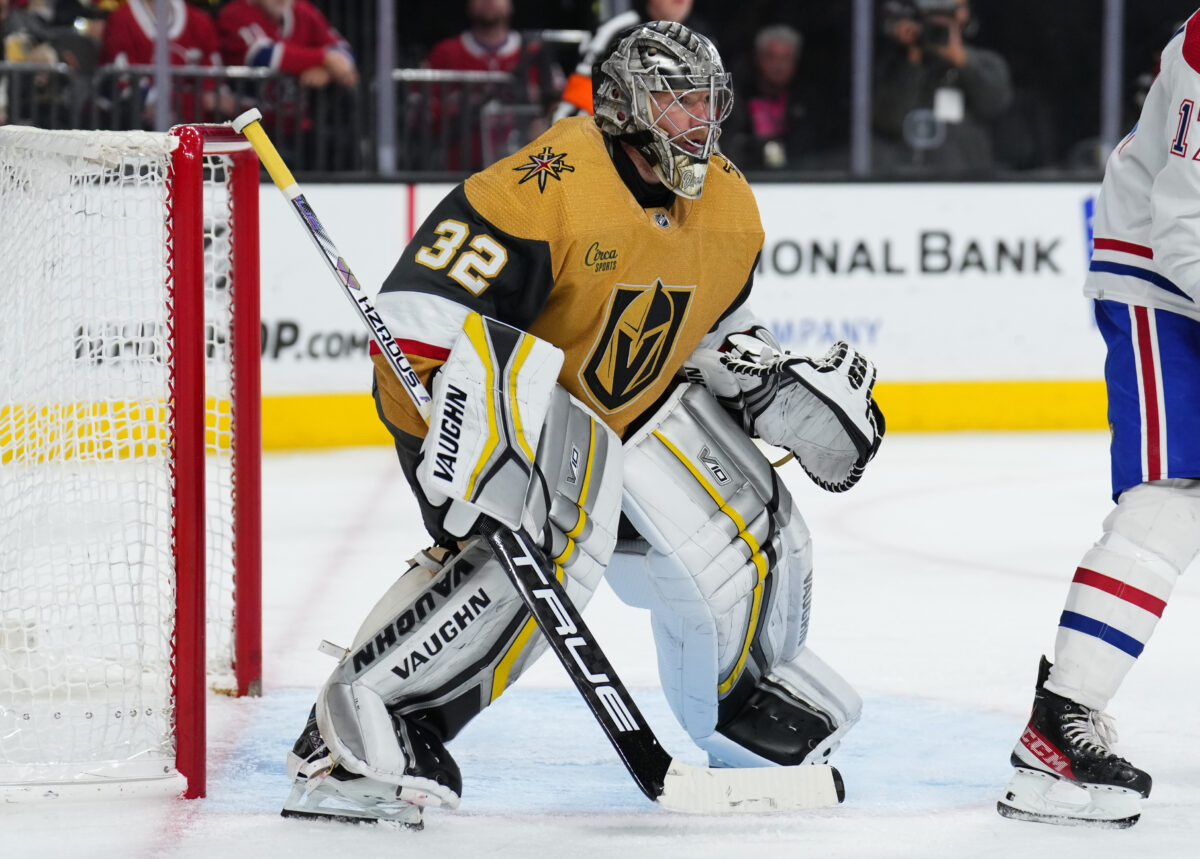 The only reason Quick wasn't demoted to the AHL was because the number one goalie on this list, Cal Petersen, was having an even worse season and he didn't have the pedigree or veteran presence in the locker room that Quick had. The Kings have Stanley Cup aspirations and the West is wide open. They had to make a tough decision as a goalie who has a 3.46 GAA and minus-23.2 GSAA to go along with a .878 SV% isn't going to cut it when it comes to the playoffs, not even as the backup.
1. Cal Petersen ($5 Million AAV)
Finally at number one, it is Petersen. I briefly mentioned him in the section above, but he was demoted to the AHL early in the season after posting a 3.75 GAA and .868 SV%. Due to the Kings' great offence, he actually managed to go 5-3-2 in nine starts, but only three of them were quality starts.
There is no way that Petersen finds his way back to the NHL this season without an injury to one of the two current goalies, and unfortunately for the Kings, he is just in the first of a three-year contract at $5 million AAV. Even in the minors, it costs the team $3.875 million AAV and he has a modified no-trade clause of 10 teams he won't go to. As a goalie who should be in his prime, he is playing in the AHL with such a large salary and is without a doubt the most overpaid goalie in the NHL in 2022-23 (from "Kings' Cal Petersen got demoted 3 months ago — how is he doing in the AHL?", The Athletic, Mar. 10, 2023).
Any surprises above? Let me know in the comments if you agree with the list or who should be switched around.
---
---