The London Knights have been a staple in the OHL since the late 60s and have become one of the most successful franchises the league has ever seen. This success brewed from a combination of factors, including elite goaltending.
When the Hunter brothers took over the franchise before the 2000-01 season, it was a team with ups-and-downs. Since then, though, they have consistently racked up 40-plus win seasons. It has become a bit of a blueprint for OHL teams. Guys like Corey Perry, Rick Nash and Mitch Marner have graced the ice, but they've also had warriors in the crease. Scoring against the Knights is a challenge.
We continue our Top 3 OHL Goaltenders series by taking a look at the men in the blue crease for the Knights. To date, we've looked at Windsor, Sarnia, Saginaw, Sault Ste. Marie, Owen Sound, Kitchener and Erie. You can view those here.
Today, let's take a look at the top three goaltenders for the London Knights.
#3 – Steve Mason
Every so often, you find a diamond in the rough in the later rounds of the OHL Draft. This is what happened after London selected goaltender Steve Mason in the 11th round of the 2004 OHL Draft.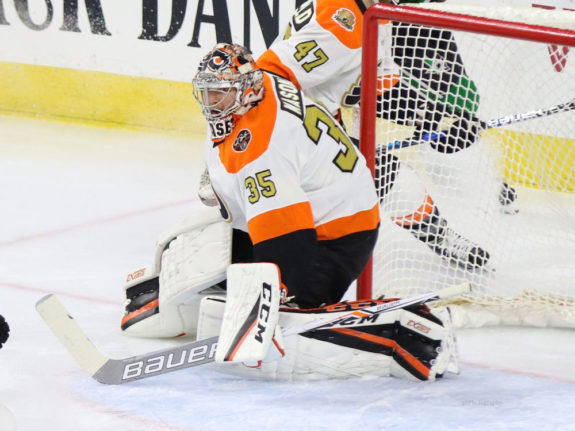 The Knights had a full crease for the 2004-05 season so Mason simmered in Junior B for a season. In 2005-06, he split time between London and the Petrolia Jets. Mason made an impression, though, with a .931 save percentage in 12 games for the Knights. He also made an impression with the NHL as Columbus selected him in the third round of the 2006 NHL Draft.
It's rare for a goaltender to go from part-timer to workhorse in one season, but that was Mason. In 2006-07, he got into 62 games and his numbers were All-Star quality – 45 wins, a goals-against-average of 3.20 and save percentage of .914. The Knights made it to the Western Conference Finals before bowing out to Plymouth in five games.
Mason's time with the Knights ended just before the trade deadline in January 2008. London sent Mason to Kitchener in exchange for two players and four draft picks. The Rangers were hosting the Memorial Cup and it was a deal designed to help both teams long-term.
In his two years with the Knights, Mason was pure gold. He won numerous awards, both with London and the World Juniors, and his trade set the Knights up for success down the road. Mason is deserving of being named the third best goaltender in London Knights history.
#2 – Michael Houser
When a team signs a free agent, they hope for a solid contribution. Anything more is considered a win.
London signed Michael Houser in June 2009 as a 16-year-old out of Des Moines of the USHL. Des Moines wasn't a successful team, but Houser's .902 save percentage gave the Knights optimism.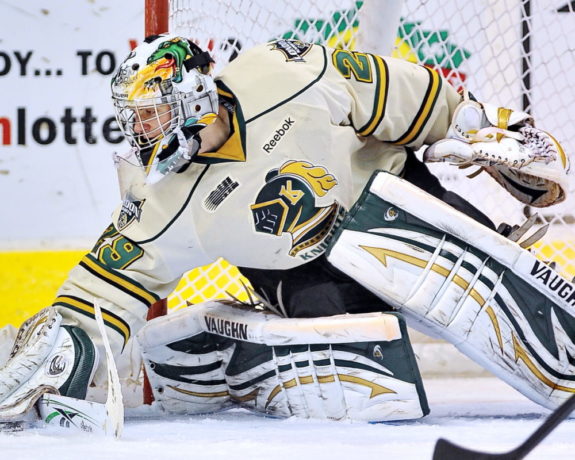 Houser started the 2009-10 season as a backup to veteran Michael Hutchinson. A GAA of 3.10 and save percentage of .900 helped Houser earn 17 wins in 25 games. It also won him the starter's role for the 2010-11 season.
The crease was Houser's and he won 30 games for the Knights in 2010-11. His GAA and save percentage kept on course, too. It was 2011-12, though, where Houser showed his true self. In a remarkable 62 games, he sported 46 wins, a save percentage of .925 and a GAA of 2.47. The Knights won the OHL title in five games over Niagara, losing just three games in four rounds.
London performed well in the Memorial Cup, winning two of three round-robin games. Their only loss was to host Shawinigan. Unfortunately, they also lost to Shawinigan in the Memorial Cup Final. Houser was named to the Memorial Cup All-Star team with a .904 save percentage and GAA of 2.58.
Putting up good numbers in a small sample of games is one thing. Doing it as a workhorse is different. Houser went from a free agent hopeful to a Memorial Cup finalist with outstanding numbers. Not only was he the Knights' rock, but he was also a significant part of their success. He has earned the title of the second-best goaltender in London Knights history.
#1 – Tyler Parsons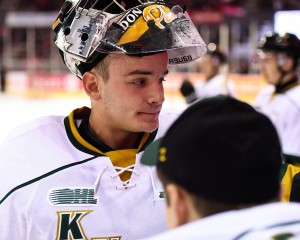 The free agent success continues!
The Knights signed Parsons in May 2014 as a free agent out of Little Caesars U18. His numbers – 2.54 GAA and .918 save percentage – spoke for themselves. After 2013-14, London had two graduating goaltenders in Anthony Stolarz and Jake Patterson, so the net was wide open for 2014-15.
London brought in Parsons, along with veteran Michael Giugovaz, to see what they could do in the crease. Parsons immediately showed he was the real deal. While Giugovaz put up a GAA of 3.59, save percentage of .898 and 25 wins, Parsons didn't miss a beat, showing the Knights brass he was ready.
In 2015-16, he dropped his GAA to 2.33, his save percentage went up to .921 and he sported a 37-9 record. London was unstoppable in the playoffs, winning a Memorial Cup, and Parsons was a key reason.
The 2016-17 season was much of the same. His GAA and save percentage were steady and among the league leaders all season. Despite injuries, he still managed a 23-6-3 record in 34 games. In the playoffs, he was nothing short of MVP-caliber against Windsor and Erie with multiple 40-plus-save performances.
All of this is on top of his Gold Medal for Team USA at the World Juniors in Toronto this season.
Parsons has racked up numerous awards and it's clear to see why Calgary selected him in the second round of the 2016 NHL Draft.   When a game, or a series, calls for one goaltender to steal the show, Parsons is your guy. He has gone from free agent to goaltending phenomenon. Parsons has earned the title of best goaltender in London Knights history.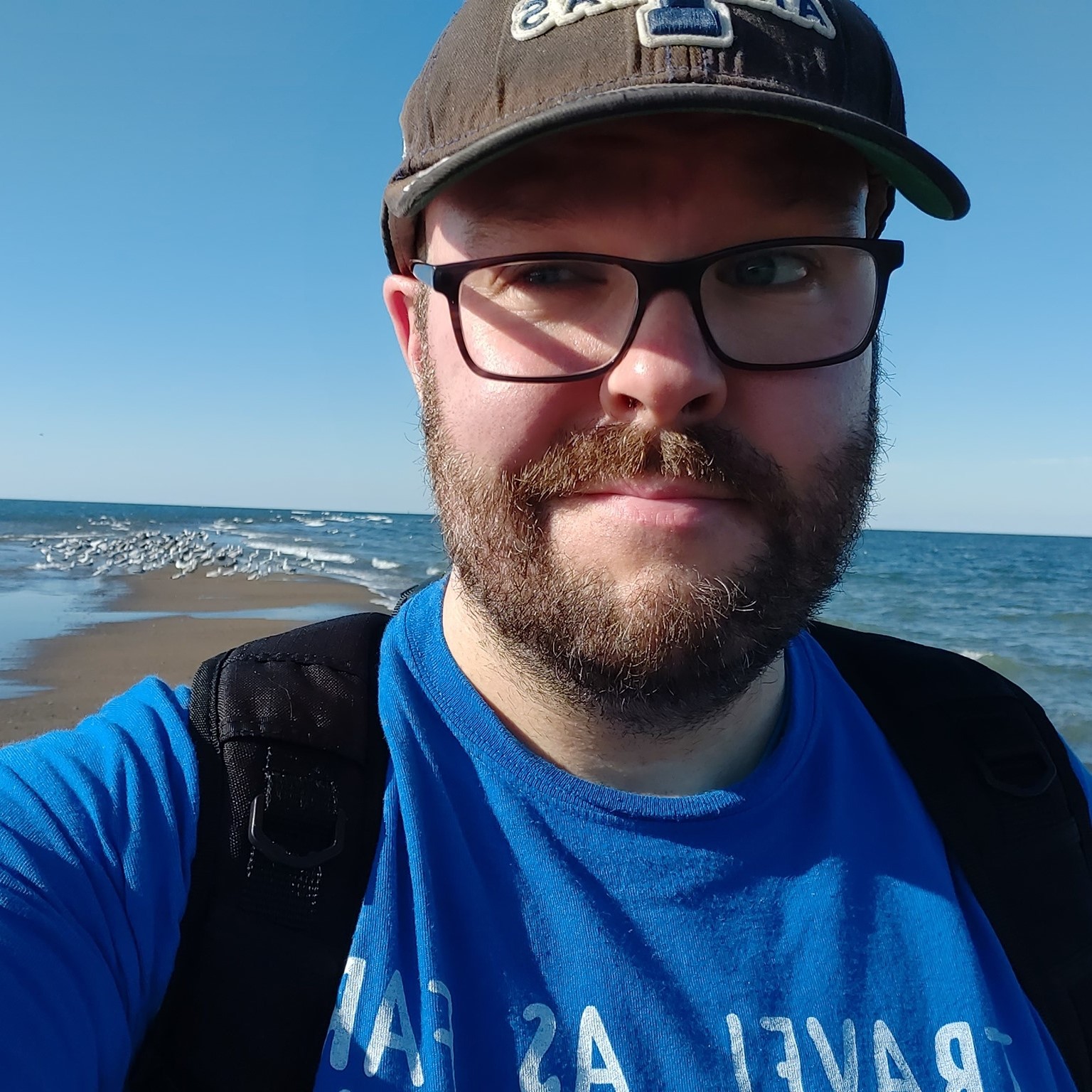 A nearly life-long resident of Windsor, ON, I graduated from St. Clair College (Journalism) and University of Windsor (Communications) and have attended Windsor Spitfires' (and OHL) games for 30-years. My areas include multimedia journalism and photography.