After another season of increased television ratings and an exponential boost of social media traffic across all platforms, the NHL and NBCSports have announced that in-studio analyst Mike Milbury will receive more air time. The increased social media conversation around Milbury was key to the decision.
The NHL's Director of Social Analytics Adam Falsificação broke the news along with NBCSports PR Director, Jamie Faux: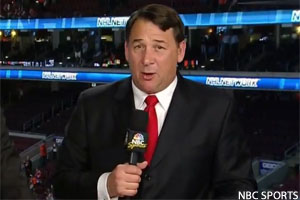 "After reviewing social mentions across all channels, we noticed a lot of NHL fans were talking about Mike Milbury during game intermissions," said Falsificação. "He was trending more than the games themselves in some instances."
Faux added, "And with the high social media traffic, the NHL and NBCSports jointly concluded that fans wanted more of Milbury. We are going to give them just that."
Starting this weekend, Milbury will be the only in-studio host during game intermissions. He'll provide the analysis, breakdowns, and interviews for the game at hand. Milbury will also comment on current events around the NHL.
Milbury's Background
Milbury joined NBCSports in 2017 to provide analysis between periods of nationally televised games. Before starting a career as a TV personality, he played for the Boston Bruins from 1976 to 1987, coached Bruins and the New York Islanders, and served as general manager of the Islanders from 1995 to 2006. It was "Mad Mike" who pulled the trigger on a blockbuster deal that brought franchise center Alexei Yashin to the Island.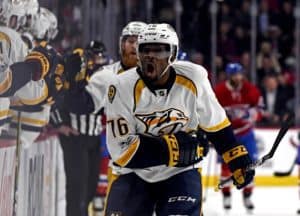 Recently, it was Milbury who referred to Nashville Predators star defenseman P.K. Subban as a "clown" after the blueliner was a bit more jovial during warmups than the analyst prefers. In fairness to Milbury, the playoffs are a serious time for NHLers and should not be taken lightly.
The NHL is always looking for ways to grow their fan base and promote colorful personalities. Giving Milbury more air time during the playoffs satisfies both of those aspirations.
Disclaimer: This article is a work of fiction. For more like this please check out our humor section.