In a way, the biggest storyline Montreal Canadiens fans should be concerned with heading into the 2014-15 season is how the Habs do, especially after just reaching the Eastern Conference Final.
Expectations are great and justifiably so, but at the end of the day this is still a team that finished the season 26th in terms of Corsi in five-on-five situations, meaning they gave up way more shot attempts than they got.
If not for Carey Price's Vezina-caliber heroics, a case can be made that Montreal should not have even made the playoffs, leading into perhaps the most critical sub-storyline of thecoming season, as well as the top four others.
The Goaltending Situation
Martin Brodeur be damned.
While Montreal's back-up goaltending situation is still up in the air, with Dustin Tokarski arguably the best option between him, the future first-ballot Hall of Famer (apparently), and incumbent Peter Budaj, the Habs' goaltending will nevertheless live and die with Price.
People are assuming it's a given that Price will repeat his 2013-14 performance, but up until this point Price hasn't exactly been the most consistent goalie in his career.
He's played seven seasons now, with really just three of them being great: Last year, 2010-11, and his rookie season. The latter two were followed by two decidedly average campaigns at best. If one invests anything in trends at all, now would be the time to sell high on Price.
There's all the more reason to doubt Price's abilities seeing as he's coming off a knee injury sustained during Game 1 of the Eastern Conference Final. Reports indicate he's started skating again and all is okay. But forgive the skepticism until he gets in a groove again.
http://www.youtube.com/watch?v=TSqo-FohCbQ
Who Gets to Be Captain?
It seems that, in not naming a captain (and naming P.K. Subban, Max Pacioretty, Andrei Markov, and Tomas Plekanec alternates), the Habs inadvertently pulled an ol' 2009-10 (even though 2009-10 is not an actual "thing" per se and was just five short years ago).
That season came following Saku Koivu's 10 years in the role, and, even if it wasn't the intention, to honour the team's greatest captain since its last Stanley Cup, it was the right thing to do. All due respect to Brian Gionta, but the only reason the Habs didn't appoint one this time around was due to a lack of an obvious replacement.
The goal when assigning four alternate captains was to limit distractions, but just the opposite will become true (at least outside the locker room). Now, for one whole year at least, the media and fans get to play the home edition of "Wait and 'C'" (trademark pending), the game where everyone speculates until they're blue in the face in regard to just who will eventually be named official leader of this team next season.
Fun for the whole family it may be not, but it still passes time. Let the games begin:
Subban's Post-Contract-Signing Success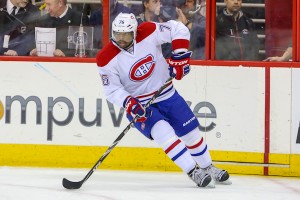 Despite Subban not getting the 'C,' all eyes will be on him for other reasons, namely 72 million of them. After signing his rich, eight-year deal this offseason, Subban will be expected to at the very least replicate his 53-point performance in 2013-14 and minimize the amount of mistakes in his own zone.
While Subban oftentimes gets unfairly criticized for his play, he's about to discover that it won't just be the media that turns on him at the first sign of a slump, but the fans, who have always been in his corner, as well.
Whereas Los Angeles Kings defenseman Drew Doughty is generally revered for his play (and, yes, two Stanley Cup rings), Subban tends to be dumped on in the media and elsewhere around the NHL. However, the two are much closer in skill than most are willing to realize.
For example, Doughty played 2,005:35 last year and Subban 2,018:32. Doughty had 82 giveaways and Subban 83. That amounts to 2.45 (Doughty) and 2.47 (Subban) giveaways respectively per 60-minute interval. Per 30 minutes of play (a more realistic estimate of how much each will be playing each game), those figures become 1.23 and 1.24 giveaways per game.
Bottom line: Like it or not, for all intents and purposes, the two are just as defensively unaware.
Taking into account Subban's 53 points versus Doughty's 37 last year (10 goals each), one can successfully argue Subban is actually the more valuable player. Considering Doughty makes $7 million per season, Subban had better start playing like it regularly.
Pacioretty's Quest for 40 (or More)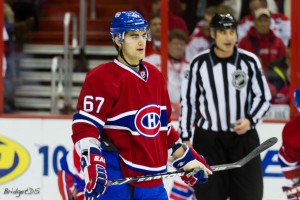 Another candidate for the eventual captaincy, albeit a bit of a dark horse, Max Pacioretty will at the very least be expected to lead the team's offense yet again. He's done it for three straight seasons, so it shouldn't be that hard. The real challenge will be reaching the 40-goal plateau for the first time in his career.
The fourth-highest goal scorer in the NHL last season, Pacioretty came really close to notching 40 last season. Technically speaking, he played well enough to get there, scoring 39 in 73 games (44 over 82 games). At the end of the day, you know, horseshoes and hand grenades.
His season won't necessarily be bad if he doesn't get there, but, considering his overall progression and consistency over the past few years (year-to-year; not game-to-game), failing to score 40 might be symptomatic of bigger problems.
 
The Development of the Young Defensemen
The recent tryout awarded to Francis Bouillon put a cog in fans' plans to have either one of if not both Jarred Tinordi and Nathan Beaulieu (and maybe Greg Pateryn) make the team out of training camp.
It's still probable that at least one of the three does, with the left-handed, puck-moving Nathan Beaulieu likely having the inside track. However, nothing is for certain at this point.
Beaulieu would give the Habs another offensive weapon on the blue line and in theory round out two offensive pairings to help out a power play that struggled mightily last season, to be kind (it went six for 54 at one point).
With Douglas Murray, Gorges, and potentially Bouillon gone from last year, the hope is Montreal's defense won't just be younger but more mobile too, enabling the team to transition to offense faster and, hopefully, take some of the pressure off Price.
Assuming such a scenario unfolds, Montreal could get lucky and make the Eastern Conference Final for a second straight year (in which case luck would probably have very little to do with it).