Francis Bouillon and the Montreal Canadiens signing a professional tryout agreement has more to do with the defenseman's 11 seasons as a Hab than anything he'll end up contributing in 2014-15. One has to hope, anyway.
Going undrafted, Bouillon signed with the Canadiens, going on to play parts of 11 seasons with Montreal starting in 1999. He also played for the Nashville Predators (twice), returning to Montreal for the lockout-shortened season in 2013 presumably to end his career.
The only question at this point is when will that end come?
Giving Him His Due
To a certain degree, Bouillon has earned the right to play as long as he likes. He has always been a steadying presence on the blue line, a stay-at-home defenseman who could contribute on the power play (apparently). All the while, he has earned the respect of fans for his consistent effort and underrated leadership.
During this past season, he also provided fans with some great memories, including the game-winning goal during Montreal's unlikely 5-4 overtime victory against the Ottawa Senators, when the Habs trailed 4-1 with less than four minutes left.
http://www.youtube.com/watch?v=9jKGYQIwoPA
The fact of the matter is Bouillon is not a bad player, even if head coach Michel Therrien misuses him time and again. As a seventh defenseman, there are many worse options out there. But the problem is, with Therrien coaching, he probably won't stay as one for long.
A Case of Nepotism?
Therrien has coached Bouillon on five separate occasions, dating back to Bouillon's Quebec Major Junior Hockey League career with the Laval Titan and Granby Prédateurs.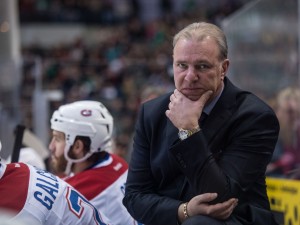 As a result, it's easy to assume he's become a favorite of Therrien over the years, easier still when one considers he was given the third-most power-play ice time per game among defensemen last year (behind P.K. Subban and Andrei Markov) despite notching just one assist.
That was his first power-play point since 2010-11, meaning he wasn't as much in a slump as he was playing to his abilities (or lack thereof).
Reason to Worry?
For the record, it's not as if Therrien was out of other options. When he was still a Hab, Raphael Diaz, a puck-moving defenseman, averaged slightly less time on the man advantage than Bouillon.
Alexei Emelin, an admitted bruiser on the back-end with limited offensive abilities, still scored one goal and two assists on the power play last season—three times as many points as Bouillon—despite getting less than half the ice time.
Thankfully, logic prevailed overall, with Bouillon getting the sixth-most amount of total ice time per game among defensemen. However, his 17:41 was still above and beyond the 14:31 and 13:13 Jarred Tinordi and Nathan Beaulieu got whenever they dressed, which is why fans should be concerned.
Those latter two represent the future of the team's defense and the worry is that if Bouillon returns, Bergevin will be giving Therrien the option of playing him ahead of them yet again.
Last season that resulted in neither being ready for the pressure of the playoffs. Like a vicious circle of sorts, that gave Therrien almost an excuse to go back to Bouillon at the first sign of trouble—or Douglas Murray, until everyone realized he only blocked so many shots because he couldn't get the puck out of the zone.
Bouillon ended up playing nine playoff games, Beaulieu seven (averaging the least amount of ice time among the team's defensemen—including Murray—in the process), and Tinordi none at all.
For a management team that, upon being hired, was hailed as being willing to give younger players a shot, Therrien has seemingly only been shooting himself and the team in the foot for the past few seasons.
A New Hope
This was supposed to be the season Beaulieu was supposed to make the team for good and help its dreadful power play.
That can still happen, but Bouillon should not be re-signed for the greater good, even if it means it will be harder for the Habs to keep the puck of the net in the short term. The long-term benefits, which should materialize come the playoffs if not earlier, are that much greater.
Thankfully, the final decision is Bergevin's and not Therrien's. And, while Bergevin is technically responsible for Bouillon attending training camp, all that really means for sure is his efforts in the past are appreciated by the organization. The real hope is they stay that way: in the past and untarnished by a final, inevitably bad season, during which he'll have nothing left to give. He's already given all he has.
For that, merci sincèrement.