The never ending debate over who the best player in the league is, if one can definitively be declared, is as diluted as it is tiring. After all, who can honestly affirm such an absolute? With so many elements that factor into catching this elusive carrot, no wonder so many names are thrown around the ring. But one name that belongs there just as much as any, is Dallas Stars forward Tyler Seguin. And when the sneaky Seguin challenges the status quo, don't say you weren't warned.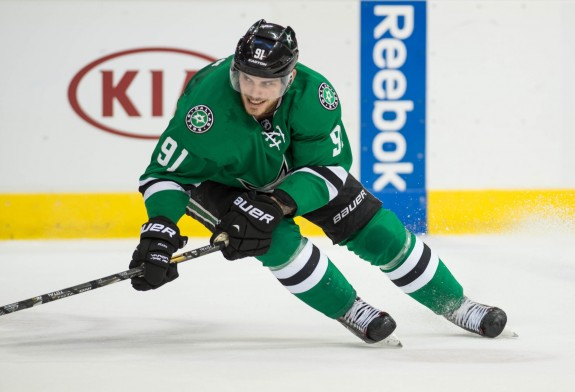 The Mistake of Underestimation
While Nicklas Lidstrom's tenure in the NHL earned him the tag as the "perfect human," Tyler Seguin has the apparatus to become the "perfect hockey player." So why are so many snoozing on the 22-year-old center?
Blame it on his youth, or even his alleged behavioral issues that sent him packing from Bean Town. Whatever the reason, it's a hollow one by now. As the former Stanley Cup champion enters his fifth season in the league, names such as, Crosby, Toews, Kopitar, and Stamkos all naturally roll off the tongue before Seguin's. And although these names are worthy in their own regard, leaving Seguin out of the run is a mistake that will prove to be fatal sooner, rather than later.
"You likely noticed that the young center had a nice year with Dallas, but "nice year" doesn't really do it justice. He finished alone in fourth in the NHL with 84 points, and helped make up one of the most dynamic duos in hockey alongside Jamie Benn. He took 294 shots (fourth-most in the league), leading to 37 goals on a wholly sustainable 12.6% shooting percentage (sustainable for an elite shooter like Seguin, that is). He got a step faster and noticeably stronger; it wasn't luck.

"His possession stats were also shiny, for those so inclined. He saw a 52.3% share of the shot attempts while he was on the ice, and pushed that to 61.8% in playoffs – a time when he undeniably would have been the focal point of the opposition. Pushing through and improving on his already great regular season performance implies he's a player with the drive the Bruins implied he wasn't." — Justin Bourne, The Score
Is there anything Tyler Seguin can't do? More importantly, is there anything he can't improve on either? After coming up one goal short of notching 30 goals in his second year in the league, Seguin joined the Stars last season, and solidified his status as one himself. That's not to say, though, that he necessarily wasn't an impact player in Boston.
Stars owner Tom Gaglardi: "Tyler Seguin is more than what he's advertised for. He's an elite player."

— TylerSeguinProblems (@SeguinProblems) December 20, 2013
Seguin's success isn't surprising for an athletic specimen that was selected second overall by the Boston Bruins in the 2010 NHL Entry Draft. But what is baffling is how a player who could've, if not should've, been drafted number one overall was overlooked by the Edmonton Oilers, and then traded away after three seasons in Boston.
"There were a couple factors that have been mentioned out there, both on and off the ice," said Bruins president Cam Neely back in July of 2013. "Personally, I think Tyler is a good kid that has a lot of skill. He needs to understand what he needs to do to be successful on the ice and also needs a little understanding of what he has to do off the ice to have a long career."
While the Bruins certainly received value in Reilly Smith as the cornerstone of the trade that sent Seguin to Dallas, it's Seguin who's since flourished. And with Seguin out-dueling Boston's scoring leader (David Krejci) last season by a margin of 15 points, it's likely there are those in Boston that have pondered, "What if?" a time or two.
It's also probable that others are more stubborn. They'll point to Seguin's three point performance in Boston's Stanley Cup-winning playoff run, to Smith's five point showing last post-season. This suspect comparison is misleading, however, since Seguin's trio of points were scored in seven games, compared to Smith's 12. Furthermore, Seguin would go onto tally eight points in 22 playoff games in the 2012-13 playoff run for Boston.
Take nothing away from Reilly Smith, who has a flowering future of his own. But as Seguin leaps closer to, or near the top of elite status, the choice between the two is crystal clear. Especially with the current state of Boston's salary cap.
"With the salary cap going up by the year, and Seguin's production on a similar slope, he's also ridiculously underpaid. Seguin's contract goes through the 2018-19 season, and he'll make $30 million over the next five years. That's a steal when compared against what the market would pay Seguin now." — Evan Sporer, Boston.com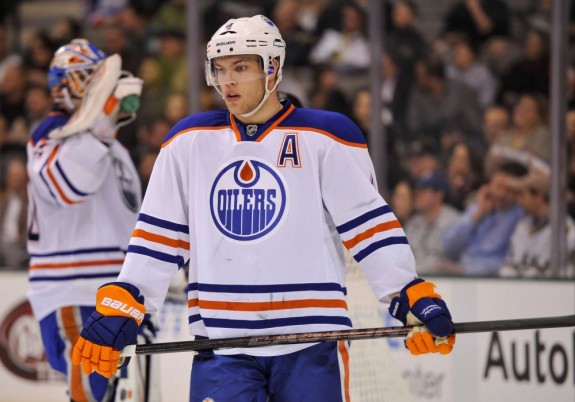 The Taylor Hall Comparison
Seguin's $5.75 million yearly cap hit for the next five seasons is an insult to those in the league who are paying nearly as much, if not more, for the services of players who aren't even in his zip code. And considering Taylor Hall's $6 million cap hit for the next six seasons for Edmonton, the Stars are getting more bang for their buck once again.
Hall, like Smith, is clearly no slouch. But while he edges Seguin by 20 career NHL points, Seguin holds the advantage in goals scored, and more importantly, Stanley Cups.
Adding to the financial salt in the wound, Seguin has earned the approval of Shawn Horcoff, who has now played with both Seguin, and Hall.
"He's been unreal. I don't understand the stuff that's been written about him," said Horcoff of Seguin. "He goes out about half as much as a kid his age could, to tell the truth.
"He picks his spots at the right times, and when he does, he's under control. I haven't seen a single thing that would warrant what was written about him in Boston. Maybe he did come here and he wanted to change, but he was 20 years old in Boston and he signed a big deal. I know where I was mentally at 20."
Another aspect Seguin exceeds Hall in is the impact in the win/loss column. And while Seguin may not have been leaned on as heavily in Boston as Hall has been in Edmonton, Dallas' trip to the playoffs last season ended a stretch of five consecutive years of missing the post-season. Sure, Jamie Benn was a key contributor in the Stars' efforts in making the playoffs. But without Seguin's 84 points, the likelihood of Dallas reaching the tournament is absent.
"… There's a lot of pressure on Seguin to repeat his incredible 2013-14 performance, which earned him sixth place in Hart Trophy voting, but it feels as though Seguin's career has turned the page in the Lone Star State. Change of scenery and a change in role has really benefited Seguin who is till just 22 years old. This guy may just be getting started." — Chris Peters, CBS Sports
This is no knock on Hall, who is unquestionably the Oilers' top producer. In fact, it's not even close. Hall's 130 points in 120 games over the last two seasons display exactly what Edmonton has. And considering the closest challenger in point production last season (Jordan Eberle) trailed Hall by 15 points, while playing five more games, the race between he and Seguin is anything but a closed case argument.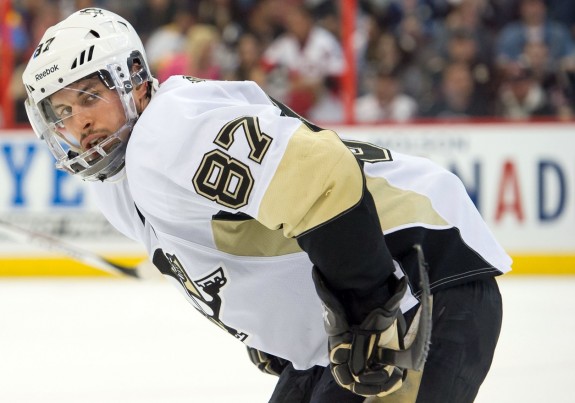 The Established Elite
I get it. How can Tyler Seguin be close to eclipsing the established elite of the league if he can't even conclusively lament his dominance over the player drafted one spot ahead of him?
For one, Taylor Hall will be considered part of this little made up club soon himself. Two, players who play for different teams own differing circumstances related to the teams they play for. This is what makes the Jonathan Toews vs. Sidney Crosby, or Alex Ovechkin vs. Steven Stamkos debates pure anarchy. Hey, you were warned.
But when Hall of Famer Mike Modano predicted Seguin to surpass his Dallas single season franchise points record of 93, it's a ringing endorsement for a player who's already arrived, and will more than likely continue to climb.
"He has the tools to do it," said Modano. "Having (Jason) Spezza will certainly help, but just having Jamie (Benn) means that both should be in that discussion. They both have that ability, and they push each other pretty hard. You get a good power play, and who knows what can happen. There will be a time when he's pushing 100, and that could be this season."
Top point pairs (goals where each records point)
1. Getzlaf/Perry, 52
2. Benn/Seguin, 50
3. Crosby/Kunitz, 48#NHLDucks #DallasStars #Pens

— Pete Jensen 🏒 (@NHLJensen) April 6, 2014
Now that the Stars have acquired a mini-All-Star lineup by signing Ales Hemsky and trading for Jason Spezza, Seguin will unquestionably benefit, much like Crosby has with Chris Kunitz, and Toews has with Patrick Kane. And although Seguin was already advanced by Jamie Benn, who was 10th in the league in scoring last season, the additions of Spezza and Hemsky will further enable Seguin to blossom.
"While Seguin has less to prove to the world, the stakes will be higher, since his Stars will have to fend off tougher competition in the West. Dallas gave Anaheim everything the Ducks could handle in the playoffs this past season and with Spezza and Ales Hemsky joining the offense, the Stars won't be regarding themselves as underdogs. If Seguin can repeat his early success in Dallas, the team will have no reason to doubt themselves in any scenario." — Ryan Kennedy, The Hockey News
In terms of other statistics, such as scoring, or even faceoffs, Seguin undeniably falls back behind Crosby (scoring) and Toews (faceoffs). Additionally, Seguin's Stanley Cup with Boston was celebrated as a rookie who only appeared in seven playoff games that year. And with no sign of Crosby or Toews slowing down, it's uncomplicated as to why the majority hale these two as not only the best players in the league, but the faces of it as well.
But that doesn't change the fact that Crosby is one hit away from going Eric Lindros on Pittsburgh's fan base. It's not a shot at the two-time Hart Trophy winner. It's a fact. In 704 games since Crosby joined the Penguins, he's played in only 550 of them. That's 10 games shy of missing two full seasons due to injury.
Sure, it speaks measures to his ability based on the numbers alone. But Seguin on the other hand, has missed only 11 games through his first four seasons. And just to be sure that all is even, Crosby missed 38 games in his first four seasons.
While it's true that injuries aren't selective, Seguin's conditioning and diet are a big part of what's kept him durable throughout his young career. This isn't to suggest that he's the only player in the league to take this facet seriously, but with another member of the established elite in Claude Giroux being asked to enter the season with a more trim physique, it's a testament to Seguin's discipline.
"I go into training thinking about what a guy my age playing hockey would be doing right now," said Seguin. "'What am I doing more than the next person to be the best?' Then I ask myself, 'What better food can I put in my body?' That's an important part of it. You can kill yourself in workouts, but if you have pizza after, it doesn't make any sense."
A bit odd, considering his reputation entering Dallas. But whether he's the best player in the league one day or not, his magnetic personality, along with the top tier ability he does possess, it's not whimsical to suggest that he'll soon be the face of the league. Even if he never statistically surpasses the likes of of the established elite.