Previously, Derek Neumeier published an article here in which he outlined the five players who he thought have given the best breakout performances in this year's postseason.
Inspired by this, I've decided to compile a list of who I think have been the five players who have served up the most disappointing performances in the 2015 playoffs.
The criteria is simple. The question I'm asking here is who, relative to expectations, has done the least to help their team win and/or been the most directly responsible for his team's elimination. I'm mostly going to consider players who would be considered as playing primary or secondary roles for their respective teams. I'm not going to pin Calgary's elimination on Deryk Engelland, for example.
So without further ado, here are my picks for the five biggest individual letdowns of the 2015 Stanley Cup playoffs:
Honorable Mentions:
-Pekka Rinne (.909 SV% in 6 games)
-Alex Galchenyuk (4 pts in 12 games)
-T.J. Oshie (2 pts in 6 games)
5. Ondrej Pavelec, G, Winnipeg Jets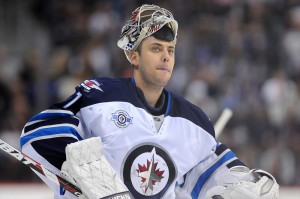 The struggles that Ondrej Pavelec has had throughout his career have been well documented. Since establishing himself as a primary goaltender in 2009-2010 in Atlanta, his save percentages by season have gone chronologically as follows: .906, .914, ,906, .905, .901.
That is essentially one year of roughly NHL average goaltending (in Atlanta in 2010-2011), with four years of well below NHL average goaltending surrounding it. That is, to put it simply, not very good. It's a wonder how Pavelec has managed to hold his position as the starting goaltender of the Atlanta/Winnipeg franchise for so long.
This season, Pavelec finally turned in a season which justified the faith that the Winnipeg brass had shown in him for so long. His .920 save percentage was good for 15th in the NHL. Basically, Pavelec had been a below league average goalie for his entire career. Meaning out of all the starters and backups, he'd probably rank in the 50s. But this year, Pavelec was essentially a league average starter.
This improvement in his game was one of the main reasons that Winnipeg managed to slide into the playoffs this season. Unfortunately, that was the end of the road in this Manitoba success story. The Jets were unceremoniously swept out of the first round by the Anaheim Ducks, and Ondrej Pavelec's performance was a huge reason why.
To be fair to Pavelec, there are very few better offensive teams in this league than Anaheim. But regardless of who you're facing, when your team relied on your .920 save percentage to even get into the playoffs, it's necessary to turn in better than the abysmal .891 that this postseason saw from Pavelec.
4. Evgeni Malkin, C, Pittsburgh Penguins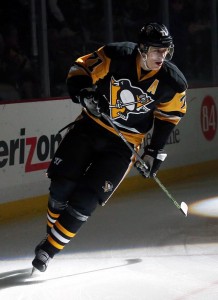 The dynamic Pittsburgh center gets somewhat of a pass. He played the entire first round series against the Rangers with a sprained ankle. Despite this, he was well enough to go represent Russia in the IIHF World Championship in the Czech Republic. This is in no way an attack or questioning of Malkin's character. His dedication to Russian hockey is admirable and should be deeply respected.
I'm not going to say Malkin was bumming it out there or not giving anything less than his best effort. Anyone who watched the series knows that to be false. The fact that he played through his injury in the first place is incredible in itself. But when it comes down to it, zero points in 5 games from one of the consensus best players in the world in the postseason just isn't okay.
Malkin's a bit of an outlier on this list. All it would have taken to get him off the list was some better puck luck, and he would have had 3 points in 5 or maybe 6 games and his production wouldn't be seriously in question. At the end of the day, however, he didn't have that puck luck and has stat line shows an ugly 5 games played with 0 goals and 0 assists.
3. Ryan McDonagh, LD, New York Rangers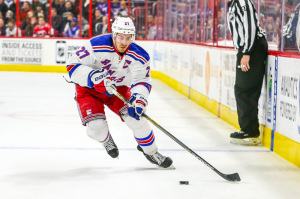 Here we have our first player whose team is still in the playoffs to crack the list. This may seem odd considering that McDonagh is the #1 defenseman on a team that is one win away from the Eastern Conference Final, but in reality the American blueliner is very far from the reason why his team is still in it.
https://twitter.com/DaveLozo/status/596127548972609537
https://twitter.com/BlueSeatBlogs/status/596127850459230208
Granted, he scored the overtime winner to keep the series alive in Game 5, but his shot appeared to be going wide if not for a fortuitous bounce off of Capitals defenseman Tim Gleason. Even if it wasn't, it still needed opposition help to get in.
McDonagh's struggles probably shouldn't be too worrisome to Rangers fans. His possession numbers are good, and he's driving play in the right direction. He also has 5 points in 11 games, which is better than his regular season scoring rate, but worse than his postseason production pace from last year. He has, however, made some absolutely bone-headed decisions in the wrong places at the wrong times that have cost his team games.
The Washington goal that made Game 6 a 4-3 game in the 3rd was partially a result of McDonagh abandoning both his side of the ice and the front of the net to follow Chimera up the boards while still unsuccessfully stopping the pass he would make.
Maybe the Rangers win Game 4 and level the series at 2-2 if not for McDonagh's atrocious giveaway to Andre Burakovsky 20 seconds into the third.
Regardless, if the Rangers are to win tonight and eventually repeat as Eastern Conference champions, they'll need their captain to cut out the defensive lapses and return to playing his usual solid all-around game.
2. Nicklas Backstrom, C, Washington Capitals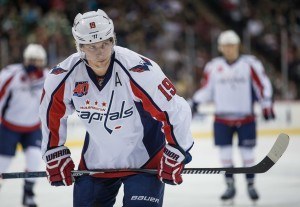 Backstrom turned in a solid first round for the Capitals against the Islanders, even if he was inconsistent in that series. The Swedish center has compiled three goals and four assists for seven points in 13 games in this year's playoff run. That may not seem too bad, but when you consider that six of those seven points came in games 2-4 against the Islanders, one begins to wonder where Backstrom has been in Washington's other ten games.
His lone point in that stretch was an assist on Joel Ward's heroic buzzer-beating goal against the Rangers in Game 1. In the five games since, Backstrom has no points and just five shots on goal. To his credit, he's been at 50% or above in the face-off dot in each of those five games, but he gets paid for more than just winning face-offs.
The Capitals leaned heavily on his superb two-way play and 78 points in the regular season, and Backstrom's failure to produce will be remembered this summer if the Capitals fail to defeat the Rangers in Game 7 tonight. If #19 in white comes through tonight, however, all will be forgotten.
1. Rick Nash, LW, New York Rangers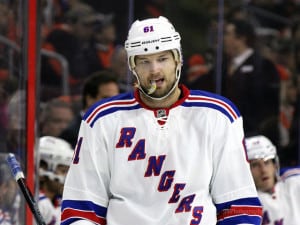 Talk about a player who is simply
running out of excuses
. You're not going to find many better goal scorers in the NHL than Rick Nash. He lit the lamp 42 times this year, more than anybody in the NHL not named Alex Ovechkin or Steven Stamkos. Then the playoffs rolled around again, and Nash's goal scoring disappeared… again.
Since becoming a Ranger, Nash has six goals in 48 playoff games. That's good for a .125 goals per game rate. To put that into perspective, here are some active players who have better playoff goals per game rates with a minimum of 30 career playoff games played: Daniel Cleary, Scott Gomez, Mike Richards, Bryan Bickell, Milan Lucic, and Martin Havlat.
The list would be longer, but QuantHockey's qualifying criterion is a minimum of 20 career playoff goals. Nash could score 12 goals in the remaining 15 possible games the Rangers could play, and he still wouldn't qualify for that list. Even if that were to happen, his playoff goals per game rate as a Ranger would equate to roughly 23 goals over a regular 82 game season. And this is assuming he scores 12 goals in 15 games for the rest of the postseason. That's simply brutal.
In the regular season, Nash's peers in terms of goal scoring are of the Ovechkin, Stamkos, Kovalchuk, etc. caliber. The elites of the elites and the best of the best. In the playoffs, he falls in line with a bunch of second/third line tweeners and guys who used to be first liners but played a lot of playoff games when they were well beyond their prime years and their production suffered as a result. Nash is 30.
He needs to produce, plain and simple. A goal or two tonight would go a long way to undoing the public perception of Rick Nash as a playoff choker. A loss without any sign of life from Nash would only strengthen it.
So there you have it, those are my top five most disappointing players in this year's NHL playoffs. Let me know in the comments if you agree, disagree, or have any general thoughts with regards to my selections. Cheers.