The NHL season is just about two weeks old, but there is already so much happening that it seems like we may see more trade action early in the season than we usually do. Here are the top five teams – in my opinion – that are/should be most desperate to make a trade right now.
#1. Chicago Blackhawks
After winning the Cup last season, the Hawks are off to a mediocre start at 3-3, but now that Duncan Keith is out for 4-6 weeks with a tear in his meniscus, they are going to need some re-reinforcements on the blue-line.
Already decimated by the loss of Brandon Saad, Johnny Oduya and Nick Leddy (although to be fair they won the Cup without him, but they sure could use him now) the Blackhawks don't seem as powerful as they once were, and underrated depth defensemen Michal Rozival is also injured.
The Hawks could use a defensemen as soon as possible or they may suffer the same fate as the Kings – i.e winning the Cup and then missing the Playoffs.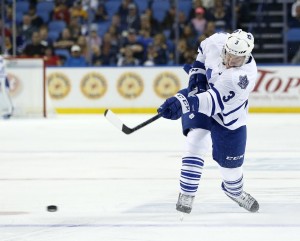 #2 Toronto Maple Leafs
The Leafs are not desperate, but they are rebuilding. They need to take advantage of the fact that other teams are hurting right now and see if they can't pedal Roman Polak off to a team like the Blackhawks.
Another Leaf who should be traded is Leo Komarov. Off to a great start with three goals and some of the best possession stats in the NHL, the Leafs should take advantage of his strong start and convert him to an asset for their rebuild. Sure, trading him would make the team worse, but maybe that isn't such a bad thing right now.
Another option for a struggling team would be any of Dion Phaneuf, James Van Riemsdyk and Tyler Bozak. JVR is a solid player on a great contract who'd command a decent return, and Bozak is…well, Bozak. Yesterday I wrote the Leafs should trade him in my daily Leafs' blog, and I got some surprising push-back from Toronto fans – he's more popular than you'd think! As for Phaneuf, I think he's pretty underrated and would help a team that is desperate.
Still, the Leafs are about building for the future and they need to move these assets out so that they can build up their farm system and give their ice-time to players like Michael Grabner who could use the extra ice time to turn himself into another asset. For the Leafs, the time to accelerate the rebuild is now.
#3 The Columbus Blue Jackets
Off to an 0-6 start, the Blue Jackets are clearly desperate to shake things up. They need help all over the ice, but like most teams would like more defensemen.  They are hard to come by, but they have a roster that should make the playoffs and the longer they wait, the worse it will get.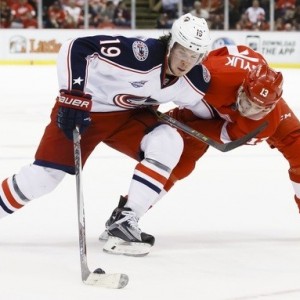 If they need a competent defensemen, might I suggest Phaneuf? The salaries could work if the Leafs took say a draft pick or prospect and Columbus sent Toronto Scott Hartnell and Rene Bourque. Sure, Hartnell's contract isn't much better than Phaneuf's but the Leafs have to stair-step down from that contract if they want out of it, and this may be a good way to do that. I see this helping both teams.
#4 Arizona Coyotes
Martin Hanzal is off to a great start, but he isn't a point-per-game player and after him, the Coyotes have Brad Richardson, Antoine Vermette and Boyd Gordon as their centres.  I probably don't need to tell you that that is the worst in the league.
If the Coyotes don't want to waste their strong start, they need to make a move for a centreman immediately. This team is stacked with forward prospects and has two first-round picks in next year's draft. They also have tons of cap room so they could help out one of the many teams that are in a cap-pinch.  Their options are limitless, they just need some creativity.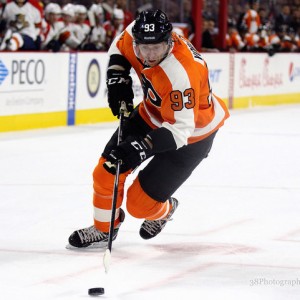 #5 Philadelphia Flyers
The Flyers have some of the best defense prospects in hockey, a talented group of forwards and a good goalie in Steve Mason. What they lack is the salary cap space to go from mid-range team to contender.
I think that if they don't make a move they'd be wasting some of the best years of Jakub Voracek and Claude Giroux's careers. I wouldn't call them desperate, but a move just makes sense.
Thanks for reading.