When your hockey club is a buyer at the trade deadline, the first thought isn't which players you'll be trading. After all, the idea is to acquire assets that will help your team for what is hoped to be an extended playoff run. This is the scenario for the Edmonton Oilers, who for the first time are going to be buyers at the deadline.
Peter Chiarelli has gone public about his desire not to delve deeply into the trade market, but in his short time as the Oilers general manager, Chiarelli hasn't been shy about making moves and shaking things up if he believes it will help the team. Something may knock on the Oilers' door and if it does, the list below includes the likeliest of players moving the other way.
Brandon Davidson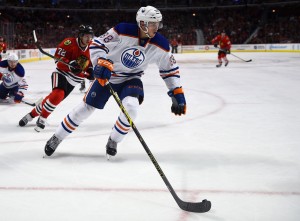 One thing is clear. The Oilers do not want to move Davidson. But, the NHL Expansion Draft may make the transaction inevitable. If Davidson continues to develop and improve, Edmonton may lose him for nothing come the draft and the alternative is trading his contract where, at the very least, Edmonton acquires something in return.
Davidson plays for Edmonton as a depth defenseman. But, even as a fifth or sixth option on what is looking like a playoff team, he offers a lot to a potential team like the Vegas Golden Knights who may look for low-cost contracts on young players who have room to grow. If there is one area that may make Vegas pause for concern, it's Davidson's injury history. Still, that probably won't be enough to ward off the newest NHL franchise.
The other option for the Oilers would be keeping Davidson handy for the playoffs and accepting the future loss of his contract to have him accessible where and when they'd need him. If Edmonton believes he'll offer depth defense in the playoffs, he's a better option than most rentals. If the Oilers feel they can make a playoff run without him, look for the Oilers to trade him to a team who would like to get a viable NHL contract back for a quality rental player.
Benoit Pouliot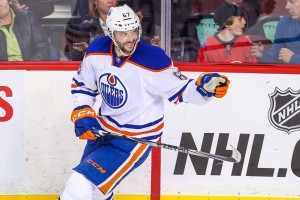 In a polar opposite to Davidson, the Oilers would love to move Pouliot's contract. The problem is, Edmonton will find very few takers — at least not without the Oilers willing to hold onto a massive chunk of Pouliot's salary. Pouliot has been a considerable disappointment for the team this season and his $4 million dollar contract is an albatross. So much so, the combination of his poor play and his large salary make him a player the Golden Knights are almost certain not to have any interest in at the expansion draft.
The trick for the Oilers at this year's deadline will be convincing another team that Pouliot can bring something in future seasons or a playoff run that he hasn't offered to date in the 2016-17 regular season. Pouliot did have a strong playoff showing for the New York Rangers in 2013-14. Could he do so again? If another team was shedding a contract and thought that Pouliot could turn things around, would he be worth consideration? The Oilers certainly hope so.
Jujhar Khaira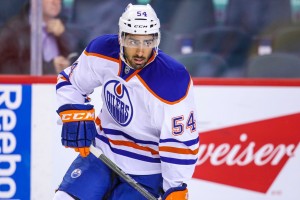 Khaira is a prospect that may interest a number of teams looking for a big, fast and physical forward who can offer a variety of playing styles. To date, he's only played 18 games for the Oilers, but over the last few seasons, he's been a quality option in Bakersfield of the AHL. This season, he's scored eight goals and 18 points in 24 AHL games.
I'm confident the Oilers have plans for Khaira as part of their organization — likely taking the place of a player like Matt Hendricks next season. That said, Khaira may be the price required or piece asked for by an opposing GM in an attempt to get a viable prospect in any trade.
Khaira also requires protection by the Oilers in the expansion draft and the Oilers are unlikely to protect him. While the Golden Knights are also as likely not to select him, there is a long-shot there that the Oilers may have to consider.
Jordan Eberle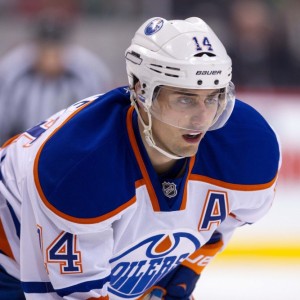 There seems to be a lot of buzz around the right winger for the Oilers. Most of it involves his lack of production this season and his high price tag. Some are suggesting the Oilers have so much concern over his drop in play that he's being shopped.
While I've had him on my Top 25 Trade Available Players list in the past, I've moved him off because I just don't see the Oilers viewing Eberle as a player who's poor production is a permanent problem. I think the organization has a firm belief that he'll return to form and that any right winger they may acquire in his place won't offer increased production.
But, because he's being paid $6 million per season and the Oilers will have Connor McDavid and Leon Draisaitl to negotiate contracts with, Eberle being moved shouldn't be ruled out completely.
The Oilers have said they aren't likely to be big news makers at the trade deadline, but could a surprise trade involving two big pieces be an option? A similar right winger would have to be part of the return.
[irp]
Mark Fayne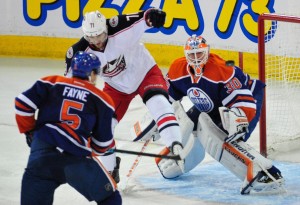 Fayne was brought into the Oilers organization as a free agent in the summer of 2014. He was an analytics hire based on his numbers in New Jersey playing alongside Andy Greene. It hasn't worked in Edmonton.
Lately, Fayne has been either injured or wasting away in the AHL. He has one more contracted season after this and at a cost of $2.675 million. At best, he's now a spare defenseman on the Oilers depth chart and when the roster is mostly healthy, he's not an NHL'er.
A team with a weak defensive core could potentially see Fayne as a bottom-pair defender but Edmonton would have to retain salary or take a similarly poor contract back in return.
Griffin Reinhart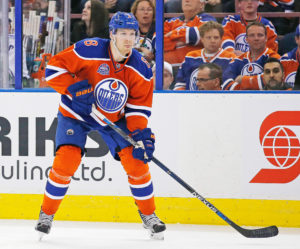 While he's been slower to develop than both the Islanders and Oilers would have hoped, few seem confident in what Reinhart really is or will be as an NHL'er. Some believe he'll amount to very little and others believe that when he figures it out, he could be a serviceable blueliner.
Regardless, the Oilers paid a lot to acquire him and will surely take a loss if they move him at this year's deadline. It doesn't mean they won't do so if an opportunity presents itself. He entered this season's camp with a legitimate opportunity to earn a spot and he was outplayed by both Matthew Benning and Jordan Oesterle.
He's now farther down the Oilers defensive depth chart and he'll be in tough to make the required jumps over those in front of him to earn another chance in Edmonton.
Anton Lander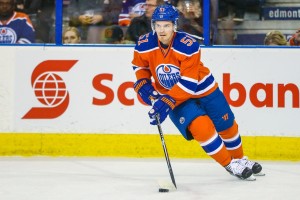 Lander seems destined to be one of the most prolific scorers in the AHL. He just can't seem to translate that same success into the NHL on a consistent basis. His story has been unique in that he's been called up and demoted often, showcasing his skills like clockwork in one league, but struggling in another.
Lander does have some serviceable qualities at the NHL level. He's terrific on faceoffs and he's a reliable defensive player with special teams ability. He seems to have a knack for working with other prospects and he could be considered a secondary or third piece of a larger trade that requires multiple pieces coming from Edmonton to make a deal work.
There are many in the Oilers organization who would love to see Lander succeed, but in Edmonton, the opportunities to do so are dwindling.
Related: Anton Lander More Valuable From the AHL
What Are the Chances?
Any trade needs two willing partners. The Oilers may want to move certain players, but the trouble may be in finding another team willing to acquire them. Only Brandon Davidson and Jordan Eberle have potential value to another NHL team for what they are and offer today.
Khaira and Reinhart could have general managers interested, but the likelihood is not as a sole asset or key component to any trade. Both would need to be packaged as part of a more attractive offer.
Davidson seems the most likely with a player like Khaira not far behind. Eberle probably stays put and the rest is potentially wishful thinking.