Much ado is made about the NHL draft; however, there have been plenty of diamonds in the rough who never made it to the podium on any given draft weekend.
While an eternal fascination surrounds the first overall draft pick — regardless of how his career pans out — one young man can annually say he's the best player in the world at that moment in time, at least in the eyes of the team to which he's headed.
Draft day is an exciting one nonetheless, for fans, teams and rising stars.
At this time, I'd cordially ask all readers to refrain from any Hugh Jessiman references in the following post.
Without further ado adieu, here's yet another installment of THW's Top 15: Undrafted Players Currently in the NHL:
15. Sergei Bobrovsky, G, Philadelphia Flyers
On Valentine's Day, Sports Illustrated's Michael Farber wrote a great piece on the 22-year-old Russian, who is 23-8-3 this year with a 2.42 GAA and .920 save percentage. Bobrovsky, or just "Bob," is one of three goalies (Kari Lehtonen and Craig Anderson being the other two) with at least 33 games played and no shutouts. One could argue his numbers are the result of playing for the league's best team (backup goalie Brian Boucher's numbers are quite similar) but no one has questioned Bob's work ethic up to this point and coaches, players and fans seem very confident in his ability going forward.
14. Chris Kunitz, LW, Pittsburgh Penguins
Kunitz has had a pretty memorable career for an undrafted winger. He started the year with a bang playing alongside a possessed Sidney Crosby, but he's slowed down considerably due to Sid's absence and injuries of his own. He had a career high of 60 points during Anaheim's Cup-winning season in '06-'07, and although he was injured in the semi-finals, he returned later on in the finals to help the Ducks beat Ottawa in five games. His second cup came as a Penguin in '08-'09, where he posted 14 points in 24 playoff games.
13. Dan Girardi, D, New York Rangers
The six-foot-two, 215-pound defenseman has become a staple on the Rangers' young blueline alongside 2011 All-Star Marc Staal. Girardi finished sixth in blocked shots last year and is well ahead (167) of Greg Zanon's second-best 148. He's also enjoying a career year in points and is seeing some time on the powerplay because of his willingness to shoot.
12. Rene Bourque, LW, Calgary Flames
Bourque began his career in Chicago after four years at the University of Wisconsin. It was as a member of the Blackhawks where Bourque's neck was the unfortunate recipient of a Nikolai Zherdev skate blade, resulting in one of the scarier on-ice moments in NHL history. After three years in Chicago, Bourque was sent to Calgary for a second-round pick in the 2009 draft (Brandon Pirri). He's also been an unfortunate recipient of the injury bug on several occasions, but when healthy is one of the Flames most talented scorers, evidenced in his 58 points in 73 games last year.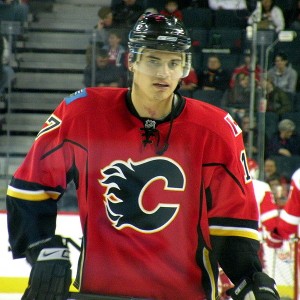 Rene Bourque recently helped propel the Flames past the Canadiens in the Heritage Classic (photo courtesy Ice Hockey Wiki).
11. Dustin Penner, LW, Edmonton Oilers
Penner, although the subject of non-stop trade rumours (Fleetwood Mac, anyone?), he contributed a career-high 32 goals and 31 assists last season playing in all 82 games. He's had quite an interesting career: cut by many minor league hockey teams, broken femur playing at Minot State University-Bottineau (North Dakota), scholarship to University of Maine, Stanley Cup in Anaheim, signed a rare restricted free agent offer sheet with Edmonton (Ducks received Edmonton's first-, second- AND third-round picks for the 2008 draft as compensation), part of the supposed Dany Heatley to Edmonton trade and a career year in 2009-2010. To be continued…
10. Antti Niemi, G, San Jose Sharks
Like many in his position, Niemi was an unsigned goaltender. Unlike many in his position, Niemi won a Stanley Cup in his rookie season (first Finnish-born goalie to do so; strange considering how many they produce, no?). Niemi had a ridiculous season last year and in only 39 games, he recorded seven shutouts. Chicago, which later dismantled much of the Stanley Cup team due to cap issues, chose to walk away from his arbitration award of $2.75 million. He landed in San Jose and after a slow start has solidified his role as the Sharks' number one goalie.
9. Alex Burrows, LW, Vancouver Canucks
Factoid for the day: Burrows was named the 2005 International Ball Hockey Player of the Year and is a member of the Canadian and International Ball Hockey Halls of Fame. Factoids, I apologize. The hard-working winger has established himself as a regular between the Sedin's and is relishing in the opportunity; case in point: 35 goals, +34 last season. He's spent almost half the time in the penalty box as he did last year and although he doesn't see much time on the man advantage, he's still a skilled scorer as well as an energetic penalty killer.
8. Mark Giordano, D, Calgary Flames
Giordano's stepped up for Calgary in a big way in the aftermath of Dion Phaneuf's departure. Giordano, whose older sister Mia, was killed in a car accident when he was 14, took an interesting road to the NHL. He led the OHL in scoring for defensemen for two seasons but was overlooked in the draft, ultimately becoming a member of the Flames in 2004 when they signed him to an AHL contract. The 27-year-old had two great years in the AHL but chose to play in Russia when he couldn't reach a new contract with the Flames. Calgary recently put those fears to rest, signing him to a five-year, $20 million dollar deal.
7. Dwayne Roloson, G, Tampa Bay Lightning
With 15 NHL seasons under his belt, Roloson also took a road less traveled to reach the pros. "Roli' was a Hobey Baker finalist at UMASS Lowell, went undrafted, signed as a free agent by Calgary, traded to Buffalo to backup Dominic Hasek, selected in the 2000 NHL Expansion Draft by Columbus, chose not to sign with the Jackets and eventually signed with the St. Louis Blues AHL affiliate. Roloson played a handful of games in Calgary, Buffalo and the AHL before his breakout season, which came in 2003-2004 (he posted a 1.88 GAA, .933 save percentage and five shutouts in 48 games) while splitting duties with Minnesota and Manny Fernandez. That season, he was named to his first All-Star game at the age of 34, and this season, Roloson has a chance to return to the playoffs with a surging Tampa Bay team.
6. Jonas Hiller, G, Anaheim Ducks
The Swiss-born goalie has clearly stated his alliance with Anaheim as the number one goalie over the past few seasons. Interestingly, Brian Burke placed Ilya Bryzgalov on waivers to make room for Hiller to back up J.S. Giguere;  the move was beneficial for both parties. He represented Switzerland very well in the 2010 Olympics and has a career record of 89-61-9 with a 2.50 GAA and .921 save percentage. He's currently on the injured reserve list due to dizziness and fatigue.
5. Zbynek Michalek, D, Pittsburgh Penguins
AOL Fanhouse dubbed Michalek as "The Defenseman Every Team Wants" before he signed in Pittsburgh as a free agent on July 1. Michalek is hailed for his shot blocking and durability, leading the league in blocks in 2008-2009 while a member of the Phoenix Coyotes. His career began in Minnesota before being traded to the desert. His brother, Milan, is a forward for the Ottawa Senators and both represented the Czech Republic in the 2010 Olympic Games. In a recent Pittsburgh Post Gazette article, Pens coach Dan Bylsma explained his leadership role on the team:
"Zbynek Michalek was injured early on and I knew he felt bad," Bylsma said. "I asked him, 'Are you a leader on this team?' He said, 'I'm new. I haven't played much … '

"Then I asked Brooks Orpik if he had noticed [Michalek] 'Yeah, I've noticed him. He's worked as hard to get back as anyone I've ever been around,' he said. I asked another injured player and he said, 'Sure, I've noticed him. He's worked so hard that it makes me feel guilty. I know what I have to do now to keep up with him.' I think 12 players must have said they noticed [Michalek's] work ethic and commitment. That told me he's one of our leaders."
4. Niklas Backstrom, G, Minnesota Wild
Backstrom and fellow Finn Mikko Koivu are now synonymous with the Minnesota Wild. Backstrom stepped in during the 2006-2007 season after a Manny Fernandez injury and didn't do much except lead the league in goals against and save percentage. He currently holds three Wild records: most career wins, most wins in a season and most shutouts in a season.
3. Dan Boyle, D, San Jose Sharks
Boyle went undrafted out of the University of Miami (Ohio) before the Florida Panthers signed him as a free agent. He played one year in Sunrise before being traded to Tampa Bay for a fifth-round draft pick. Boyle tallied 53 points in his first full season with Tampa and then 39 in Tampa's Stanley Cup season the following year. With new ownership at the helm, Boyle was asked to waive his no-trade clause and was moved to San Jose. He was a victim of a strange accident when a skate fell off a hook and severed three tendons in his wrist in 2007. In 2008, he made a full recovery and was signed to a six-year, $40 million deal. He chipped in six points in seven Olympic contests, ultimately helping Team Canada win a gold medal.
2. Brian Rafalski, D, Detroit Red Wings
Rafalski spent four years in Europe after graduating from the University of Wisconsin – Madison. The Sporting News called Rafalski "the best player not playing in the NHL" in 1999, and soon after, became a member of the New Jersey Devils at 26 years old. A rookie to the league at the ripe age of 26, Rafalski was paired with Scott Stevens and went on to win two Stanley Cups. The Red Wings signed Rafalski to a five-year, $30 million contract in 2007; Rafalski grew up in Michigan and was a lifelong Red Wings fan. Soon he was paired with another great, Niklas Lidstrom, and the duo helped Detroit take home the Cup in his first year as a Red Wing. Rafalski has played in five Cup finals and three Olympic tournaments, where most recently he was named an All-Star and Best Defenseman in the 2010 Olympic Games.
1. Martin St. Louis, RW, Tampa Bay Lightning
As being a finalist for the Hobey Baker Award three times wasn't quite enough to get him drafted, Martin St. Louis has made all but one team extremely regretful over the years. St. Louis, who is listed at five-foot-nine but admitted he's more like five-foot-seven and a half, played collegiately at the University of Vermont with NHLer Tim Thomas and former teammate Eric Perrin. Calgary signed St. Louis as a free agent but released him after one less than stellar season in the NHL. Four years later, St. Louis led the NHL with 94 points and chipped in 24 points in 23 playoff games when Tampa took home Lord Stanley. He eclipsed 100 points in 2006-2007 (102) and matched his 94 points last year. St. Louis has 48 points in 45 career playoff games and won four major trophies in 2004: the Hart, Art Ross, Lester B. Pearson and NHL Plus/Minus award. He also was named the league's most gentlemanly (Lady Byng) player in 2010. He wears number 26 in honor of his childhood hero and similar framed Montreal Canadiens forward Mats Naslund.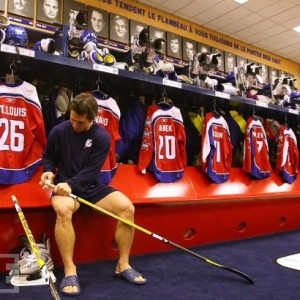 Martin St. Louis' leg strength is key to his NHL success (photo courtesy Life).
Honorable Mention:
Jason Blake
Ruslan Fedotenko
Vernon Fiddler
Andy Greene
Andy McDonald
John Madden
Steve Reinprecht
Retired:
Dino Ciccarelli
Geoff Courtnall
Curtis Joseph
Tim Kerr
Peter Stastny
Steve Thomas
Cory Twibell, a Towson University graduate and newspaper editor from Long Island.