In the fall of 1962, Nashville, Tennessee, newspapers took on the task of educating the Music City on its newest sport – ice hockey.  Bill Parker of the Nashville Banner regularly contributed items about hockey leading up to the inaugural home game of the Nashville Dixie Flyers.  A wide variety of articles were published to educate and excite the potential new fans in Nashville.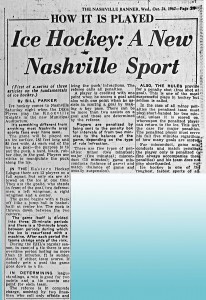 By the beginning of September, the team already signed six players and expected at least sixteen others to report to training camp, a few over the full roster of thirteen required by the EHL.  The team members hailed from Ontario, Saskatchewan, Quebec, and Alberta.[i] Nashville and the Municipal Auditorium geared up for these Canadian newcomers.  In September 1962, Bill Parker of the Nashville Banner reported on the comings and goings of the fledgling franchise as they prepared to introduce hockey to Nashville.  He introduced one article with:
"You dial 242-3455 on your telephone and a second later a sweet, feminine voice says, 'Dixie Flyers, can I help you?' It was a sure sign that Nashville's new ice hockey team had become permanently situated in its offices in the Municipal Auditorium."
In this same piece, Parker took the time to ask Steve Brklacich, the general manager of the Dixie Flyers, about the roster and how training camp operates.  Brklacich explained how he would start out with about twenty-five players and eventually whittle it down to thirteen by the team's season opener on October 20, 1962, in Long Island, New York.  Brklacich, with an apparent understanding on the newness of his sport to the area, likened hockey camp to football camp with a morning and an afternoon workout and plenty of scrimmaging.[ii]
Parker continued to prepare Nashville residents for hockey with a wide variety of stories that first year.  In "Two NIL Coaches Return to Hockey," he wrote about two local high school coaches who had moved south from Watertown, New York, and Springfield, Massachusetts.  Never expecting to be back on the ice in Nashville, both men eagerly laced up their skates again.  The coaches, Harry DeLosh and Charles Care, would serve on the officials' squad – Nashville's required local contribution since the EHL supplied a referee, but the home team had responsibility for finding two linesmen to complete the squad.[iii]
Parker kept readers abreast of Dixie Flyers developments almost daily throughout October 1962.  He interviewed players about signing with the team, the activities surrounding practice sessions and scrimmages, and exhibition games.  He also wrote articles introducing players to the public.  In an article about Ken "Red" Murphy, he described the player as a "soft-spoken, 150-pound Canadian…[who had been] spending a total of almost 200 minutes in the penalty box."  Parker discussed the differences between the players on the ice and in their personal lives.  Murphy, who played for the EHL franchise in Charlotte before arriving in Nashville, took to the South rather quickly.  He married a girl from Charlotte and, along with the couple's young son, planned to settle in Nashville after the season started.[iv]
Although long considered part of the entertainment of a hockey game, a strict code exists when it comes to fighting on the ice.  In the same article about Murphy's role as a scrapper, Parker added, "Incidentally, when hockey players are really fightin', mad, they throw off their bulky gloves. They can't hurt anybody with them on."  Early on, even the local sports writers seemed to know what things might entice people to come out to hockey games.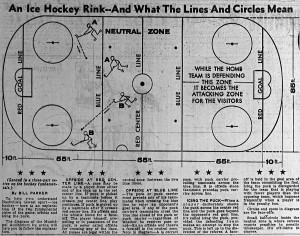 However, Parker also worked to explain the game through his articles.  He wrote about how the players learn plays, once compared Brklacich to legendary University of Alabama head coach Bear Bryant, and wrote a three part series entitled "How it is Played," and included diagrams of the lines painted on the ice so spectators could understand this new Nashville sport.  Banner "Sidelines" columnist Fred Russell got in on the act of introducing the sport in his daily column, including a brief history of the game and a short poem by local sports fan John Kieran:[v]
I've an ever-ready ear for a rousing football cheer, / And I love to see a halfback tackled low. / It's a really gorgeous sight when the boys begin to fight / With a touchdown only half a yard to go. / But take all the most exciting parts of football, baseball, fighting, / And then mix them up to make a game sublime, / Serve it up with lots of ice, you don't have to ask me twice, / Give me hockey – I'll take hockey – any time! / Yes, for speed and pep and action, there is only one attraction, / You'll see knockouts there a dozen for a dime. / When the bright steel blades are ringing and the shinny sticks are swinging, / Give me hockey – I'll take hockey – any time!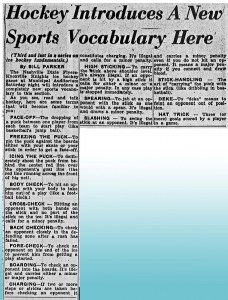 Predictably, the Dixie Flyers endured a tough first season.  Under Brklacich and Coach John McLellan, the team ended the season with a disappointing 16-48-4 record.  However, the first season for any team is usually an adjustment period.  During the second season, the team broke the .500 mark with a 37-31-4 record.  They entered the playoffs in eight of their nine seasons in Nashville, earning the Walker Cup and the title of EHL Champions in back-to-back seasons, 1965-66 and 1966-67.
The above article on Parker's and the Banner's first few months of covering hockey is an excerpt from the paper, "I Like It, I Love It, I Want Some More of It – Music City's 50-Year Love Affair with Canada's Most Famous Export."  Other versions of this article will be presented to the University of Alabama at Birmingham's 2011 Graduate Student Research Days on February 23, as well as the 39th Annual Conference of the North American Society for Sport History in May.

"How It is Played" is copyrighted by the Nashville Banner. The series was originally published in the October 24, 25, and 26, 1962 issues of the Banner.
---
[i]
Bill Parker, "Dixie Flyers Sign Sixth Ice Player,"
Nashville Banner
, September 11, 1962.
[ii] Parker, "Brklacich Departing for Canada," Nashville Banner, September 14, 1962.
[iii] Parker, "Two NIL Coaches Return to Hockey," Nashville Banner, September 25, 1962.
[iv] Parker, "Dixie Flyers' Red Murphy A Fighter – On The Ice," Nashville Banner, October 15, 1962.
[v] Fred Russell, "Sidelines," Nashville Banner, October 24, 1962.