The Heritage Classic in Calgary at McMahon Stadium, home of the Stampeders, is approaching seemingly faster than an Al MacInnis howitzer from the point, a Mike Vernon kick save or a Mike Cammalleri down-on-one-knee one-timer.
Check out this photo gallery of the preparations: NHL.com
If you yet to see, check out a time lapse video of Calgary's McMahon Stadium in preparation of the highly anticipated event:
From my Countdown to Heritage Classic article:
For me, like many, outdoor hockey gets back to the true roots of hockey. Pond hockey has been played and enjoyed by many a hockey fan and player alike. There's something about the atmosphere of a outdoor hockey game, no matter the venue and no matter the age, that brings out the untainted youthful enthusiasm and passion for the sport, and for life in general – even for just a little while.

Even if it's for just one long weekend in February in a cool Rockey Mountain football stadium, this event will be something special to be a part of. As a spectator. As a member of the media (traditional and emerging media members). As a player. As a television viewer. As a radio listener. As a fan!
The following is a breakdown of some of the stats and storylines heading in to Sunday's Heritage Classic:
Weather:  Avoid the Chinook!
The MVP of all preceding NHL outdoor extravaganza games has not even laced up his skates for the contests. While coaches, trainers and players plan and prepare for the challenges that an outdoor hockey game presents, Mother Nature does not always cooperate.
Thus, the Iceman cometh.  Dan Craig, aka The Ice Guru (not be confused with Mike Myers' The Love Guru), is prepared for whatever Calgary and Rocky Mountain weather has to throw at him. From cold winter temperatures to Chinooks (warm, snow-eating wind), this could prove to be Craig's most challenging environment yet. Although he is from Jasper, Alberta and thus is quite familiar with the elements Alberta and the Rocky Mountains can present.
The forecast (Weather Network) looks good at this point however. For the Saturday February 19th Alumni game, the projected high is -1 (Celsius) with a low of -19. For Sunday's main event, the projected high is -1 with a low of -12, with a 40% chance of flurries. The snow might make the game reminiscent of the 2008 Winter Classic between the Pittsburgh Penguins and Buffalo Sabres.
At the Monday February 7th press conference featuring Dan Craig he stated:
"If I was going to pick an ideal temperature for us to have our game, it would be minus 5, minus 6. If we drop down to a minus 10 it's not going to be that bad; that's not a concern on my side. We just have to prepare all of our players and the equipment managers and trainers have to prepare the players to play in a safe environment."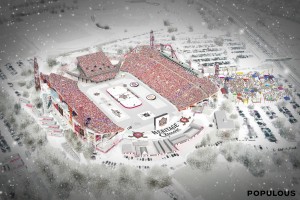 He added:
"And this is, even here, because the difference of playing in Boston, because you're near the ocean compared to playing in Calgary, where our air quality is a lot dryer. So you have a lot less humidity and the snow is a lot fluffier. So it's going to feel different to them.

It's going to be very fast. It's going to be a very fast sheet of ice. And that's why we're kind of looking really good at the weather right now with it being minus 5 and minus 6 because that's our ideal temperature for the guys to skate on. And we're looking for a very fast surface for these guys to play the best game that they can have on that particular day."
The first layer of ice was sprayed on by Craig and the Ice Crew on Valentine's Day.
Hot Streaks
After a less than stellar October to begin the season, Jarome Iginla has continually elevated his game this season and now finds himself in the Top 10 in league scoring. Iginla has 9 points in his last 6 games – a 6 game point scoring streak as of Feb. 15th.
Curtis Glencross is one of the hottest players in the NHL. In February, the versatile and talented but streaky forward has 7 goals and 11 points in 8 games with a plus 5 rating. As of Feb. 15th, "Glennie" has potted goals in 5 consecutive games.
Blueliner James Wisniewski has 15 points in 18 games since being traded to the Canadiens from the New York Islanders.
Stat Blast (as of Feb. 15th)
Tim Jackman has been a minus player in just 8 games. He's the only Flames regular at less than 10 games. 10 goals and 10 assists are both career highs. Bargain free agent signing personified.
Dynamic duo: Jarome Iginla and Alex Tanguay have both registered a point on 26 of the Flames 170 goals for this season. The next closest combo is Iggy and Mark Giordano, both connecting directly for 11 goals.
The importance of the 1st goal: Both squads have eerily similar records when scoring first in a game – The Habs have a .724 winning percentage and sit 11th in the league in that category, with the Flames one slot below at 12th with a .714 record.
Rocky Mountain Air: Brendan Morrison is close to a PPG player at home, but averages less than a point every 2 games on the road.
Braveheart Awards: Mark Giordano is 3rd in the NHL, sacrificing his body 139 times to block shots. Anton Babchuk is 20th in the league. The Habs also have two members in the Top 20 in the league in this category: former Flame Roman Hamrlik at 9th and Hal Gill at 16th.
Ironmen: Jay Boumeester leads the league in minutes played, but will likely be eventually surpassed by Dan Boyle as his San Jose Sharks have played two less games.
Carey Price and Mikka Kiprusoff sit one and two respectively in goalie minutes played. Price has played 15 minutes and 4 seconds more than Kipper.
Minor Offence: In the rather not category, the Canadiens have 2 players in the Top 15 of most minor penalties taken. P.K. Subban leads the way at 6th, with Roman Hamrlik coming in at 14th. Cory Sarich is the only Flames in the Top 30 at 28th.
Well said! Notable Quotes:
From Feb. 14th press conference:
Q. This is for both guys. You know, I know Spacek played in 2008 in Buffalo. James, you played in Wrigley. Mike, you played in Michigan. Guys haven't been in that position. I'm curious if teammates have come up to either one of you guys to ask what's the big thing that surprised you or what can we look forward to that maybe you could help them with?
MIKE CAMMALLERI: No one's asked me directly, but if anyone wants to know, I'll fill them in. I think guys will just enjoy it and get ready for it. There's nothing to prepare anybody for. At the end of the day, I'll give you an old Red Berenson quote from Michigan. He used to always say, "at the end of the day, there's still one center ice line, two blue lines, and two nets. So go play hockey."
Q. Do you feel like you'll be healthy to play in this game?
MIKE CAMMALLERI: I'm doing everything I can to be ready for the game. Today I practiced with the team. You know, I'm not able to take contact just yet, but I'm working on it. So I feel good.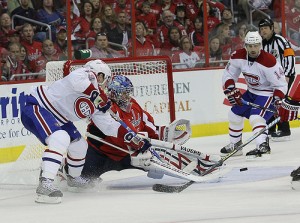 From Feb. 15th press conference:
Q. David, you've played in the two outdoor games, the one in college and the World Championships last year; were the conditions similar or different? Can you talk about how outdoor is different than indoor, based on those two experiences.
DAVID MOSS: Well, the outdoor game at Michigan, the conditions were pretty good. Despite being pretty cold outside, there was not much wind and not any snow or anything like that. So for an outdoor game, conditions were pretty good. Hopefully it can be the same in Calgary.

The outdoor game that I played in Germany was in a soccer stadium, so it wasn't quite totally outdoors. Conditions there were great.
Q. I wanted to follow up on when you said something earlier you said you had not played in an outdoor game in a long time; what was your last memory of playing outdoors?
ALEX TANGUAY: The last time I played outdoors was actually a fun story. I was playing in Colorado at the time, my second year in Colorado and my family came out for Christmas. And my younger brother, who was about nine years younger than me, was about 12 at the time. We went out to Evergreen on Christmas Day and he brought his skates. And obviously when you're a young kid and your brother in the NHL, it's always nice to go out and skate with your brother.

So we go out and we get to the pond, and there's four guys playing hockey. And I said, do you mind if we play. And the guys are like, okay, you want to spread the team? And I said, no, we'll take us two against you four. And they were four older guys that did not really know who we were and stuff like that.

So I started playing and I was getting my brother to score every goal. That was quite an experience for me, and after a while, the guys finally picked up that I was playing in the NHL. So they asked and it was really nice. We had so much fun playing outside.
Q. Do you remember what year that was that you had that game?
ALEX TANGUAY: That I played with my brother outside? I think the year that we won the Stanley Cup. So it must have been 2001.
Jerseys & Jersey Numbers
How do you feel about the special edition jerseys for this event?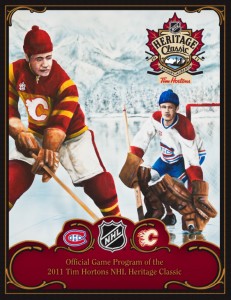 Yahoo Sports Puck Daddy blog weighed in:
As we had hoped yesterday, the Flames went with a hybrid version of a jersey that honors the Calgary Tigers, first professional team in the area that challenged for the Stanley Cup twice during the 1920's.

Montreal's look will be similar to what they wore from 1974-1996, which means they basically just added the Heritage Classic patch.
As an aside, is Montreal Canadiens young gun blueliner P.K. Subban destined to be the best player to wear the #76 jersey in the NHL at this point in time. Only Dustin Penner stands in his way currently and Subban might already be a more effective player than the skilled giant of a forward.
On the Calgary Flames squad, recently called up Lance Bouma wears a fairly unique jersey number himself – #57. He has some stiff competition if he wants to one day claim the best #57 ever title. Tyler Myers, David Perron and the Canadiens Benoit Pouliot are just a few of the players that will offer up an intense battle.
Show Me The Money!
Chris Johnston, of The Canadian Press reported:
"…sponsors have lined up and embraced the event to a degree not even seen for the Winter Classic outdoor game on New Year's Day — widely considered the signature date on the NHL calendar.
"We've got more sponsorship dollars against this game than we actually did even (at the Winter Classic) in Pittsburgh, which is amazing to me," NHL COO John Collins said Friday in an interview. "It just speaks to the (interest). Believe me, Pittsburgh was by far the biggest event business that we've had to date."
Stay tuned to THW for more coverage of the Heritage Classic.
Christopher Ralph is THW's prospect and draft analyst, as well as covering the Calgary Flames.
Note: Stats in this article were from prior to Feb 15th games at first time of publishing.
Chris is THW's senior draft/prospect analyst and a Managing Editor. Watch for "The Next Ones" Prospect Profile series, exclusive rankings, mock drafts, as well as the annual THW NHL Entry Draft Guide. Follow @ChrisRalphYQ on Twitter as he infiltrates, dissects and analyzes all happenings of hockey prospects and the NHL entry draft. Email: cralph[at]thehockeywriters[dot]com