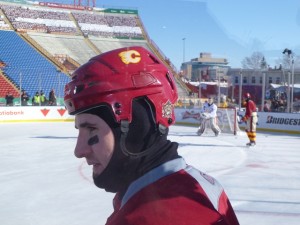 View Part 1 for more quotes, stats and storylines.
From my Countdown to Heritage Classic article:
For me, like many, outdoor hockey gets back to the true roots of hockey. Pond hockey has been played and enjoyed by many a hockey fan and player alike. There's something about the atmosphere of a outdoor hockey game, no matter the venue and no matter the age, that brings out the untainted youthful enthusiasm and passion for the sport, and for life in general – even for just a little while.
Even if it's for just one long weekend in February in a cool Rockey Mountain football stadium, this event will be something special to be a part of. As a spectator. As a member of the media (traditional and emerging media members). As a player. As a television viewer. As a radio listener. As a fan!
The NHL, Flames organization and McMahon Stadium personnel have done an amazing job of transitioning a football stadium into a hockey venue.
Many players sported eye black at yesterday's team practices and Flames backup Henrik Karlsson even wore sunglasses to help combat the glare of the sun.
Gridiron Ice Gladiators
Seeing the players on the ice in McMahon, I could not help envision which players might be capable of being, or at least look the part of multi-sport athletes.
Jarome Iginla looks physically capable of being a dynamic running back.
Robyn Regehr could provide the lead blocking as a full back.
Tim Jackman looks like a gridiron general as a middle linebacker.
Hal Gill looks like a giant pass-catching and blocking tight-end.
Mike Cammalleri looks like a Wes Welker-type slot receiver who could excel generating yards-after-the-catch.
P.K. Subban looks like a primetime shutdown corner.
History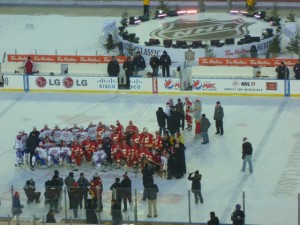 The Flames and Canadiens do not conger up images of a natural hockey rivalry. The Flames have a lot of pride and history but cannot match the mighty legacy that is the Montreal Canadiens. The cities are separated by 3743 Km.
The much documented two Stanley Cup finals in the '80s, however, will link these teams for the years to come and mark the rivalry that persists to this day.
After the Flames upset the mighty Oilers in the 1986 playoffs, Montreal took them out in 5 games in the finals to lift Lord Stanley's Cup.
Just 3 years later though the Flames would return the favour becoming the first and only NHL team to clinch the Holy Grail of Hockey on Montreal soil. When the iconic Lanny McDonald scored yesterday on a penalty shot in the Alumni game, one could not help be reminded of his 1989 huge goal to help seal the deal.
Player Connections to Both Teams
Alex Tanguay is from Quebec but grew up a fan of Les Nordiques rather than the Canadiens. He played in Montreal two seasons ago.
Tom Kostopoulos played 2 seasons in Montreal.
Craig Conroy was originally drafted by the Canadiens. He, of course, is now retired and is special assistant to Flames GM Jay Feaster. Conroy seemingly toned down his game for the Alumni game. It looked like he could have had a hattrick on one shift alone.
Roman Hamrlik signed with the Canadiens after 2 years with the Flames helping groom Dion Phaneuf.
Michael Cammalleri had a career year with the Flames before signing with Montreal.
Ryan White starred for the WHL Calgary Hitmen.
Travis Moen was originally drafted by the Flames.
Well Said! Notable Quotes
Scott Gomez after a spirited Montreal Canadiens morning practice:
"I'm kind of proud of myself. I said I wouldn't go out there and wear the hood and mask and all that, and I stuck with it. I look at some of my Canadian friends out there, and they were some of the ones wrapped up the most. Ryan White is from Brandon — he should be embarrassed of himself," Gomez continued. "Travis Moen? All his farmer stories — I don't even know what to believe anymore. He was as wrapped up as anyone."
Mike Cammalleri stated with his signature grin regarding sporting eye black:
"I think it looks pretty cool. I was going to wash it off after practice, but thought I'd go to the interview looking pretty tough."
P.K. Subban should not be muffling his contagious enthusiastic personality. He is one to watch on Sunday and had this to say:
"I'm not gonna try a set of earmuffs because I think that'll just draw too much attention to myself and I'll probably be on TV for something. I'll try and blend in as much as I can."
From February 20th interviews:
(On the blueliner who sported one heck of a shiner for the Canadiens practice)
COACH JACQUES MARTIN:  There's a good possibility that James Wisniewski will play tomorrow.  We'll re-evaluate how he is tomorrow morning, practice with the team today, and hopefully he'll be fine to play tomorrow.
Q.  Tell us about the importance of getting Gill and Cammalleri back.
COACH MARTIN:
There's a good chance they'll both be back tomorrow.  They're both veteran players, both experienced players.  Hal has played extremely well in the second half of the season.  Paired up with Subban.  He's really helped our young defender.  Most of the time they play against the top line.
Getting Michael Cammalleri back gives us some more scoring punch, should help our power play, should help our other lines as well give us more depth.  And I think both individuals bring some leadership to our hockey team and a good example of that today was our players not really wanting to get off the ice.  Right at the end enjoying the moment.  And those two are leaders in that department.
***
Q.  Growing up in Quebec, were you a Montreal Canadiens fan?
ALEX TANGUAY:  No.  I was a Nordiques fan all the way.  So when I went to Montreal, you know, it was hard to put that jersey on for the first time. But it was business.  But it was a childhood dream of mine to play for the Nordique, and hopefully it might even happen now.  So I'm looking forward to it that Quebec gets back in and looking forward to hopefully have a chance to play there.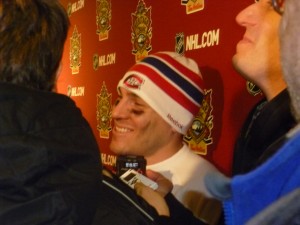 Hot Streaks
Iginla's and Glencross' hot play were noted in Part 1. Also of note, Olli Jokinen has four goals and seven assists in his last six games. David Moss and Renee Bourque have both contributed four points in their last two games.
On the Canadiens side, rookie David Desharnais has two goals and five assists in his last six games with recent PPG players Max Pacioretty (12 points in 12 games) and Benoit Pouliot (3 points in 3 games) also contributing offensively. Montreal will need a spark from Cammalleri and improved play from Scott Gomez and Brian Gionta if they hope to come out on top.
Smart Money
Moneyline: Canadiens +125: Flames -145
Over/Under: 5 goals
I see the goalies having the biggest disadvantage in these weather conditions and would venture to take the over in this game.
Home ice disadvantage may be in play as only the Boston Bruins in Fenway Park have managed to win on home ice in NHL outdoor games.
The Canadiens, however, have managed just 4 victories in Western Canada since the 1999-2000 season. They have not won in Calgary since January 5th, 2002.
While both teams could definitely use the 2 pints in their respective playoff hunts, with the resilience the Flames have shown recently and with the Canadiens have guys just returning from the infirmary, I would think the smart money would have to be on the Flames for the Heritage Classic.
Shots From The Slot – Heritage Classic Links:
*Puck Daddy's Heritage Classic photo expedition
*Gainey to Subban-bashers: "Shut-up and play!" (CBC Sports Tim Warnsby)
*Photos and audio from Habs and Flames practices (Habs Eyes on the Prize)
***
View Part 1 for more great quotes and stats.
***
Christopher Ralph is THW's prospect and draft analyst, as well as covering the Calgary Flames.
Chris is THW's senior draft/prospect analyst and a Managing Editor. Watch for "The Next Ones" Prospect Profile series, exclusive rankings, mock drafts, as well as the annual THW NHL Entry Draft Guide. Follow @ChrisRalphYQ on Twitter as he infiltrates, dissects and analyzes all happenings of hockey prospects and the NHL entry draft. Email: cralph[at]thehockeywriters[dot]com