The 2015-16 season was a tremendous success for the Toronto Maple Leafs. Of course, that's in the sense that they accomplished exactly what they set out to at the beginning of the season. Sure the team finished last in the NHL standings and that may suck for the on-ice product, but it has set the Leafs on a much brighter path.
We all knew that last year was going to be hard to watch. After all, Mike Babcock made a point to say in his introductory press conference that "there will be pain", and pain there was. Leafs fans didn't really get a relief until the second half of the season. Trades and injuries opened up roster spots for the Leafs prospects. As a result, we got to see William Nylander, Nikita Soshnikov, Zach Hyman, Connor Carrick, Garrett Sparks and plenty others play for the big club as the season ran down.
Team 2015-16 Record: 29-42-11 (8th in the Atlantic Division)
Offseason Moves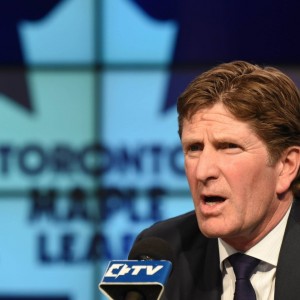 Key Roster Additions:
Auston Matthews
Frederik Andersen
Nikita Zaitsev
Matt Martin
Key Roster Losses:
P-A Parenteau
Jonathan Bernier
Michael Grabner
T.J. Brennan
Key Organization Changes:
Not many changes were made in the management group. Of course, Mark Hunter was promoted and now shares the assistant general manager job with Kyle Dubas. The Leafs also hired Tim Speltz, formerly of the WHL's Spokane Chiefs, as their Director of Western Area Scouting. Interestingly enough, Speltz is the man that gave Leafs' coach Mike Babcock his first coaching job in Spokane in 1994.
Forwards:
Projected Lines:
James van Riemsdyk-Nazem Kadri-William Nylander
Leo Komarov-Tyler Bozak-Mitch Marner
Matt Martin-Auston Matthews-Nikita Soshnikov
Milan Michalek-Brooks Laich-Zach Hyman
Matt Martin
Martin will have some pressure on him from Leafs fans and media. There was a mini-uproar when he was given a four-year contract with a cap hit of $2.5 million. If he doesn't play well and give the fans a reason to cheer for him, he could very well become the next David Clarkson. However, if he does play well, he could find himself heading to Las Vegas as an expansion draft pick. In fact, that might be why the Leafs signed him in the first place.
Nazem Kadri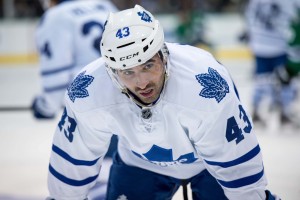 Kadri enters his sixth season with the Leafs in 2016-17. For a former seventh overall pick, it has taken a long time for him to reach the top line. Now that he's reached it, he might not be able to hold it for very long. Kadri has only one 20-goal season in his career — he'll have to change that if he wants to hold off Auston Matthews. With the Leafs increasing depth at center, if Kadri doesn't improve even further, he could be deemed expendable for the right price.
Auston Matthews
Let's face it, most of the excitement of this coming season will be seeing what Matthews can do in his first NHL season. While it has been said that he'll start on the third line, it's hard to see that lasting for very long. Who knows if he'll actually start on the third line, as he has the World Cup of Hockey to get him ready for the season. If he impresses against NHL competition, the plan could very well be changed.
Defense:
Projected Pairings:
Morgan Rielly-Martin Marincin
Jake Gardiner-Nikita Zaitsev
Matt Hunwick-Connor Carrick
Nikita Zaitsev
The Maple Leafs were courting Zaitsev in the 2015 offseason. Electing to stay in Russia for one more year, it was pretty much a foregone conclusion that he would sign with Toronto after the season. That he did and now we wait to see what he can do. Expected to play in the top four, Zaitsev will have to prove he can adjust to the NHL game quickly.
Last season with CSKA Moscow, he played 46 games and scored eight goals with 18 assists for a total of 26 points. He added another four goals and 13 points in 20 playoff games. He'll need to bring that offensive game to the Leafs to maintain the top-four position that he's currently predicted to earn out of training camp.
Martin Marincin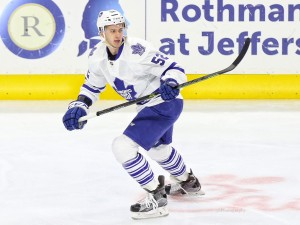 Prior to last season, the Maple Leafs acquired Marinicin from the Edmonton Oilers in exchange for Brad Ross and a fourth-round pick. Marincin had fallen out of favor in Edmonton and Ross had already signed a deal to play in Germany. The Leafs essentially gave up a fourth-rounder in exchange for a reclamation project.
Not much was expected out of Marincin. Many thought that he would be the seventh defenseman. Well, that didn't happen. As the season went on, Marincin eventually found himself alongside Morgan Rielly on the top pairing. While he doesn't light the world on fire with his offense, that's not what he's there for. The analytics crowd looks pretty highly on Marincin.
Now all Marincin has to do is keep playing that game and prove all his naysayers wrong.
Connor Carrick
The Leafs acquired Carrick along with Brooks Laich at the trade deadline in exchange for Daniel Winnik. He was immediately called up to the Leafs and played pretty well during his tenure with the team. After the season he was sent down to the Marlies and quickly became one of their best defensemen. In their playoff run, Carrick played 15 games while scoring seven goals and adding 11 assists for a total of 18 points.
The Leafs signed Carrick to a one-way, two-year deal after the season. He should end up as a third-pairing defenseman, possibly moving up if Zaitsev falters.
Goaltending: A New Beginning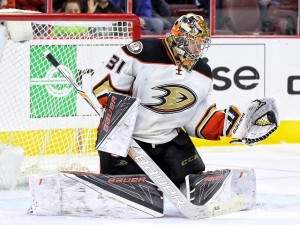 The Maple Leafs will have an entirely new goaltending tandem manning their nets this season. Out are Jonathan Bernier and James Reimer, in are Frederik Andersen and Jhonas Enroth. While Andersen did get hurt in an Olympic qualifying tournament, he should be ready to start the regular season. The hope is that he will give the Leafs a more stable and consistent starting goalie. Enroth provides the Leafs a veteran backup that can give Andersen some rest when he needs it.
The two veterans give the Leafs goaltending prospects some more time to develop.
Breakout Player: Auston Matthews
As said before, Matthews will provide most of the excitement for Leafs fans this season. In the past three seasons, two of the three first overall picks went on to win the Calder Trophy (Nathan MacKinnon and Aaron Ekblad). You can bet that it would have been three years in a row had Connor McDavid not gotten hurt last year. The hope for Matthews is that he can make it three out of four. If that were to happen, it would give the Leafs their first award winner since Alexander Mogilny won the Lady Byng Trophy in 2003.
Player with Most to Prove: Mitch Marner
Marner first needs to prove that he can get big enough to face off against NHL players. He'll then need to show that he can translate his great offensive game to the NHL. He'll definitely have the offensive weapons next to him as he will likely line up with either Matthews or Nylander.
However, if the Leafs feel that he would be better suited back in the OHL, they won't hesitate to send him back to London.
First Players in the 'Call-Up' Line: Brown, Rychel and Kapanen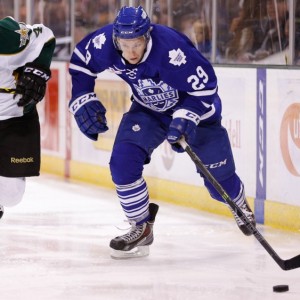 Connor Brown has been patiently waiting for a spot to open up with the Leafs. He has been one of the Marlies offensive leaders for two seasons. If an injury occurs to one of the Leafs top-six forwards, Brown should be one of the first Marlies to get a chance. He had six points in a seven-game stint last season.
Kerby Rychel was acquired in the off-season in a trade with Columbus. Rychel felt that he never got a fair shake with the Blue Jackets and eventually asked for a trade. He now finds himself playing in a city where his father once played. The former first-rounder should be given a chance to make it with the Leafs.
Kasperi Kapanen is pretty much the last piece of the original return in the Phil Kessel trade. While has been eclipsed on the depth chart by several other prospects, he should be one of the first few call-ups to see how his game will develop in the NHL.
Season Outlook:
The pain is definitely not over after just one season. The Maple Leafs will be a very young team that will have growing pains. More experienced teams should have an advantage over them.
That being said, the Leafs should improve on their finish last season. Though young, the offense should get a boost with the addition of Matthews, Marner and a full season of Nylander. That combined with what should be a better goaltending tandem and all that's left is the defense. That is where the Leafs have the most questions. Will Marincin continue to perform strong defensively? Will Zaitsev work out? Who will even play on the third pairing?
The Leafs aren't going to be a playoff team this year. Too many things have to go right for that to be even a possibility. However, they shouldn't finish last in the NHL, or even the Atlantic Division. There are many questions surrounding teams in the division. The top two teams are more than likely going to be the Tampa Bay Lightning and the Florida Panthers. After that, who knows what happens.
The Detroit Red Wings are in danger of having their playoff streak end. The Boston Bruins are a mystery of a team. If Carey Price gets hurt again, what happens to the Montreal Canadiens. The Ottawa Senators are a team that has been struggling to compete for the playoffs for years. Finally, the Buffalo Sabres are in the exact same position as the Leafs.
With all that, I see at least one team failing to meet expectations. That combined with a few wins by the Leafs and they should climb out of the basement. The best hope for the Leafs this season is that they do that and then get lucky in the draft lottery.
Team 2016-17 Record Prediction: 33-36-13 (7th in the Atlantic Division)
Make sure to comment below with your opinions on how the 2016-17 season will play out for the Leafs or head over to the THW Twitter feed or Facebook page and sound off about all our NHL coverage.