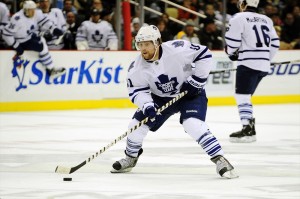 It's a hot-button topic in Toronto that has caused a divide among the city's hockey fans for the last few years. Do the Toronto Maple Leafs have enough skill among their top-two lines to bolster them into the playoffs and perhaps into contention for the Stanley Cup?
At centre are Mikhail Grabovski and Tyler Bozak. On the wing you will find Joffrey Lupul, Phil Kessel, Nikolai Kulemin, Clarke MacArthur and newly-acquired James van Riemsdyk.
First let's look at Grabovski and Bozak, who find themselves under constant scrutiny from the Toronto fans and media.
Some would tell you Grabovski and Bozak are, in fact, a solid one-two punch down the middle, while others would say Grabovski would be perfect to fill the Chicago Blackhawks' need of a number two centre and Bozak shouldn't be any higher in the lineup than the second line either.
Grabovski, 28, notched 23 goals and 28 assists for 51 points in just 74 games last season. That's six, one and seven off his career highs, which isn't too bad considering that he set those numbers in seven more games in 2010-2011. He's also proven to be a finesse centreman who isn't afraid to stick up for his teammates.
Bozak, 26, didn't quite put up the same statistics as Grabovski last season, but he still managed to play a key role with 47 points in 73 games while receiving a fair share of shorthanded ice time.
Neither are very big, but what they lack in size is made up for in play making ability. That, their impressive ability to create offensive plays out of seemingly nothing, comes in handy when playing with the likes of Lupul and Kessel.
There's no doubt that the combination of Grabovski and Bozak are a big reason why Lupul and Kessel managed 25 and 37 goals respectively while scoring at a point-per-game pace (keep in mind that Lupul had his season shortened to 66 games). Lupul, who was even named a finalist for the NHL's Masterton Memorial Trophy this year, and Kessel were the clear-cut offensive leaders on a Leafs team that maintained a high level of play for much of the season.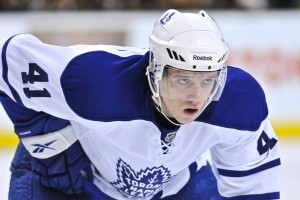 Below them are van Riemsdyk, Kulemin and MacArthur, two of whom may not quite be at top-six winger level.
Both MacArthur and Kulemin showed they can play that exact role, but that was two seasons ago. They both tailed off in 2011-2012, although MacArthur's slide in statistics was somewhat expected.
MacArthur notched 43 points last season, 19 less than his 2010-2011 total. Along with Kulemin, MacArthur is one half of a duo that sees plenty of ups and downs both offensively and defensively. Nevertheless, both have shown they can be effective point scorers in the NHL and are crucial to the Maple Leafs' success.
In particular, Kulemin played an important defensive role for the team; he was used in a penalty killing spot quite frequently in 2011-2012.
Finally there is van Riemsdyk, who, as everyone knows by now, was acquired from the Philadelphia Flyers in exchange for defenceman Luke Schenn earlier this summer. There are so many question marks surrounding van Riemsdyk that it's almost unbelievable, but one thing is for sure: there is not one person who follows the Toronto Maple Leafs that believes he won't be used in important situations right from the get-go.
A few of the same questions that concern van Riemsdyk are ones that also concern Kulemin and MacArthur.
Will they remain healthy? Will they be able to score 30 goals again/for the first time? Are they worthy of keeping their top-six spots?
Regardless, history has shown us that, not including van Riemsdyk, the players above assemble a group of top-six forwards that is solid enough to lead the Leafs to success from an offensive standpoint. Now they must do that over the course of a full season rather than just pre-All-Star Break. With the addition of van Riemsdyk, which also gives the Leafs more depth with a seventh player to rotate through the top-six, that's certainly possible.
While another asset or two is needed up front for the team to reach Stanley Cup contention, it's time for fans to start looking back on the good that came out of last season. That is, of course, that the Maple Leafs have shown how well they can actually play.
It shouldn't be long before that's translated into regular season success.
Twitter: @LukasHardonk | Email: lukas.hardonk@gmail.com | Lukas' archive
For every Leafs article on THW, follow @THW_MapleLeafs on Twitter.
Check out Maple Leafs Central, a THW Network site.