The Toronto Maple Leafs named Mark Hunter assistant general manager on Monday.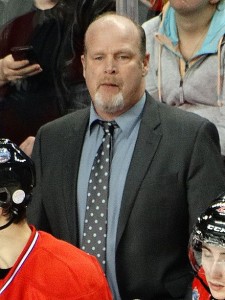 "Mark's new title is essentially a formality as these are duties he's already been performing," said Maple Leafs GM Lou Lamoriello. "Brendan [Shanahan] and I have been discussing this change of title since last season – as it's a more appropriate recognition of Mark's role with the organization since joining the Maple Leafs. There are no changes to Mark or Kyle's [Dubas] duties, or to that of Brandon Pridham, Assistant to the General Manager."
Hunter, 53, has been with the Maple Leafs as director of player personnel since Oct. 2014. Before arriving in Toronto, Hunter served as vice president and GM of the OHL's London Knights, a team he co-owns with brother, Dale, and Basil McRae. When Dale left his position as head coach of the Knights during the 2011-12 season to join the Washington Capitals, Mark took over coaching duties and led the Knights to the J. Ross Robertson Cup after winning the OHL playoffs.
While Hunter's title with the Maple Leafs is changing, his role will remain the same. He will continue to lead the Leafs' pro scouting, amateur scouting and player evaluation departments, while Dubas will continue as GM of the Toronto Marlies (American Hockey League) and will lead the team's player development and hockey research & development departments.
Steven is a lawyer and writer with a passion for the game of hockey. He's the Lead Writer covering the Tampa Bay Lightning with THW. He's also been press credentialed through the Lightning since 2016. His work has been published at The Fourth Period, LightningInsider.com, Bolt Prospects, The Sports Daily Network, U.S. College Hockey Online and College Hockey News. He's had radio appearances on TSN 690 in Montreal, Lightning Power Play Live and multiple podcasts to give insight and analysis on the team. He can be reached on Twitter @StevenDiOssi and by email at sdiossi@gmail.com.