On Sunday, Sept. 17, 2017, the Arizona Coyotes made a sly move in trading Jamie McGinn to the Florida Panthers in exchange for Jason Demers.
While the price tag on top-four defencemen has generally been pretty high lately, the Coyotes got a steal in giving up just a third-line winger in this case. The price for the likes of Adam Larsson and Travis Hamonic was absurdly high, making this deal all the more surprising.
Which begs the question, why didn't the Leafs pursue Demers more? They have a surplus of bottom-six wingers, many of which have a better cap hit and more potential than McGinn. Surely, they had the available resources to be able to swing a deal here.
Breaking Down the Demers-McGinn Trade
The young Coyotes general manager, John Chayka, has made a number of smart moves during his short tenure with the team, and this is another he can add to that list. A 28-year-old, Chayka is entering his third season with Arizona and his second as GM.
In acquiring Demers, the Coyotes got a 29-year-old, right-handed defenceman who is under contract for the next four years with a $4.5 million cap hit. Demers has played in 504 career NHL games, including 81 in 2016-17 with the Panthers, where he added nine goals and 28 points while playing 19:36 minutes per game in a second-pairing role. The native of Dorval, Quebec usually slots in on his team's second power-play and penalty-killing units, too.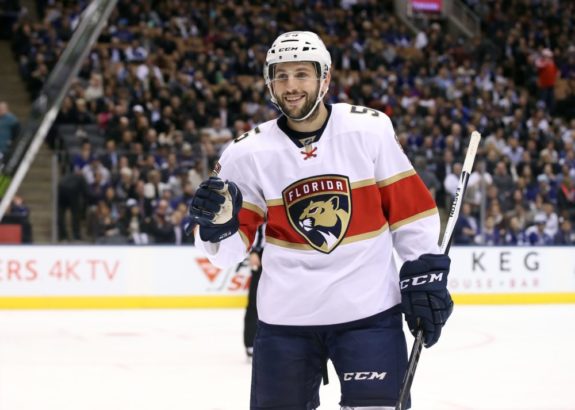 Heading the other way, McGinn has played 522 career games and tallied nine goals and 17 points over 72 games in a third-line role for the Coyotes in 2016-17. The 29-year-old has two more years on his contract with a $3.33 million cap hit. He averaged 13:10 in ice time per game last year, including 58 seconds on the power play.
One other significant tidbit of information to consider when discussing a potential Demers to Toronto deal is that Demers does have a modified no-trade clause. He was able to submit an eight team no-trade list, meaning it is possible that the Leafs were one of the teams on that list.
The important thing for Leafs fans to consider in all of this is that their team missed out on a grand opportunity. The Leafs are in need of a right-handed defender, and Demers could easily slot into the second pairing in Toronto, finally giving the team some of the defensive depth they've been craving for years. Of course, the Leafs are already in salary cap trouble, and bringing on Demers' $4.5 million cap hit would have required some serious juggling to get the team under the $75 million mark.
Who Could the Leafs Have Offered?
1. Leo Komarov
A very close match to McGinn, Leo Komarov arguably offers more to his club than the newest Panther. At 30 years old, Komarov comes with a cap hit that's $338K less than McGinn's and has scored two more goals and 12 more points over the past two seasons as well. On top of that, Komarov is a tremendous defensive forward and was relied upon to play on the Leafs' top penalty-killing unit, playing 2:09 shorthanded per game.
He was also in and out of the second power-play unit, averaging 2:03 on the man advantage. In total, Komarov's 17:04 per game was the second most minutes among Leafs forwards, proving the trust that coach Mike Babcock has in him. He also offers up a secondary ability to play center if the necessity presents itself.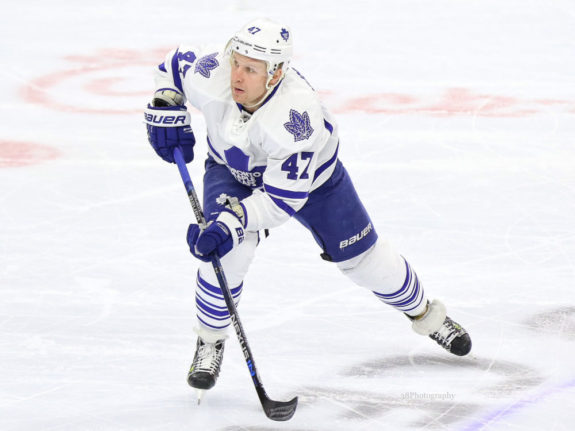 The only downside to offering up Komarov in exchange for Demers is that Komarov's contract is up after the 2017-18 season, lowering his value by a fairly significant amount. Otherwise, I don't think there's any doubt that the Panthers would rather have received Komarov instead of McGinn, as he has consistently outperformed McGinn in virtually every category, offensively and defensively.
2. Zach Hyman
At 25 years old, Zach Hyman has tallied 14 goals and 34 points during 98 career NHL games, with 2017-18 being his first full season. Recall that McGinn's career-high for points is just 39. Hyman recently signed a four-year contract with a cap hit of just $2.25 million, coming in more than $1 million less than McGinn. Not to mention with the potential that Hyman possesses, that salary could be an absolute steal in the end.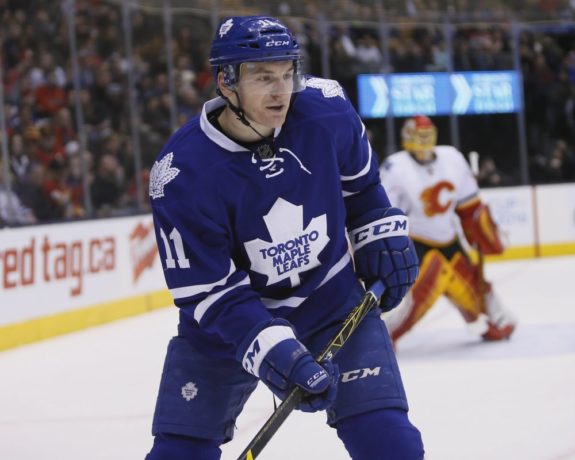 Like Komarov, Hyman is a defensive dynamo. A dog on the puck, he is a puck possession driver and can play up in the lineup, proven by his return as the first-line winger alongside Auston Matthews and William Nylander. Not even Patrick Marleau could knock him out of that slot. Hyman averaged 2:47 on the penalty kill per game, the most of any Leafs forward.
A great contract, solid offensive numbers, and admirable defence. The Leafs may not be happy with the idea of trading away Hyman after just one full year, but the need for a top-four defenceman is much greater. As it stands, Toronto has a surplus of wingers and will likely have to keep a talented player in the press box as a result. They would certainly have the resources readily available to replace Hyman.
3. Connor Brown
Another recently signed RFA, Connor Brown's new three-year contract comes in at a jaw-dropping $2.1 million cap hit. By the time his contract comes up, the Leafs will be thanking their lucky stars that they locked him up for cheap. The 23-year-old has contributed 21 goals and 42 points in his 89 career NHL games, a very admirable pace for the sophomore, and one that should've warranted a greater salary.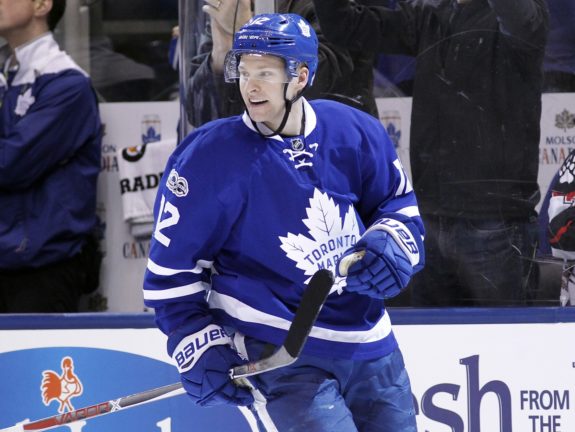 A third-line winger, Brown averaged 16:12 per game in 2016-17, seventh among Leafs forwards, including 1:59 on the penalty kill's second unit. Despite an outstanding rookie campaign, Brown is entering the 2017-18 season as a fourth-line winger due to the congestion in the top-nine.
Expendable, but also very valuable, the Leafs arguably would have been giving up more than they were receiving in this potential trade. But as we know, top-four defenders don't grow on trees. A former sixth-round pick, Brown has the potential to blossom into a top-notch third-line winger who could push the top-six to be at their best. While he may be getting the short end of the stick in Toronto, there's no holding the talented rookie back.
Contributor for the Toronto Maple Leafs and Prospects. Scout with the Oakville Blades of the OJHL. For questions, concerns, or comments, contact me at devinslawson123@hotmail.com or on twitter @SlawsonTHW.