Over a decade ago, the Toronto Maple Leafs enjoyed one of their most successful NHL Drafts to date. In 2006, the Leafs made seven selections in the annual event, with an impressive six of which shredding NHL ice during their careers, a notable success rate. Although the majority of those selected are no longer with the organization, namely Jiri Tlusty, Nikolai Kulemin, James Reimer and Victor Stalberg, the most compelling selection of all could, in fact, have been the last player to be chosen by Toronto.
Reimer's departure leaves Leo Komarov as the lone player drafted by the Leafs from the 2006 draft. Jiri Tlusty was taken 13th overall then.

— Paul Hendrick (@HennyTweets) February 27, 2016
Little attention was paid to the Leafs' final pick of the 2006 NHL Draft, which came in at 180th overall. Hailing from Narva, Estonia, Toronto snatched Leo Komarov late in the event, in what appeared, at the time, to be a selection of little promise. However, Komarov, similar to his playing style, worked incredibly hard to develop himself into a legitimate prospect of considerable potential. Little did Toronto know the first Estonian-born player to play in the NHL would quickly become a fan favorite in a city far from home.
A History Lesson
Following his selection in the Draft, Komarov not only captained Team Finland at the 2007 U-20 World Junior Championship but made his professional hockey debut at just 19 years of age. Over the next six seasons, Komarov played in both the SM-liiga and KHL, where his offensive production continued to increase and his gritty style of play made him a physical and intimidating force on a nightly basis.
As such, the Leafs inked Komarov to a one-year, entry-level contract in May of 2012. Although he scored just nine points in his 42 games played with Toronto in the following season of 2012-13, Komarov proved capable of adapting his game to the NHL level. However, after his debut season, Komarov returned to the KHL in hopes of once again proving himself as a truly dangerous offensive threat, in addition to his goal of making Finland's Olympic roster.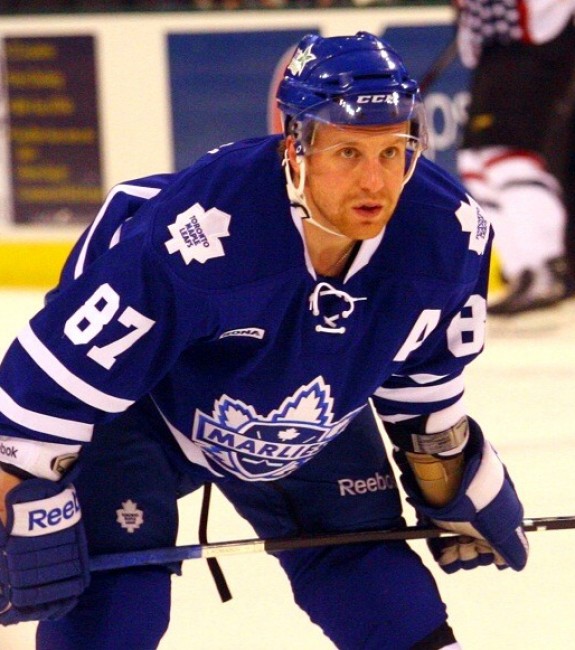 Yet, having not given up on his NHL dream, Komarov re-signed with Toronto on Jul. 1, 2014, agreeing to a four-year deal worth a total of $11.8 million, or $2.95 million per season. Since, Komarov has been a consistent force for the Leafs, adding grit and physical play to Toronto's roster in addition to some timely scoring. Heck, he was even named an All-Star during the 2015-16 campaign, during which he scored a career-high 19 goals and 36 points.
However, despite Komarov's value, what is inherently more important in Toronto is the Leafs' situation as a team. In the early stages of a complete roster overhaul and rebuild, there will undoubtedly be a specific focus on the Leafs' young prospects in the coming years, meaning Komarov will not play as important of a role in comparison to years passed. Of course, Toronto's young talent has already hit the ice and is here to stay, begging the question of what role Komarov can, or could, play in the final years of his deal.
Key Piece of the Puzzle?
Is Komarov an essential piece to the Leafs' future? If so, what role can he play with the team?
This is an incredibly difficult question to answer and is made complicated by Komarov's versatile style of play. Capable of being an offensive threat on a team's second line, or playing as a physical, shut-down force in a depth role, Komarov can seemingly do it all on the ice.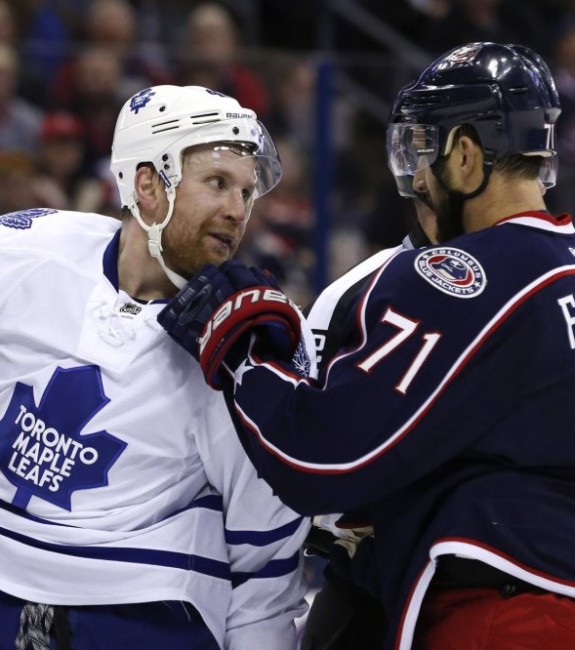 However, given Toronto's emphasis on young, elite skill up front — a style of play which will only be accentuated in years to come — chances are Komarov will no longer be relied upon to produce offensively. Although he possesses a fantastic shot, Komarov's skating ability and puck skills simply aren't good enough to warrant a top-six role with Toronto, even in the early days of the rebuild.
As a result, the role in which Komarov excels, and is perhaps most valuable to the Leafs, is as a third-line depth winger. Known for his seemingly endless amount of energy on the ice, physical play, willingness to stand up for his teammates and ability to shut down opposing players, Komarov's skill set is tailor-made for this very role. In said role, Komarov is, and will be able to use his offensive skills to chip in on occasion, log ice-time in shorthanded situations, and draw specific, shut-down matchups on a nightly basis.
Yet, where the Leafs' potential issue lies with Komarov, especially so in coming years, is deciding whether or not his role is essential to the team's future. We know that Komarov is a capable NHL player who is best suited in a depth role, however, is his presence necessary to Toronto's rebuild and, down the road, a potentially playoff-bound club? The answer to this question is incredibly important, and, a decision must be made in the immediate future. If Komarov is not perceived as vital to Toronto's rebuild and future plans as an organisation, it could be better to move on from the fan favorite sooner rather than later, especially so given his value in a potential trade.
Valuable Trade Chip?
An alternative option and perhaps the more realistic of the two choices would be to trade Komarov in the coming years.
In 2016-17, Komarov is in the third year of his four-year contract with the Leafs, meaning he has one season remaining on his current deal before he is slated to become an unrestricted free agent. His annual cap hit of $2.95 million is a meager amount, especially so for a player of his experience and ability. As such, trading the physical winger sooner than later, if Toronto decides to do so, could be the smartest option for the organization and its future.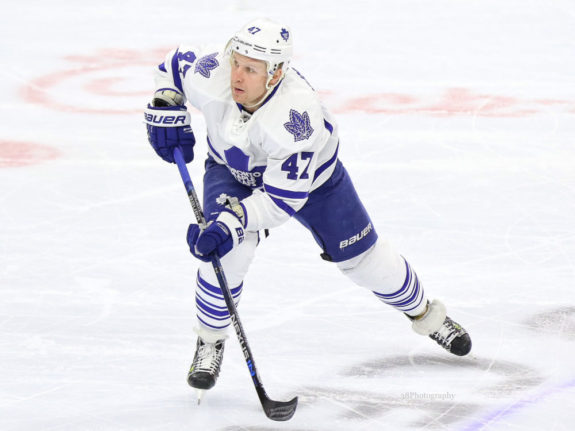 Firstly, there is the very important and often overlooked fact that Komarov, as previously mentioned, has just one additional year remaining on his current contract. If Toronto decides to move on from and trade Komarov during the 2016-17 season, he would retain an immensely greater value in a potential deal simply due to the fact that he would be under the control of a new team through next season. This added value would provide the Leafs with greater leverage in the trade market and could allow them to pry a young player, or higher draft pick(s), from an opposing organization.
However, if Toronto waits until the 2017-18 trade deadline for example, they will surely receive offers of far lesser value for the veteran's services. Further, the Leafs would run the risk of depreciating Komarov's trade value if his play were to decline immensely towards the end of his contract.
You're the Leafs. You have Leo Komarov. His value is high right now. Do you…

— Steve Dangle Glynn (@Steve_Dangle) December 22, 2015
What is most important is that Toronto assesses all of its options with Komarov, as they surely will. If there is league-wide demand for Komarov, and the return provides immense aid to the Leafs' rebuild, they will certainly need to consider dealing the fan favorite. Further, based on the marketplace prior to the 2016-17 trade deadline, one which will likely be incredibly active given the coming expansion draft, February 2017 could be the optimal time to deal Komarov, at which point his value could be at its greatest.
The Final Decision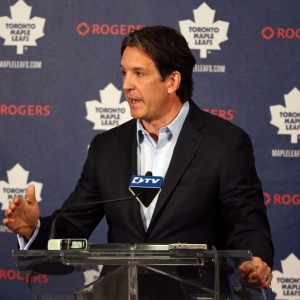 While the final decision on Komarov's future with the Leafs has surely yet to be made, a general consensus will need to be met in the coming months by Lou Lamoriello, Brendan Shanahan and the entire hockey operations department, and especially so before the arrival of the 2016-17 trade deadline.
Throughout his time in Toronto, Komarov has endeared himself to the Leafs and their faithful fans through his persistent work ethic and devoted play on the ice. He has long been a class act within the organization and is well deserving of his high value on the trade market. However, whether or not Komarov will be an important member of the Leafs' rebuild and will remain with the team long-term is a question we simply do not hold the answer to. We know he is a solid player when utilized in the right role, but will his presence truly be essential to the Leafs' future success? Moreover, is his presence essential to not only a playoff appearance, but a long postseason run?
This is a question which, at some point, must be answered by Toronto's management group. If Komarov is deemed an important member of the team, and one that will be beneficial in the future, perhaps the Leafs should extend his contract. However, if the Leafs' future direction, one which is undoubtedly based on raw skill and speed, does not bode well for his presence, it could be the perfect time to trade Komarov while his value remains high.
Whichever the case may be, Komarov's time in Toronto can be defined as nothing other than successful, making his future with the organization, and in the league as a whole, an intriguing storyline to watch.
Should the Leafs trade Komarov, or is he a valuable component of the team's future?
Comment your thoughts below!
Brett Slawson is a four-year veteran of The Hockey Writers who covers the Toronto Maple Leafs, NHL prospects, and the OHL's Mississauga Steelheads.
Contact Brett on Twitter @brettslawson92, or by email at brett_slawson@hotmail.com.