If one thing is for certain after the first 13 games into the 2016-17 season is that the Philadelphia Flyers' offense, currently ranked second in the NHL in total goals, is the team's bread and butter. Led by superstars Claude Giroux and Jakub Voracek, the Flyers offense has been a force to be reckoned with in the early goings of the season and because of their depth at forward, this should be a trend that should continue throughout the year.
Top 5 Goals scored
1 @NYRangers 50
2 @NHLFlyers 47
3 @NHLBlackhawks 46
4 @EdmontonOilers 40
5 @TBLightning 40

— Bucci Mane (@Buccigross) November 7, 2016
Bounceback Seasons
So what is the cause of this newly transpired offense that the Flyers have been displaying to start their season? After all, they finished 22nd in goals scored last year, so what gives? For starters having a healthy Giroux and Voracek certainly, makes things easier. Last year Giroux played his way through hip and abdominal injuries from the second half of the season on, whereas every time Voracek seemed to be turning a corner and getting his game back he would be suddenly hampered by another injury.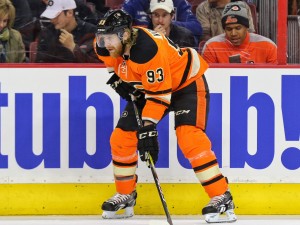 Yet despite Giroux's issues, he still finished the season leading the team in points with 67, however, it was his lowest point total (2012-13 lockout excluded) since his second season in the league way back in 2009-10. As for Voracek, last year he was coming off a breakout season in which he led the league in points for much of 2014-15, ultimately finishing fourth in NHL with 81 points. Expectations were extremely high on Voracek to repeat that success for perhaps the first time in his career. Expectations coupled with a riddle of injuries led to Voracek's 2015-16 to be less than desirable.
Fast forward to now, both superstars are playing back up to their normal standards and in doing so, the Flyers offense is balanced and potent. With both playing healthy and confident, the Flyers have two lines anchored by elite playmakers that give opponents' defenses headaches in the matchup department.
The Defense: Engage!
Another element that makes the Flyers' offense extremely hard to play against is how active their defensemen are in the offensive zone. This dimension is what makes Dave Hakstol's system so significant. Hakstol's system, when played the right way, has all five players on the ice working in unison, with the defense actively engaging in puck support in all three zones.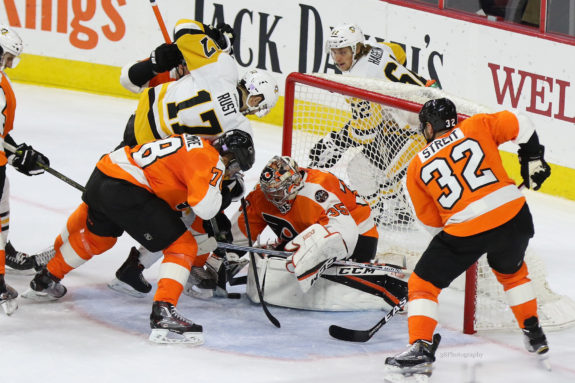 Hakstol's system is best suited with athletic and mobile defenseman that can move the puck up ice and out of the defensive zone as quickly as possible, and once the puck is out of their own zone, to support it and pinch into the play when the opportunity presents itself.
With Shayne Gostisbehere, Michael Del Zotto, and Ivan Provorov, Hakstol is starting to get the horses in his stable that brings out the best in his scheme. Even players like Radko Gudas and Brandon Manning are deeming themselves valuable contributors in his system. Both players play an aggressive and mobile brand of hockey that fits well with the puck support mentality of the scheme.
Brandon Manning continues to be good at hockey with this fantastic stretch pass pic.twitter.com/IITdyzutYi

— Broad Street Hockey (@BroadStHockey) November 3, 2016
Team Chemistry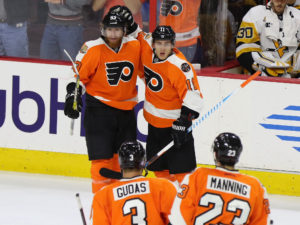 Probably one of the biggest assets the Flyers had coming into this season was the familiarity of the players entering into Hakstol's second season as head coach. Last year it took the team a few months to learn the new system, schemes, and tendencies Hakstol was employing.
Players need to be reacting and using their instincts when on the ice, not thinking about schematics and where other players have to be. This is why the Flyers had success from the second half on of last year, players were buying into what Hakstol was selling them and the system became second nature.
Now that Hakstol is starting to get the offense where he wants it to be and the defense beginning to get healthy, the Flyers just need their goaltending to start to come around. Last season goaltending was a major asset to their success and Steve Mason and Michal Neuvirth have gotten off to shaky starts early on so far. However, once they come around to their normal levels of play, the Flyers could potentially be a force to be reckoned with in the Eastern conference.
The Flyers have scored 4 goals in 4 straight (5 if you include SO). The offense is there, but the defense and goaltending is questionable.

— Ryan Gilbert (@RGilbertSOP) November 3, 2016