After three years of drafting defensemen in the first round, the Philadelphia Flyers hope the 2016-17 season ushers in a new era on the back end. 2015 first-rounder Ivan Provorov made the team, plus 2012 third-round pick Shayne Gostisbehere will play his first full season with the club. With Radko Gudas, Michael Del Zotto and Mark Streit also in the fold, this is the best Flyers' defense corps fans have seen in a few years.
But it's not the youngsters or the veterans that have turned heads in the first month on the blue line. Instead, it's second-year pro Brandon Manning.
Originally considered a seventh defenseman, largely signed in the offseason to a two-year deal as expansion fodder, Manning has played like a top-four defenseman through 13 contests this season. The undrafted defenseman's play made it more manageable for the team when Gudas and Del Zotto missed time because of suspension and injury, respectively.
While Philadelphia will certainly take the improved play of Manning, it could throw a monkey wrench into the team's expansion draft plan come June.
Last Year vs. This Year
Along with Andrew MacDonald, Manning easily frustrated Flyers fans the most last season. Some of that was reasonable and some of it wasn't.
Manning played in a bottom pairing role last year, his first full-time in the NHL. As fifth and sixth defensemen are known to do, he made mistakes that cost the team. On the other hand, a veteran in that role may have made less mistakes.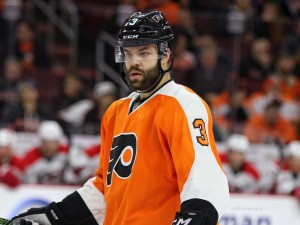 Like any player prone to mistakes, Manning took the brunt from Philly fans as he scored just one goal and six assists in 56 games. But in the playoffs, the then-25-year-old looked more consistent and added an assist while playing with Gudas.
In the offseason, Manning signed a two-year-deal. The second year was most likely tacked on so that he could be exposed in the expansion draft by importantly filling the 70-game requirement over two seasons for the Flyers.
With Provorov making the team, Manning seemed destined to be an often healthy scratch with veterans Nick Schultz, Streit and MacDonald ahead of him. A preseason injury didn't help matters.
But Manning wasn't the only one to suffer an injury in preseason. Del Zotto was put on long-term injured reserve and Gudas received a six-game suspension for a hit on the Boston Bruins' Austin Czarnick. The Flyers desperately needed Manning to play in their first game of the season and luckily for the team, he was ready.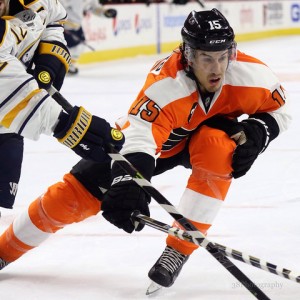 From that point on, Manning has looked like a new man. He played over 18 minutes in the game and recorded an assist and two shots. Over the next twelve games, the Chilliwack Bruins product has two goals and five assists matching his point totals from last season in 43 less games.
He's also averaged over two minutes more per contest, but his aggressive play is the most noticeable difference in his game. Manning steps up more at the blue line and is more influential in breaking up plays before they enter the Flyers' zone.
As for his advanced stats, Manning is excelling there also. According to stats.hockeyanalysis, his Corsi/60 is 12th on the team and his individual corsi ranks sixth.
Expansion Draft
As previously mentioned, Manning earned a second year on his extension mainly for expansion draft needs. Each team needs to expose a defenseman with at least 40 games played in the 2016-17 season or 70 over the last two, who is a restricted free agent or signed past this season.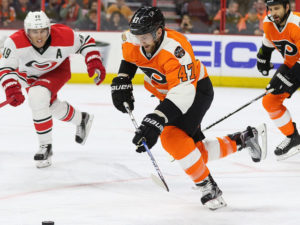 The Flyers would easily protect Gudas and Gostisbehere out of three possible protection spots. Manning is playing his way into one, but if he isn't exposed, the Flyers may have some difficulties meeting the 40/70 requirement.
Streit, Schultz and Del Zotto's contracts expire this year and MacDonald needs to play 26 more games, according to CapFriendly.com, to hit 70 games over the past two seasons. That's possible, but with eight blueliners on the roster and Manning's improved play, the former Islander may be scrounging for playing time.
There are simple ways to work around it — such as signing Streit or Schultz to an extension just to expose them, or trading for a defenseman that meets the requirements. It's not a huge issue, but it's another frustrating layer of the expansion draft that needs to be addressed.
Manning may be the main cause of that problem, but the Flyers are gladly taking his improved play over an expansion concern.