There are three games in the NHL on Monday. Today's Fantasy Daily Cheat Sheet will feel more like a quick hit cheat sheet than anything. There's only so many ways one can organize three games and because a couple of the contests are so up in the air unpredictable, I'll suggest a couple players, and two teams to consider and let you fill in the gaps.
My advice is to go all or nothing on a game that has the potential to be a blowout or high scoring affair. There's a good chance you'll swing and miss, but if you hit, you'll score big points. For me, that game is the Tampa Bay Lightning versus the Florida Panthers. Both teams score a lot and let the other team score a lot. They also rank high in shots taken per game.
Yesterday's Games
Every player I suggested yesterday had a good game with the exception of Tyson Barrie from the Colorado Avalanche. He wound up with one shot on net and didn't come through as I'd hoped. Tyler Seguin had a goal and seven shots on net. Patrick Laine scored his eighth goal of the season (equaling Sidney Crosby for the NHL lead). Finally, Patrick Kane had a goal and three shots.
The big winners on the night were Jonathan Toews who had three points and seven shots and Mike Cammalleri who had a hat trick.
Tonight's Games
Buffalo Sabres at Boston Bruins
Vancouver and New York Islanders
Tampa Bay Lightning at Florida Panthers
Centers
Vincent Trocheck ($5200)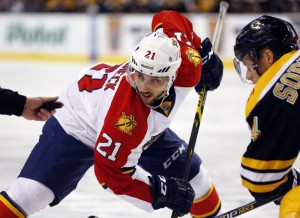 This is a player who seems to be progressing every year. In his first three seasons, he's gone from five to seven to 25 goals and currently has six goals in 12 games. That's a 41 goal pace. His value is good for how he's been contributing to the Panthers.
Valterri Filppula ($3700)
Filppula started slowly, but lately has started to come on stronger as the season progresses. With four points in his last three games and now nine points on the season, at his price tag, he's good value.
Forwards
Jonathan Marchessault ($5700)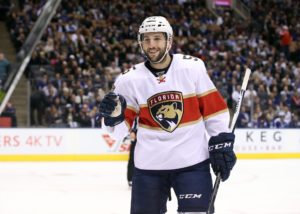 Another good value and somewhat of a surprise this season in Marchessault whose fantasy resume so far this season reads like a dream. He has 12 points in 12 games, leads the Panthers in shots, has two game-winning goals, four power play points and is riding a point-per-game pace.
Nikita Kucherov ($6500)
Kucherov leads the Lightning in points with 15 in 11 games. He's on a 1.36 point-per-game pace, has seven power play points, two power play goals and a game-winner on the season. He's the less expensive option to Steven Stamkos, likely only because of name recognition and Stamkos' insane amount of shots taken this season (45). Kucherov is a good value and will likely have a good game against a very mediocre scoring defense.
Defense
Keith Yandle ($4600)
Of all the defensemen available, I like Yandle's odds of doing well the best. He doesn't rank as high as some others for points on the season, but at his price tag and knowing he has 37 shots and 10 blocked shots on the season so far, even if he doesn't score, he'll earn some fantasy points.
Yandle hasn't fluctuated much in terms of fantasy numbers on the season. His price has stayed relatively the same, his points in each game have stayed steady and there is always that chance he adds some offense here or there.
Goaltender
Jaroslav Halak ($8000)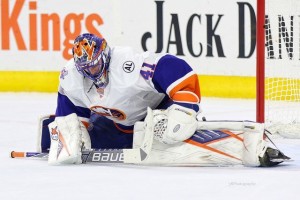 Where I'm going to deviate from my plan is in net. I want to avoid taking a goaltender in a game where I think there will be a lot of goals, so I'll take a game where both teams have struggled to score.
The Vancouver Canucks rank dead last in the NHL for goals scored and are just outside the top ten in goals allowed. Even if Vancouver snaps their eight game losing streak, I think it will be a 2-1 or 2-0 type game.
In the end, I have trouble picking Vancouver on the road and against the Islanders who are traditionally a pretty good home team.
Halak has reportedly asked for a trade out of New York and often when a goalie does that (if this is true) it's important they put on a good performance to up their value around the league. The Islanders are still sort of waiting for that to happen. If it's ever going to, the Canucks are as good a candidate for that as anyone.