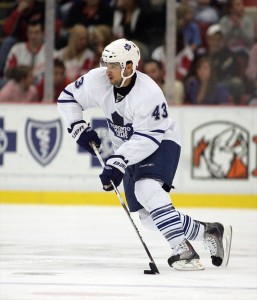 The Toronto Maple Leaf roster is in line for a few changes.
As 2011 closes, the Leafs have cooled off. They've weathered the storm fairly well, having endured about 130 man games lost so far, some involving players who were expected to be regular contributors. Now some of the long-term injured players are close to returning. The roster still has holes, and a 'big deal' for a point-producing forward or a hard-rock defender would be welcome, but not likely though, given the Leafs' cap situation and what should be a reluctance to start shipping out some young talent recently acquired. The return of the injured should help; the challenge is fitting those guys back into the lineup.
As of December 29, the Leafs had 6 players on the shelf: Colby Armstrong (concussion), Mike Brown (herniated disk surgery), Mike Komisarek (broken arm), John-Michael Liles (concussion), Philippe Dupuis (upper-body) and Matthew Lombardi (upper-body). Neither Armstrong nor Liles should be considered likely as no return timeline has been established. But, it seems with Lombardi very close, and both Komisarek and Brown on a schedule to return mid-January, there is going to be some movement.
It might seem inserting veterans would be no-brainer type moves; veteran returns, callup sent down. Not so fast. The fact is that some of the callups are outperforming the so-called regulars, and some of the younger regulars seem to be struggling.
Among the forwards, the callups have done well. Nazem Kadri, who took his demotion to the Marlies and put up 41 points in 44 games, has scored 3 goals in his 7 games and has provided offensive spark while exhibiting a much more mature, responsible game. Joey Crabb has used his 26 games with the Leafs to contribute 6 goals and 5 assists on the third line. On the other side of the ledger, Nik Kulemin, Mikhail Grabovski and Clarke MacArthur are well off their pace from last season. As Mike Smith of fightingforstanley.com pointed out following a loss in Carolina, vets like MacArthur and Tim Connolly have been guilty of poor decisions and inconsistent play. Dupuis had not been contributing much either before his injury, having 0 points and a minus rating through 30 games.
On the blueline, a different story. Whether 5-on-5 or special teams, the defensive corps has been guilty of missed assignments, bad decisions and poor positioning. Everyone has been guilty, though among those struggling the most is Luke Schenn. Jake Gardiner has played well, but looks out of his depth on the woeful penalty kill. Callup Keith Aulie has struggled mightily with both the Marlies and the big club. It's put a major strain on the goaltenders, and often cost the team points in games.
Just as healthy players start returning, Tyler Bozak, who has played above expectations centering Kessel and Lupul, was hurt during practice, and will miss about a week. Barring further injuries or setbacks, the return of Lombardi, Dupuis, Brown and Komisarek will mean juggling. And juggling means figuring out who can be sent down, who needs to sit, and what effect will it have on whatever positives exist.
If Bozak is out just a week, and Lombardi, Brown, Dupuis and Komisarek are on schedule to all be in the lineup by mid-January, I'd propose the likely scenarios:
Bozak remains the top center, followed by Grabovski, Connolly and Steckel. Lombardi would play as a wing on the third line.
Both Kulemin and Frattin have generally worked hard, but are not seeing success in terms of scoring. Kulemin could benefit from a few games in the press box, watching the game and relaxing a bit. The new perspective and reset could help. Frattin could benefit from being sent to the Marlies. In the AHL his hard work has a better chance of resulting in goals and assists. As Kadri found his range, so could Frattin, and he'll be that much better for it next training camp.
Crabb and Darryl Boyce may not truly be NHL-caliber players, but both have shown they can be contributors, defensively and with the odd goal. They've earned jobs on the 3rd and 4th lines.
Through no fault of their own, Jay Rosehill and Colton Orr have been healthy scratches almost all season. The franchise should not be holding roster spots for players they don't intend to use. One or both should be released, traded or sent to the Marlies. Dupuis should be used sparingly upon his return as he simply is not contributing in a meaningful way.
The lineup then looks like: Kessel-Bozak-Lupul, Kulemin-Grabovski-Kadri, MacArthur-Connolly-Lombardi, Crabb-Steckel-Brown, Boyce and Dupuis extras.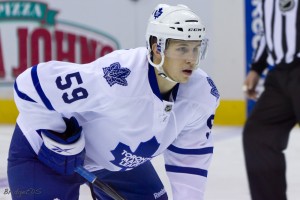 On the blueline:
Schenn could benefit from a few games in the press box, similar to Kulemin.
Aulie is simply not the same player he was developing into last season. Komisarek's return should see him back with the Marlies right away.
Until Liles is able to return, the team will be forced to keep Gardiner in the lineup, but he will have to be monitored for fatigue. Last season he played 51 games total between the NCAA and AHL. He's played 34 NHL games so far averaging 20 minutes. He should be left off the penalty kill though.
The defensive lineup then is: Phaneuf-Gunnarsson, Schenn-Gardiner, Komisarek-Franson, until Liles returns, where he could displace Gardiner.
This team is still young, and fans need to recall this is a team that most picked to be fighting for playoffs, not a lock. Barring a trade (and Burke has been known to make them), the return of some of these veteran players could go a long way to bolstering the secondary offence, as well as strengthening the defensive play. If those things happen, it could mean post-season play in Toronto.