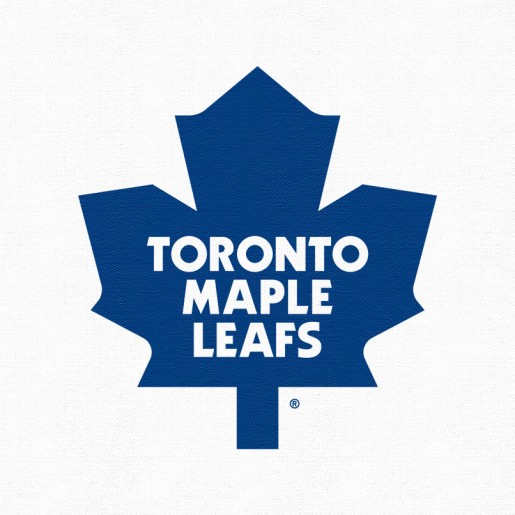 As we inch closer to a new CBA deal (God willing) our thoughts have fast forwarded to the 2012-13 season. Toronto Maple Leafs president and general manager Brian Burke made one significant move bringing in James van Riemsdyk and added Jay McClement to help out in the defensive zone and on the penalty kill—two areas that hurt the Buds immensely last season.
With over $7 million in cap room still available Burke may not be done tinkering with the everyday lineup. Toronto's most pressing needs continue to be a first line centre and to a lesser degree some depth between the pipes.
With all this in mind, let's take a look at ten bold predications that should come true for the Maple Leafs in the 2012-13 season.
The First Line Will Continue To Dominate:
With shoulder surgery and concussion issues seemingly behind him, Joffrey Lupul is expected to have another career season in 2012-13. Alongside the late blooming Lupul will be sniper Phil Kessel, who will have his eyes set on hitting the 40-goal mark for the first time in his career.
Together, Kessel and Lupul combined for a total of 62 goals and 79 assists, good enough for 149 points. When you consider the NHL's best 1-2 punches, Kessel and Lupul ranked sixth overall, beating out the likes of Vancouver Canucks dynamic duo of Daniel and Henrik Sedin (148 points), the Chicago Blackhawks 1-2 punch of Marian Hossa and Patrick Sharp (146 points) and the Detroit Red Wings super-combo of Henrik Zetterberg and Pavol Datsyuk (136 points) and many others last season.
The wild card will be which player will play between Kessel and Lupul with JVR, Tyler Bozak and Mikhail Grabovski all getting serious consideration.
If Kessel and Lupul can get any kind of support down the middle it is not unlikely that they will surpass last seasons totals. Could a combined 160 point season be on the horizon for Kessel and Lupul? It says here you can book it—they will hit that 160-point mark—making them one of the better 1-2 punches in all of hockey for the second straight season.
The Penalty Kill Will Improve:
When you finished the 2011-12 season with the 28th ranked penalty kill (77.3 percent success rate) the only way to go is up.
Known for his shutdown abilities, newcomer Jay McClement (who ranked third overall amongst forwards in short-handed ice time last season) will be used liberally on the PK, an area where his skill-set helped the Colorado Avalanche rank 12th overall last season.
David Steckel, Matthew Lombardi and Nikolai Kulemin will also see plenty of shorthanded minutes, while defensemen Carl Gunnarsson, Dion Phaneuf and Jake Gardiner should also see plenty of minutes on the PK.
While Lombardi may be hard-pressed to earn a consistent place in the Maple Leafs top-six, look for him to work hard in other areas, making invaluable contributors to head coach Randy Carlyle's shutdown style.
Look for the Maple Leafs penalty kill to make the top-20 next season—a considerable improvement any way you slice it.
Nikolai Kulemin Will Bounce Back:
After a season in which he scored 30 goals and added 27 assists (57 points), Nikolai Kulemin endured a miserable season in 2011-12 in which he settled for seven goals and 28 points through 70 games.
Kulemin scored 15 goals in his rookie season, followed by a 16 goal effort in 2010-11. With his defensive skills in high demand on this Maple Leafs squad, Kulemin may see a considerable amount of time on the third line next season. Still, a 20 goal season is not out of the question—an accomplishment that would put him back in the good books in the minds of many fans of the Blue and White.
Look for Kulemin to establish himself as a Valuable member of the team, culminating in a 20 goal, 50 point season.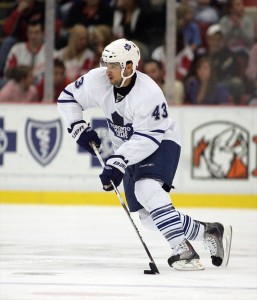 Nazem Kadri Will Finally "Arrive":
Playing in a tough market and having the weight of being a former first round (7th overall) draft choice of the Maple Leafs on his shoulders, Nazem Kadri's body of work through 51 career NHL games has been underwhelming at best.
Kadri spent the summer at former Maple Leaf Gary Roberts training facility working on his strength, conditioning, speed, agility and diet. While there are no guarantees that Kadri's time with Roberts will give him the added strength and muscle to compete at the NHL level there is plenty of evidence that Roberts' training can make average players into stars.
When it comes to offensive skills, Kadri might just be one of the more talented players on the team. Where Kadri has always struggled is in the defensive zone—an area that Kadri is said to have made huge strides at the AHL level.
To say Kadri's clock is ticking might be an overstatement, but team management and fans are growing increasingly impatient with Kadri. The Maple Leafs need to add another top-six forward (preferably a centre) this season. That means Kadri will be given every opportunity to make the big club out of training camp—something I think will happen.
Look for Kadri to have a breakout season, registering 18 goals and 45 points. On paper those results do not look like much, but if Kadri can hit those totals playing 15 minutes a night he will be well on his way to being a top-six forward.
Jake Gardiner Will Emerge As A Star:
With the hockey world doubting him, Jake Gardiner came out of nowhere last season to not only crack the Maple Leafs lineup out of training camp, but to also show signs of becoming a star throughout the season.
Known for his smooth skating style and ease with the puck, Gardiner is expected to see heavy minutes next season and some additional time on the power play where the Leafs can make better use of his hard/accurate shot from the point.
Gardiner registered seven goals and 23 assists last season for a total of 30 points through 75 games. While some may think it's a stretch, look for Gardiner to come close to hitting the 50-point mark next season, hitting double-digits in goals scored and putting up a good case to be part of the All-Star festivities.
Of course, with so many good defensemen in the Eastern Conference Gardiner will be hard-pressed to actually make the All-Star game, but he will be part of the conversation and maybe even get in there should everything go right.
Make no mistake about it, there will be no sophomore curse for Gardiner—this kid is for real and he will prove it with an excellent season in 2012-13.
The Power Play Will Be Better:
The Maple Leafs finished the 2011-12 season tied for ninth overall on the power play with a 18.4 percent success rate.
Improving on those numbers will be tough, but with JVR joining the PP and supplying a big-body presence in front of the net the Maple Leafs power play should be even more lethal next season.
Will the Maple Leafs rank as high as fifth? Probably not, but a top-six finish wouldn't be out of the question. A lot of things will have to go right for the Maple Leafs for this to happen, but there is no question they have the talent and when you consider the overall chemistry that Kessel and Lupul developed last season, we are prepared to dream a little.

Toronto's Offense will Sag:
While the Maple Leafs power play may see some improvement the same will not apply to their overall offense. Toronto finished the 2011-12 season with the tenth ranked offense, averaging 2.77 goals scored per game.
With head coach Randy Carlyle looking to implement a more defense-friendly system I suspect the Maple Leafs goals for will drop. This doesn't mean the Maple Leafs offense will be non-existent, but a drop to 12th-14th overall is not out of the question.
The Maple Leafs first and second lines will be a work in progress for the first 20 games, while the third line will also see a number of changes from last season. Once they get going Toronto should have no trouble scoring, but it will take a while for the Blue and White to nail down Carlyle's system and that will cost the club in the goals scored department—at least in the short term.
For the record, the difference between tenth overall and 14th last season was 0.11 goals per game or just nine goals (231-222)!
Shots Against Will Go Down, Shots On Goal Will Go Down:
The Toronto Maple Leafs gave up an average of 30.8 shots per game last season, which ranked them 24th overall. With head coach Randy Carlyle expected to implement a defense-first style there is every indication that the Maple Leafs will give up less shots next season.
The best team in the League in terms of shots against last season was the St. Louis Blues, averaging 26.7 shots against per game. With that in mind, don't expect the Blue and White to knock five or six shots per game off of their average, but if they could trim it back to an even 30 shots against per game they will likely be in the top-15, which would obviously serve both the goaltenders and the team well.
The addition of Jay McClement will help bring the shot totals down, but he cannot do it alone. A more concerted defensive effort will have to come from  every player on the team in order for the Maple Leafs to bring that total down. In the end, it's the system that will make the biggest difference.
Carlyle's first game with the Maple Leafs was a 3-1 victory over the Montreal Canadiens on March 3rd, 2012. The Maple Leafs gave up just 22 shots that game, but followed that effort up with 30 or more shots against in 11 of the final 17 games.
Clearly, there is lot's of work to be done, but we have confidence that Carlyle will get this team to make defense the number one priority next season.
With the Maple Leafs making a more concerted effort to limit the oppositions chances to score look for shots on goal to go down—it just makes sense, right?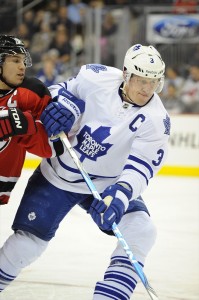 Dion Phaneuf Will NOT Return To The All-Star Game:
Dion Phaneuf may have been an All-Star last season, but his questionable play in the second half of the season leads me to believe he will not make a return visit in 2012-13.
Just how good was Phaneuf prior to last years All-Star festivities? Let's rewind to former head coach Ron Wilson's comments on Phaneuf at the end of October last year, shall we?
"Personally I think by a country mile he's the best defenseman in the league. It's not even close right now, I think he's comfortable in his own skin. He's comfortable being the captain, he's healthy and I think without taking away from his play, the way Carl Gunnarsson's played has made Dion's job a lot easier. It's just freed up Dion to play as best as I've ever seen him."
Wilson's rose colored glasses aside, Phaneuf was pretty impressive up to that point, leading the Maple Leafs in assists with nine, plus/minus (+7) and time on ice per game (26:34) was third amongst defensemen with 11 points and had the Maple Leafs in third place at that point last season.
Of course, we all know where the Maple Leafs finished the season, and Phaneuf's lackluster play contributed heavily to their bottom five finish.
With a premium being put on defense next season Phaneuf should play well, but not well enough to make the All-Star game for the second consecutive season.
James van Riemsdyk Will Lead The Team In Power Play Goals:
Last season sniper Phil Kessel led the Maple Leafs with ten power play goals. While a return performance would not be out of the question for Kessel, look for newcomer James van Riemsdyk to lead the team in power play goals.
At 6'3" and 200 pounds, JVR is an imposing figure. Look for Carlyle to use JVR in front of opposing netminders on the power play, where he can wreak havoc in the crease, which should result in a number of deflected goals and tip-ins going in for JVR.
Through 196 career NHL games JVR has just nine power play goals. Look for him to hit double-digits next season, more than doubling his career achievement.
Until next time,
Peace!