Hockey is finally back in Toronto. The Maple Leafs have officially opened their training camp and fans across the world couldn't be happier. The players have begun to file into the rink to fulfill medicals, media obligations and everything in between.
The media is as happy as the fans are and there are already many interesting storylines to follow. Preseason hockey will also be along shortly, with the Leafs playing four home games in the coming weeks. Three of these contests will be taking place at Ricoh Coliseum and should be a fun opportunity for fans to see their Leafs in a different setting.
Roman Polak is Back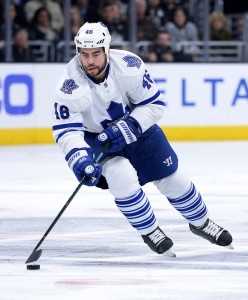 There was a familiar face on the ice as the Leafs opened training camp. Roman Polak, the rugged defenseman, was back in blue and white. Polak suffered a nasty looking leg injury in the playoffs against the Washington Capitals. He had been rehabbing the injury over the summer, but many fans weren't sure if they would be seeing the blueliner back in Toronto for the coming season.
One of the first announcements the Leafs brass made as training camp opened, was that Polak had been signed to a professional tryout. The veteran defenseman isn't the fleetest of foot and won't put up a huge amount of points, but he will give the Leafs a physical option on the blueline.
He's also looked upon as a leader and knows the system that Mike Babcock likes to play. Polak also excels on the penalty kill and was a big part of why the Leafs were one of the better killing units in the NHL last season.
No Captain in Toronto
In a move that didn't surprise many people, the Maple Leafs will not name a captain for the 2017-18 season. The Leafs do, however, have a strong leadership core on the team already that could offset the lack of captain.
That includes players that have been here a while like Morgan Rielly, Nazem Kadri, and the aforementioned Polak. It also includes newly signed veterans such as longtime Shark, Patrick Marleau, steady center, Dominic Moore and recent Cup winner, Ron Hainsey.
Brendan Shanahan says "when the time is right, the time is right, and we'll know it" when it comes to naming #Leafs next captain

— Kristen Shilton (@kristen_shilton) September 12, 2017
The majority of pundits believe that the captaincy will be going to the Leafs brightest star, Auston Matthews. Lou Lamoriello and head coach Babcock are going to bring Matthews along slowly and will not present him with more responsibility then he's ready for.
A Stabilizing Contract is Signed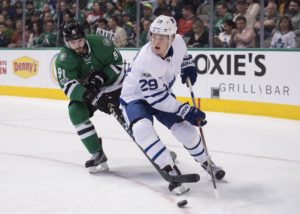 The Boston Bruins have a young star by the name of David Pastrnak. He was in a contract bind and neither side could agree to a suitable number. The deal has now officially been signed and Pastrnak walks away with a new contract that is worth six-years and $40 million dollars.
You might be wondering why this news is making its way into a Leafs training camp piece. There's an easy answer to this line of questioning.
William Nylander is going to need a new contract in the very near future. Mitch Marner will not be far behind either. Both are young stars who will command a significant amount of money.
Before the Pastrnak deal, the market wasn't sure how much either would get. The only prior comparable was the Leon Draisaitl deal.  All four players, however, are incredibly different and it wouldn't be fair to expect the same from all four of them.
Now that this deal is signed, the market has in a sense stabilized and Leafs' management could use this contract as a template for their future negotiations with Nylander and Marner. If the Leafs' brass could somehow sign both players for between six and seven million a season, I think that fans would be absolutely ecstatic.
My name is Anthony Fusco. Through school, I completed a joint degree involving an Honours B.A. in Journalism from Wilfrid Laurier University and a Videography and Broadcasting degree through Conestoga College.
I currently work for the University of Toronto as a Varsity Sports Announcer and for the Toronto Maple Leafs as part of their game presentation squad.
I'm also the play by play voice of the Kelowna Falcons, a baseball team located in British Columbia.
My goal is to one day be a hockey broadcaster.