The Buffalo Sabres find themselves in an unusual position as they enter Wednesday's game against the Winnipeg Jets, riding the wave of a three-game winning streak. The last time the Sabres managed this feat was in February last season, following the Winter Olympics break.
Perhaps best representing this surreal scenario is the form of Tory Mitchell. When the 2004 fourth round draft pick scored the winner against the Washington Capitals on Saturday, it was his third goal of the 2014-15 campaign.
This is Mitchell's second season with the Sabres, after being trading from the Minnesota Wild during the 2013-14 campaign. (The former University of Vermont co-captain ended last season with just one point in nine appearances for Buffalo.)
Admittedly, it's still early in the season, but Mitchell is currently on course to set a career high for goals in a season. His best season to date was his rookie year with the San Jose Sharks, when he scored 10.
Why is Mitchell Playing So Well For the Buffalo Sabres?
At his current pace, Mitchell's average ice time of 14:29 will also be a career high. The questions is, how did a player who's accustomed to playing on the fourth line end up seeing time on the top two units?
For a start, the 29-year old's work ethic plays a big part – no surprise when you consider he has had to fight to earn playing time ever since first entering the NHL. However, it also helps that Sabres head coach Ted Nolan has an unwavering belief in Mitchell, something which can never be underestimated.
It is this belief that contributed to Nolan taking a calculated gamble on the Greenfield Park, Quebec native. The Sabres top man saw something in Mitchell's game that persuaded him to move the winger to the center position.
Mitchell seems to agree with the move, as he told John Vogl of The Buffalo News: ""I enjoy playing center. It's been good the last three, four games, but I've still got to keep working on faceoffs and being sharp in the defensive zone and supporting the puck all over the ice."
Similar Mindset to New Linemates
Some analysts believe Mitchell's early success at the center position comes down to lining up between Brian Flynn and Brian Gionta. All three have a similar tenacious style of play.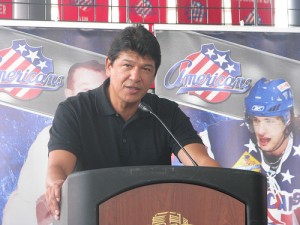 Certainly, Sabres captain Gionta has been impressed by his teammate: ""Everything comes from how he works. He's good all over the ice, whether it's D-zone or not… Little things that people don't necessarily see, that's what he's all about."
As you would expect, Nolan is not surprised by the success of the undersized line: "Three hard-working guys that read and react off each other. They study their craft, and their character really steps to the forefront."
Make no mistake; the Sabres are still aiming to put themselves into the best possible position to draft Connor McDavid. However, that doesn't mean they can't give fans at least some reason to enjoy the 2014-15 season.
'Armed' with a journalism degree, I have covered numerous NFL, MLB, NHL, MLS, CFL & NLL events for the BBC, TO Sports & Blue Toro, while being fortunate enough to interview various sporting personalities, including Rogers Goodell. Throughout it all, the one message I have for anyone in this industry is to never take it for granted.